Mum's Visit to the Lagos State Teaching Hospital In Search of Solution to Her Daughter's Pus Infected Ear Throws a Spot Light on the Country's Poor Health System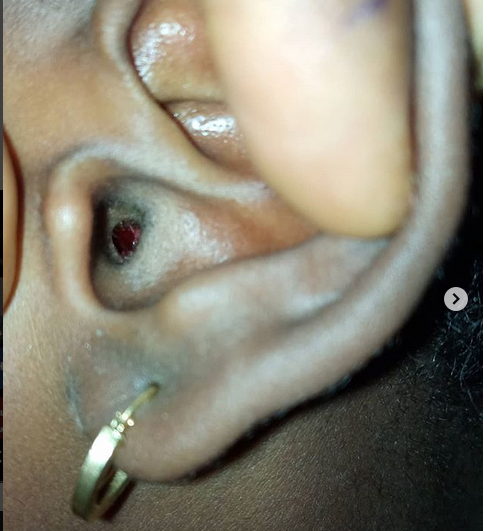 A mother of three, Omolade Adebisi Abiara, whose daughter has pus oozing from her ear is lamenting over her horrible experience with Lagos State University Teaching Hospital, Ikeja.
Abiara on her Instagram page revealed that even though she got to the hospital as early as 6:00am on Wednesday, her daughter's file was only called at 11:30 a.m only for them to be told by the "Admin" that they would have to come back in six months.
She added that the "admin" told her that it was "standard practice" in the tertiary hospital to give patients appointments without them seeing a doctor.
The angry mum writes
"#TEMPORARY POST… So I was at Lagos University teaching hospital Ikeja #lasuth yesterday after being referred from Isolo general hospital for medical attention on my daughter's ear, I got to the hsp few minutes past 6am and I was called exactly 11.30am, only for the ADMIN to write on my referral letter that my appointment to see the doctors is November!!!!

6 months from now??? I was very ??? I was practically begging them that at least I need to see the doctor for first aid, all I was told after my talk talk and long lamentation is that ..It's their protocol and there is nothing they can do about it.
READ ALSO: How a Nigerian Hospital Shunned Pregnant Woman in Dire Need of a C-section 
My own case is very mild Compare to one young lady I met there, she narrated all she has been through since 10 years and it's been from one hospital to the other, what I saw dripping from her ear is thicker than Mucus. She said aunty it is chronic. These people are not interested in knowing how urgent anyone's case is.

THEY ALSO GAVE HER NOVEMBER APPOINTMENT???she had to give them money for them to change the appointment to next month according to her.

Where are we going in Nigeria, What's the way forward please? The menace in government hospital is now out of the world, the health care staffs in Nigeria are to safe us but they don't care anymore, in as much it doesn't involve their family member.

I had my 3 kids at the government hospital and I know their way, is it from insult or their carefree attitude? Most times I calm other patients down to be gentle with them because they are human like us and they get tired too….

But the height of it is risking our lives…. How can you tell me to go back home and come back November without seeing a doctor at all, I think it's the duty of a doctor to tell me when to come back after seeing the situation if it's mild or needs urgent care.
READ ALSO: Agony Of a Bereaved Husband: "How Lagos hospitals caused the death of my wife & unborn son"
This is a child I had in this same hospital… After I told few friends, they advised I go to some specialist hospital like Reddington, Lagoon and it's likes… Hmmmmmm.. We all know what's involve, why do I have to suffer being a citizen.. Government please help us…."
When contacted, an officer in the Public Relations Department of LASUTH, who craved anonymity, said the hospital was already looking into the matter and that they would reach out to
PUNCH
with their own side of the story.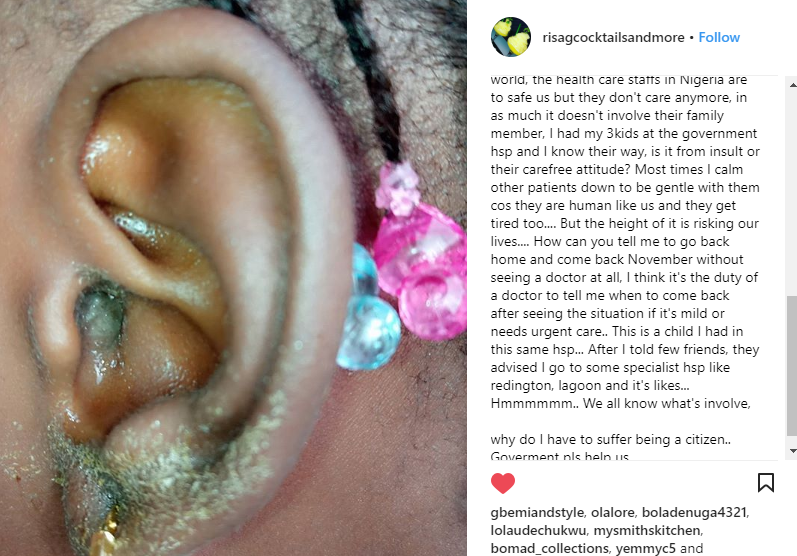 https://www.instagram.com/p/BjsysRUBNI8/?hl=en&taken-by=risagcocktailsandmore
Photo credit: Instagram