Expert on How Kate Middleton Could Have Snapped Back in Just 7 Weeks After Birthing Third Child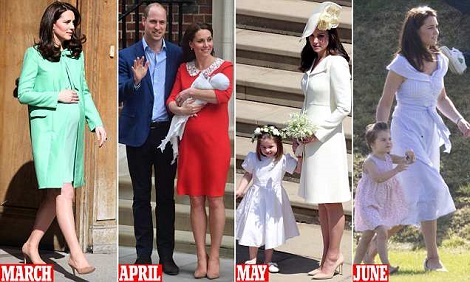 Since snapping back to shape after giving birth is usually a tall order for most mums, it's worth mentioning when we come across any one who has overcome this huge hurdle.
She gave birth to her third child Prince Louis almost two months ago, but 36-year-old Duchess of Cambridge, Kate Middleton seems to have lost her baby weight incredibly quickly.
The mother-of-three looked impeccably slimline yesterday as she enjoyed a family day out with her other two children Prince George and Princess Charlotte at the Beaufort Polo Club in Gloucestershire.
According to midwife Laura Spicer of The Women's Health Clinic it is possible for some new mothers to snap back into shape quickly, and it's down to a combination of pre-existing fitness and good genes.
READ ALSO: Snap Back Goals! Comedian Bovi's Wife Kris Shares How she Lost Her Post Baby Weight
"Some women definitely can snap back into shape. However, if you are fit and have had a healthy pregnancy with a normal BMI it is possible to be similar to your pre-pregnancy body shape. It's also got a lot to do with genetics, so if Mum recovered well you're more likely to as well."
The midwife, however added that it is remarkable that Kate's slimmed down so quickly given this is her third baby.
"It is very normal for the majority of women to take up to a year to lose any excess weight gain. Indeed, many women's body shapes will never be the same as prior to pregnancy, from an enlarged rib cage to bigger breasts, it will take women a while to get used to their new physique.

Often with every baby it gets harder to lose the weight as quickly as the last. It's amazing that thousands of years ago these signs of becoming a mother actually used to make women more attractive, as it was a sign of their fertility."
In addition, she said that Kate's weight loss is also likely down to her following a healthy diet since giving birth, which can be difficult in the first weeks.
READ ALSO: Kate Middleton Opens up on the Pressure to be the Perfect Parent & Maternal Mental Health
"Cutting down on all the things your body can crave after delivery is hard, we normally crave carbs and comfort foods, especially if breast feeding you will be looking for extra calories," she explained.

"If you can avoid this and snack on health foods and balanced healthy dinners you are far more likely to lose the excess weight quicker. We certainly wouldn't recommend excessive dieting and exercise over breastfeeding and bonding with your newborn. 

Some women also use waist trainers or Spanx as a girdle to help the stomach deflate."
Kate welcomed Prince Louis to the world on 23rd April and the photos of her looking impeccably coiffed on the steps of the Lindo Wing later the same day caused worldwide debate.
Commentators said seeing the Duchess in heels and full make-up within hours of going through labour put unrealistic pressure on new mothers.
READ ALSO: Snapback Goals: Kerry Washington Talks Struggle To Get Her Pre-Pregnancy Shape Back
Her next public appearance was at Harry and Meghan's wedding on 18th May, less than four weeks after giving birth, still showing a hint of her post-pregnancy curves, the Duchess looked.
However, just three weeks on it seemed as if she was back to her pre-pregnancy shaped as she chased around after her two older children George and Charlotte.
Picture credit: Getty Images/REX/Shutterstock