Transformational Story of a 65-Year Old Graduate Dad Who Quit School at 8, Jailed at 16, Abused Drugs and Alcohol for Decades Will Inspire You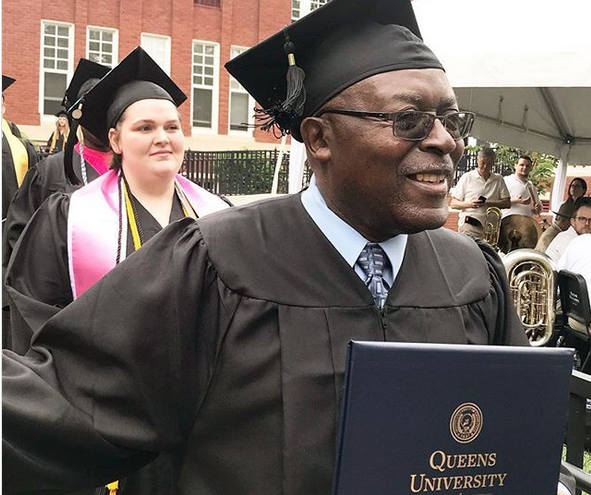 https://www.instagram.com/p/BiZoId_geJh/?taken-by=queensuniv
Unable to read and write for more than half of his life, 65-year-old Freddie Sherrill who didn't know his father grew up impoverished. To feed his poor mother and siblings, he would go to the grocery stores to steal food.
This habit developed into a lifestyle of crime as gradually graduated into purse-snatching and car theft. By 16, he was already serving time in prison. How then did he transform his life after decades of drug and alcohol abuse that found him homeless in his late thirties to become a college graduate at 65?
Freddie who quit school at the age of 8 said in an
interview
:
"(At age 8) I would go to the grocery stores and start stealing food and take it home to help my mother and feed my sister and brothers.

I was drinking, smoking and shooting cocaine and then I went to heroin. That's when the bottom fell out."
READ ALSO: Orphan Who Lost Both Parents At 5, Graduates as Best Student Doctor
He fell into a cycle of drugs and alcohol that led to a suicide attempt years later. In 1988, Freddie said he tried to kill himself but the gun he was going to use didn't go off. Speaking with Charlotte Observer, Freddie said:
"I couldn't stop crying. I said the only prayer I knew: 'God, please help me.' I was just tired of living. I wanted to die and couldn't even do that."
After this, he made a conscious effort to get his life on the right track, getting married and starting a family, learning how to read with the help of volunteers at the Burke County Literacy Council and then enrolling in Western Piedmont Community College to earn his G.E.D which he passed after 6 tries.
After staying at a halfway house in Morganton, North Carolina, Freddie began doing yard work for a couple who introduced him to their pastor, Steve Eason, formerly of the town's First Presbyterian Church.
READ ALSO: "I was a terror…" Mike Bamiloye Reflects on His Poor and Difficult Childhood As He Turns 58
The pastor took a chance on Freddie and hired him to work as a groundskeeper, an investment which inspired Freddie to visit a literacy center to learn how to read.
He wanted a better life for his wife and five children, Freddie told The Washington Post. It took Freddie 13 years to complete his associate's degree in human services with a concentration in substance abuse counselling.
In 2009 when Freddie's son was getting ready to apply for college, he decided to also go back to school himself.
"Finally today I can say that I'm a productive member of society. I haven't arrived, that's just part of the journey, and the journey continues on."
Congratulations Freddie!
Read the full feature story on www.charlotteobserver.com