Wale Fanu, 68, Schools Us on How to Manage Sickle Cell Disease After Doctor Told His Mum That He Might Not Live Past 21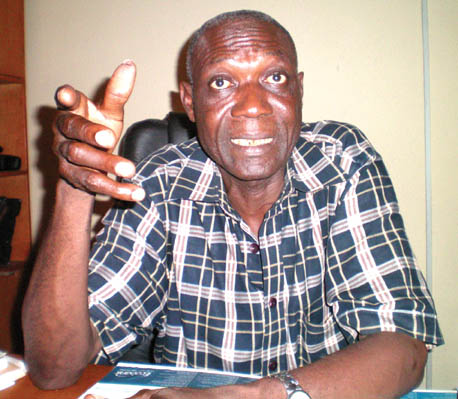 Wale Fanu, a Nollywood TV and film producer is a 68-year-old sickle cell anaemia patient. In a recent interview with Punch, Wale Fanu, who has lived with the disease for 68 years educates Nigerians about the sickle cell disease.
On this year's World Sickle Cell Day, a professor of genetics, Cyril Otoikhian, who was a guest on a popular TV programme described the condition as a curse, adding that investing in sufferers was a waste of resources (read here).
Wale Fanu who is the Managing Director of Cinekraft and the producer of two popular Nigerian films, Owo Blow and Mirror in the Sun said the professor's comments should be ignored. The sufferer, who is married with four children, said doctors told his mother when he was 13 that he would not live beyond 21.
"A number of times, I used to wonder how my mother took the news when the doctor told her that I might not live past 21. But even back then, nobody ever called the condition a curse.

What that professor has said is very unethical. Is he trying to encourage people or trying to kill their spirits? It is very annoying for somebody of that calibre to make such a statement.

Immediately after that television programme where he made those uncomplimentary remarks, somebody who knows me very well, called my attention to it.

He said I should call in during that programme and let them know that there is a 68-year-old man still living with sickle cell. For a professor to come on air and say that, it is a big shame. In fact, it is crazy for him or anyone else to say sickle cell is a curse.

In my own case, I and my mother were asked to go to Zaria to do blood test and bring back the result to Lagos. It was after then that one of the doctors told my mother that my condition was sickle cell. He told her that most people who had this type of genetic problem usually died around 20 to 21 years of age. But to the glory of God, I am still here today.

There are so many others that have sickle cell and are doing well. A lot of people look at me and wonder how I have survived all these years. One of the biggest secrets to it is that right from the first day; you have to study the management of sickle cell crisis for you to be able to handle the situation.
READ ALSO: Meet Alhaja Alakija, Nigerian Oldest Woman Living With Sickle Cell
My mother took time to understand my situation, so did I. So, it has been easier to manage my situation whenever I am in crisis.

What we mean by crisis is when the blood cells take the sickle shape. When this happens, it cannot go through the veins and it turns into a painful exercise. When it occurs, people who don't have a deeper understanding would think that it is bone-related.

The truth is that we have to be very careful when talking about sickle cell because a lot of individuals are ignorant about the facts and they don't know how to advise people."
What's the implication of this comment made by the professor for parents with young children suffering from sickle cell?
It is very disturbing. Such comments are capable of throwing many families into total confusion. A lot of us are carrying wrong impression about sickle cell; thereby causing unnecessary fear in parents that have sickle cell children.

This is disheartening. More worrisome is the fact that those we think are learned like the professor and supposed to encourage people, are the ones putting fear in them. It is very annoying. Sickle cell is not a death sentence.
Was there ever a time that your parents grew tired of this problem and wished that you were dead?
There was no time like that. They stood by me until God called them to be with him. In fact, I thank God that my mother did not throw me away despite all the troubles my condition put her through. She died at 70.
Was any of your parents a carrier of the genetic disorder?
I really cannot tell because I didn't go to the extent of finding out what really happened. As it is now, I don't know who between my father or mother was a carrier. Except if a medical doctor who is an expert in that field can try to trace it and say maybe it's from my mother or father. But I understand my body now.

You have to understand your body. Know what you can do and what you cannot do. In those days, I could not play football, hockey or cricket because I knew that, after that I might land in the hospital.
So, are you saying this condition robbed you of certain experiences as a child?
Yes, it did. It got so bad that my mother thought I was never going to get married. She tried to hide the truth of my condition from people. But to the glory of God, today I am married and have four children.
READ ALSO: A Sickle Cell Survivor at Age 90! Asiata Adupe's Story is Truly Inspirational
Does it mean that you kept your health status as a secret from your wife when you met her?
The truth about me is that I don't hide anything from anybody. The first place I worked, I opened up to my boss and told him I could not do any difficult job. So, from the first day I met my wife, I told her everything about me.

After we met, I told her we needed to be careful about coming together because she has it in her family while sickle cell is in mine too. But she would tell me that I was not God. To the glory of God, we have four children today who have no trace of sickle cell. My wife does not have as well.
If your wife agreed to be with you despite your condition, what was the reaction of her family members?
We didn't even open up to them at all; we kept it to ourselves. But I think I was just lucky to have made the right choice. Eventually they found out but couldn't do anything about it.

There was a time I went into a coma during crisis everyone thought I was dead. My father experienced it for the first time and was really scared. After then, he never allowed me to go out of his sight for long.

There was a time I got admission to study at the aviation school; he did not allow me to go. He was afraid that I could experience crisis while flying an aircraft. He protected me that much. He is late today. May God grant his soul eternal rest.
READ ALSO: Hope for Sickle Cell Couples as New Medical Treatment Emerges
At the peak of the crisis, were there people who came to your parents to look for a spiritual solution?
There were several people like that. In those days, whatever happened in one family was usually being discussed in other households, so people would show concern to your problem. The pressure on my parents to seek a spiritual solution was really immense. But I thank God that I am here today.

I have grown to understand my body very well. There are times I drive all the way from Lagos to the Eastern part of the country to do my job as a filmmaker. People are usually always surprised that I would have the strength to undertake such a strenuous task. But it is because I know my body that I am able to do all of that.
Compared to the past, how often do you have this crisis now?
I really can't tell because I don't keep a record of it. What I do these days is that once the pain starts, I don't wait for it to get to the crisis level before taking measures to handle it.

Part of my strategy is to sleep with at least four pillows so as to be able to relax my nerves well. It is bad for someone with sickle cell not to be able to sleep and eat well. It is one of the secrets to living long with the condition.
Are there foods that doctors have warned you to stay away from just to maintain a good health?
There is no food that I cannot eat. There has been no restriction whatsoever as to what I eat. Even after my most painful crisis on October 1, 1963, I have not been curtailed as per food till date.

I remember on that day, while Nigerians were celebrating independence; I was in hospital crying that I wanted to die. The pain I was experiencing at that time was unbearable. A doctor was called in and immediately he came, he administered something on me and in no time, I went to the toilet.

I had not been able to do so for over one week before that time. As soon as I went to the toilet, I was relieved and felt better. As a matter of fact, I slept for 10 straight hours after then to the extent that my mother thought I was dead. It was very serious. But the good thing is that I am not restricted from eating any food.
Was there ever a time that you felt frustrated to the level of trying to take your own life?
It has never got to such a stage. I take my situation in good faith and live a positive life.
Are you still able to function very well as a filmmaker considering your age and health challenge?
Apart from the economic challenge in the country, there is nothing that I cannot do in this industry. I have just finished a job that would soon be showing on air. I am still full of energy and passion for the job.
Did you face any kind of stigma while growing up?
I experienced that a lot especially when I was with the Nigerian Television Authority. Some of my bosses would look at me negatively as if I was going to die the next moment.

Apart from that, there have been occasions when people tried to look down on me as a result of my condition. But I don't give in to their antics because God is the source of my being alive today.

In fact, it got to a point that as a boy, my parents stopped taking me for holidays at our family house because whenever the crisis came, it always left everybody in confusion. But God helped me to overcome all those periods, I am grateful.
As a society, how best do you think we can fight sickle cell?
I think the best way to tackle this is for us to increase awareness and educate people what sickle cell really is and how best to manage it. The secret is in its management.
Do you think there should be a law in place to make it compulsory for intending couples to do a medical test before getting married?
The idea is good but making it compulsory would be going too far. People should be encouraged to do it and not forced.