Comedian Alibaba's Post on 'Single at 40….' Ignites Controversy On the Gram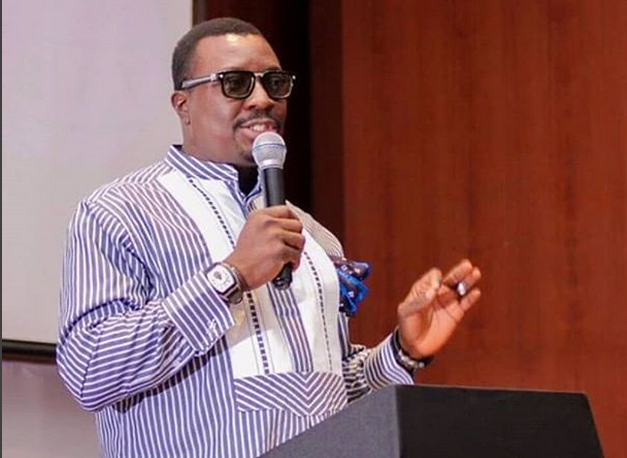 When foremost Nigeria stand-up Comedian, Alibaba  shared a post on his Instagram page which reads 'Single at 40 and you still ask guys …where did you get my number? Grand Ma you are stubborn' he didn't know he was opening the 'floodgates' of criticism.
Men and women took to the comment section to disagree with the dad of four even after his detailed caption below reads…..
"Create opportunities. Discover opportunities. Embrace opportunities. But don't compromise. Be sure the opportunities tick the boxes. When you are going to Ketu and you are at TBS, you will be on the look out for several buses, cars and any other means of transport.

But be sure you enter one going your way. If your appointment in Ketu is at 7pm… You can afford to enter one going to Surulere first.
READ ALSO: Is Cheating Acceptable? "People who advice women to leave their non-violent cheating husbands need a rethink" – Alibaba
Then come down and enter the one going to Palmgrove or Anthony, getting to Maryland. For some reason, that may not be your fault, the car you entered May have gone through Gbagada. You now have to go through Oworoshoki to Alapere. But your destination is still Ketu for the 7pm appointment.

BUT THAT IS IF YOU ARE ON THE ROAD AT 8AM. YOU HAVE TIME. BUT IF YOU ARE ON THE ROAD (according to the post) at 40pm… not 23am… not 26am or 30am or even 35pm… You have to be specific and strategic.

Welcome opportunities but be discerning. Don't enter a car going to FESTAC first, then it will connect Egbeda and then Ogba… to link Ikeja before getting to Ketu. If the car pulls up to ask where ARE you going, first consider it As a means of transport. Then weigh the your safety.

How many people are trying to get in the car? Are you the only person? Is it raining? What time is it? Is it a company car? Is he a driver or driven? Will he get there fast? Whats the fare? Is the interior of the car well kept? Oh!… I am too pre-emptive, is it a bus? Are there passengers in it already? Do you like to be a second passenger? ????. Or you want to be the only passenger? BUT CONSIDER THE TIME AND YOUR PLANS."
READ ALSO: "Let who you are define how you dress" Comedian Alibaba Writes To Women
See comments below.
Abbyg_g – "Is it wrong to ask who gave him the number?"
Alibaba- "I said do not for close on opportunities. Be open to opportunities. Just be discerning."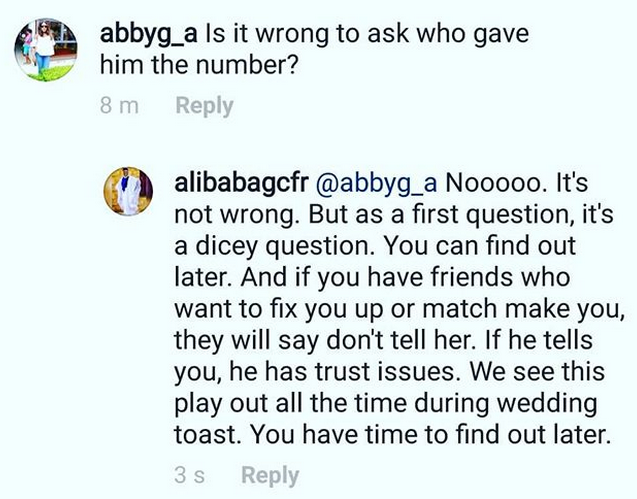 anthoniamony – "Nah I don't agree with your response @alibabagcfr are you telling me If I have your number you won't ask how I got it or you won't be bothered, he must tell me how he got my contact before I can feel secured and safe enough to communicate with him else he should reapply when his ready."
hairportbraidsandstle-  "Hummm!! To some of us this post might sound so funny, but to some very disrespectful cos he who wear the shoe absolutely knows were it hurts.
No one holds the time to anyone's watch there's a reason God made our fingers not equal, because one is 40 and not married does not mean you jump and at any one who gives you a call without questioning. Am absolutely not in agreement with this post. Just saying."
READ ALSO: "Make yourself the desired one …" Comedian, Alibaba, Gives Relationship Advice
sabbathi316 – "Permit me to say here that I respect everyone's view/opinion. But if you check well, bros was coming from a comical angle. You may call it expensive joke and I won't argue that with you, but bottom line is "it was not intended as you guys are seeing it."
We are all one here people. For those who are offended pls calm down and don't be offended and for those who enjoyed and laughed , all well and good. Happy Sunday guys."
mmg_creations -"I totally agree with the lady honestly, it's just an innocent questions and some people be twisting it and calling 40 year Grandma… Be desperate for nothing, ask questions if you have to.
Let no ex(es) pass your digits around like. "Just call her she'll be available". But I understood what @alibabagcfr wrote as 'LET NO BODY WASTE YOUR TIME once the clocking isn't on your side that much."
misizdee@joynyt33– "Look at the picture before reading the caption and you'll understand people's reactions. That picture has been used a lot on social media and it's always been used to mock older ladies who are yet to be married.
Most captions and comments under such pictures usually advise ladies to jump at any opportunity that comes their way without questioning simply because it's believed they are old so no need to be selective. Maybe if Alibaba had used a different picture with his caption the reactions would have been quite different."
jeff021582 I really have respect for your acts and certainly not this advice. Please can you just say it was a joke? It doesn't make sense what you're defending sir!
https://www.instagram.com/p/BkrLEWzhYvG/?hl=en&taken-by=alibabagcfr
What do you think of Alibaba's post, kindly share your opinion below.