This Touching Article By An Autistic 10-Year-Old Girl Is Guaranteed To Make You Emotional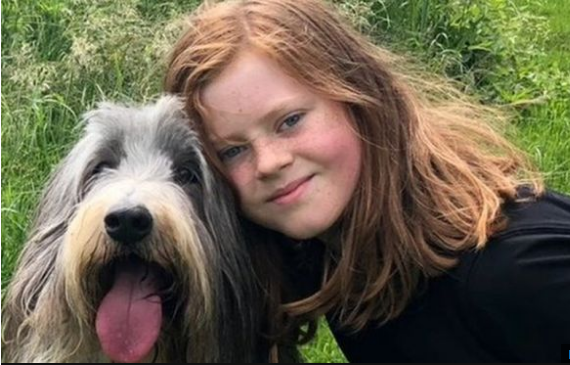 A story penned by a beautiful autistic 10-year-old girl has attracted praise from academicians and others living with the condition.
Libby wrote this touching piece at her home in Kent, after a conversation with her grandmother about how autism affects her.
The writing was so impressive that her proud mum, Kym Scott decided to post it on Twitter (@kymscott) where it has been retweeted more than 17,000 times and has received more than 42,000 likes.
"My autistic 10year old daughter, who hardly ever chooses to read or write, banged this out on the computer yesterday. She'd be over the moon & maybe inspired to write more often if it got some likes & RTs," Kym wrote.
The short story entitled "The life of a perfectionist" is a fictional write up of a day in Libby's life.
READ ALSO: Mum of Autistic Child Pens Story to Encourage Families of Children With Special Needs
"I notice that my candles are in the wrong order; the cleaner must've done it," she writes. "I think to myself I don't want to get up as I am so comfortable."

"I reluctantly climb out of bed to adjust my candles. The next morning I realise my favourite song doesn't have exactly 100 words, it has 98. My heart stops.

A few hours later I find myself writing to the singer telling her how I felt. I got a reply from her saying 'I am sorry but I cannot change the lyrics of my song, lots of love Taylor Swift.'"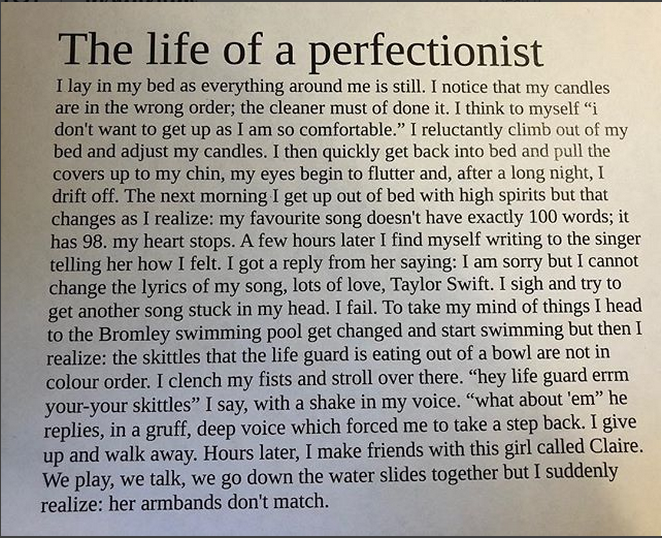 The story, which goes on to describe a visit to a swimming pool and an awkward interaction with the lifeguard, has attracted more than 1,200 comments, many of which are from people who say they feel exactly the same as Libby.
READ ALSO: Man Living With Cerebral Palsy, Joshua Sopeju, Beats The Odds to Become Computer Science Graduate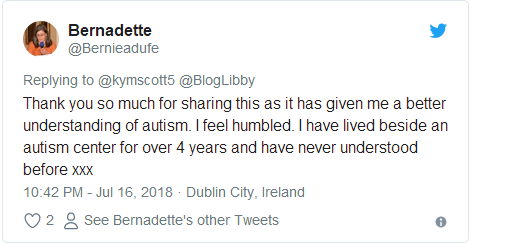 Another commenter who doubted the health condition of the girl wrote;
"I seriously doubt she is autistic because even most of the "normal" 10 year old kids may not be able to write such stuff. Please get a second medical opinion on her condition. Hope there was a mistake in the first diagnosis."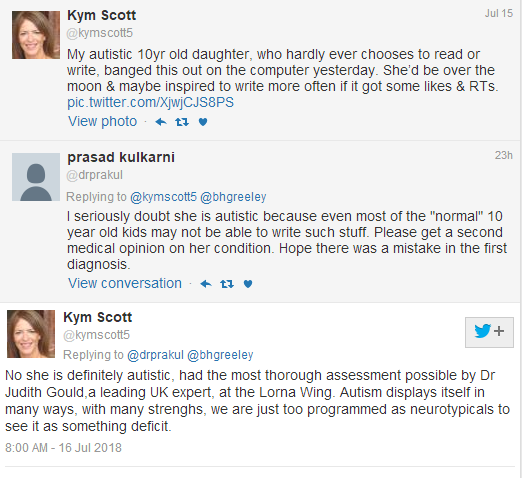 READ ALSO: Stunning paintings by autistic three-year-old girl who can't speak sell for £800
Kym says she's overwhelmed by the responses.
"We have had so many messages, but the ones that are the most touching are the ones from others affected by autism" she says.

"No she is definitely autistic, had the most thorough assessment possible by Dr Judith Gould,a leading UK expert, at the Lorna Wing.

Autism displays itself in many ways, with many strengths, we are just too programmed as neurotypicals to see it as something deficit," the mother of the brilliant girl replied to Prasad's question.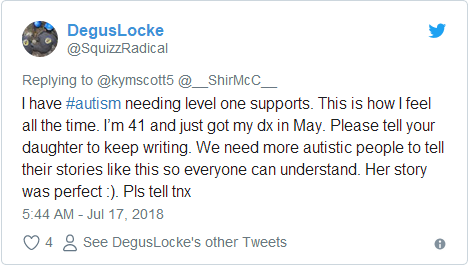 And it is helping those who are not diagnosed, but who show similar traits as Libby.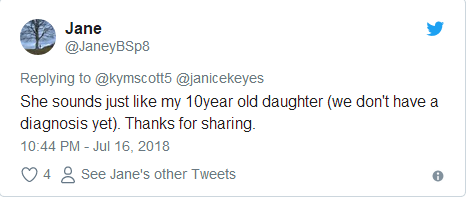 Autism is a developmental disability that affects how people perceive the world and interact with others. The National Autistic Society says:
"Autism affects 700,000 people in the UK and people with autism hear and feel the world differently to others."
Unlike many children with autism, Kym says Libby doesn't fit the typical profile.
"Libby's language skills were good right up to the age of around five, but as she grew older her difficulties became more pronounced," she said.
Libby's writing, which has inspired her to start her own blog, is also attracting praise from fellow writers.
A day after the story attracted praise and support online, Libby was inspired to pen a second piece, which Kym describes as "autobiographical, sombre and harder to read."
"Libby says tysm for your lovely words of support. 'Perfectionism' was fictional, based on her obsessive behaviour. This one is autobiographical, sombre & harder to read,but she wanted to write in a different way this time & help people understand a demand avoidant autistic mind," Kym wrote.
"As I slump up my stairs I hear my dad sighing. I begin to shed a tear. I hate the fact that I make my family feel this way. I really feel the urge to go down and say sorry to my dad but the autistic part of my brain says no.

"I stroll downstairs and tell my dad that he is playing guitar too loudly. He isn't. I ask myself why I do this and get no reply.

"As well as family life, my social life doesn't work out well either. I feel like I just don't fit in. Sometimes I pretend that everybody feels the same as me but *shakes head* I don't think so."
Libby's creative writing has also gained the attention of teachers, who have asked if they can use it as a teaching tool.
Kym says she is incredibly proud of her daughter who has already been asked to write for an autism newsletter.
"Living with autism can take its toll as it is a daily struggle," she said. "But Libby still gets up and goes to school and pushes herself and I know the bravery behind that.

"Her story has had an amazing response and I couldn't be more proud. Libby told me that if there was one thing she wanted people to know about autism it is simply to understand it."
Photo credit: Twitter/Kym