Dad-Of-4, Kunle Afod Talks Fatherhood and He is Completely Adorable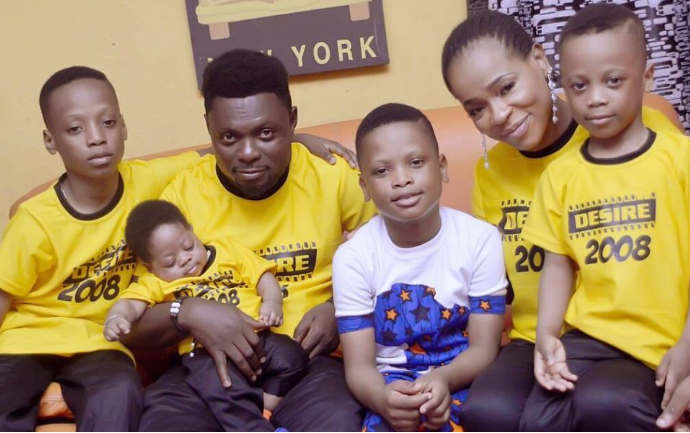 Nollywood Actor and Director, Kunle Afod, has been married to his better half, Adesola Afod, a civil servant, for 13 years and they are blessed with four cute boys.
In a recent interview, Afod, 44, revealed how fatherhood changed him in a good way. According to the actor, he used to care more about himself until he started having kids.
The dad-Of-4 says he does not see any role as exclusively the wife's, and he encourages men to learn to help their wives when they can.
Read excerpts from the Punch Newspaper interview:
How would you define fatherhood?
Fatherhood is unexplainable. It is something that completes one. It is one's piece that one wouldn't know was missing until one found it. It's surreal. You don't love it until you have experienced it. Like I said earlier, fatherhood is inexplicable. My first child was born in 2002.
How has fatherhood changed you?
Let me give you an instance of how fatherhood has changed me. Before now, if anyone offers me food, I would eat everything on the plate; but since I started having kids, I just couldn't bring myself to do that anymore. That's an analogy of how fatherhood has changed me.
But on a more serious note, fatherhood has made me a better person because I have stopped thinking of myself alone. I realised I was more than one person looking at the little bundle of joy on the bed. The day my wife was delivered of the baby defined my whole life from that point going forward.
READ ALSO: Dad-of-4-Boys, Dele Momodu Relives His Fatherhood In a Candid Talk On Parenting
What is the most intimate experience you have had with your kids?
Teaching moments with my kids have been the most intimate experience for me. My kids and I are friends. We do a lot of things together. I have to say that impacting wisdom and trading ideas back and forth with my boys is something I totally adore. I enjoy it especially when I am teaching them about their bodies.
Would you want any of your children to toe your career path?
Most definitely, my first son wants to be a movie director and we are working towards that. It will be a dream come true to critique and appreciate his first work. And all my boys, except the last child, have featured in several movies.
What would you identify as your invaluable contributions to the Yoruba genre of Nollywood?
As a youth in the industry, I started directing movies at a time when youngsters weren't supposed to be heard. We were merely supposed to be seen.
I decided that it was time to change the status quo and God helped me to do that. I didn't just open the door but also left it open for others coming after me.
What roles considered as women's did you take up in your home when your kids were born?
At times, I step in to back my kids, drop them at school and pick them up when I'm around. I soothe the kids even at midnight just to relieve their mother.
There was a time my first son wouldn't let me leave the house until he had held my dreadlocks. I don't see any role exclusive to women. We should learn to help our wives when we can.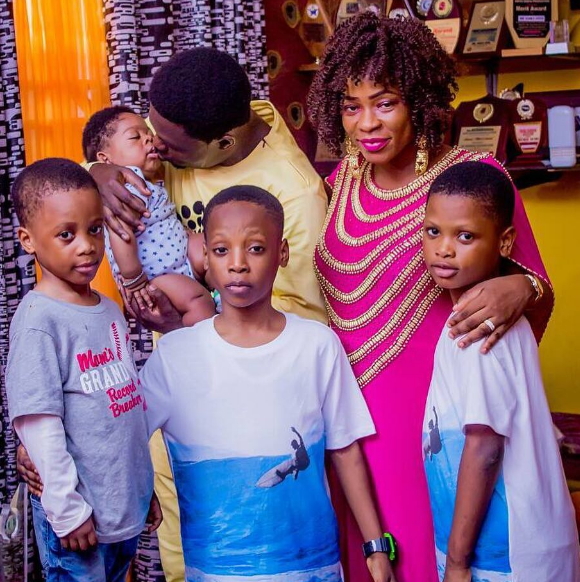 How do you reward your wife for taking care of the home whenever you are around and out of the house?
I appreciate my wife by showing her love as much as I can in my own way.
What values do you intend to inculcate in your kids?
As a father, I want them to have a complete childhood experience. I want them to experience the best side of life without forgetting that there are those who are not as privileged as they are.
I want to put their hearts and minds in the right place so that no matter how sick the world around them gets, they will always remember who they are and when others are losing their heads, they will always keep theirs.
What were your fears before you became a father?
I literally had no fear. I think I started having kids at the right time. The last conversation I had with my father three days before he passed away was that he wanted me to have kids. I was ready to start having children but not financially ready. But guess what, from that point, things kept going up for me. I am grateful to God for this.
READ ALSO: "Fathers if your kids hide from you… you need to adjust"- Actor Yomi Fash Opens up on Fatherhood
What has been your most challenging period as a father?
My major challenge has been giving my kids the desired attention; needless to say that my thoughts and prayers are always with them.
How do you discipline your kids whenever they misbehave?
I said earlier that my kids and I are friends. I talk to them most of the time very early in the morning or late at night. We have a roundtable discussion to see why they acted like the way they did and why they shouldn't behave in such a manner again. We disagree to agree and then we move on. Most times, they don't repeat the behaviours which I have cautioned them about.
How do you bond with your family whenever you are not busy?
I love my family. To be away from them for a long time is always hard for me. But as things are, my profession also demands my time. It is a lifelong dilemma but God has always helped me to balance things.
We spend time together because that's what we miss most times and it works all the time. We do a lot of dancing and cooking and chat mostly. Then we go out too.
What greatest gift have you given your wife?
The greatest gift I have given my wife is love. It is a gift that keeps giving.
What is your advice to aspiring fathers?
On that, let me say prayers and more prayers that God should give them children that won't bother them. I would have said wives too, but sadly, not all fathers will be husbands. We should just pray to God to have great kids.