Shocking: American Model And Mom-Of-2, Blac Chyna And Her Estranged Mom, Tokyo Toni's Brouhaha Gets Messier
This is family brouhaha!
Blac Chyna's estranged mom, Tokyo Toni claims that her daughter was 'a mistake' in her latest social media rant.
And to make matters worse, she submits that the single mom-of-2 was a "rape baby" and that her biggest regret is meeting her father.
Tokyo accused her of being disrespectful, ignoring her family and taking her father and his family on a yacht ride.
The pair has been engaged in this prolonged battle with Toni claiming that her daughter was a 'bitch, demon child' who has cut her mother off financially. The devastated mother alleged that she had to go into prostitution to send Blac Chyna to school and to feed her.
In her latest rant, she said;
"AKA Blac Chyna, the name I gave you was Angela Renee. The disrespect that you have been giving me for the past, quite a few years, I've tolerated.

Because I'm your momma, you're the only child, but you better keep in your mind I'm a bad b**ch. That's why every chance you mother f***ing get b**ch, you breathe my whole mother f***ing name."
READ ALSO: "Bitch, do you know how many di*ks I had to suck so you can eat?" – Blac Chyna's Estranged Mom, Tokyo Melts Down On Social Media | Chyna Reacts
Read her posts below: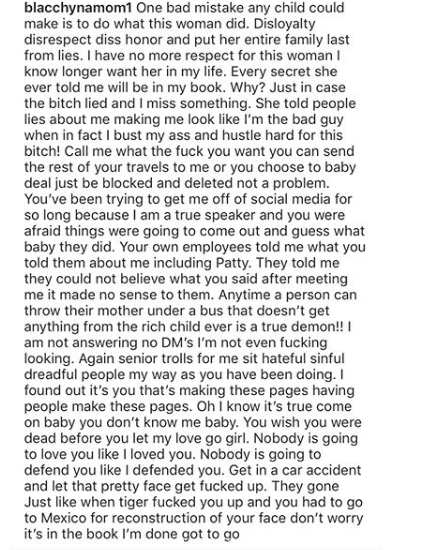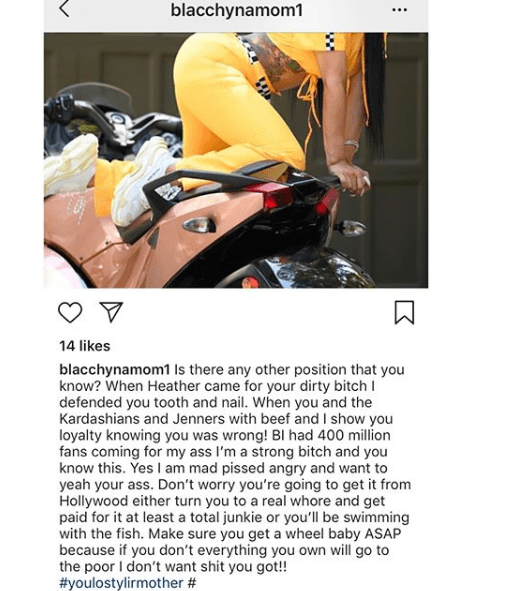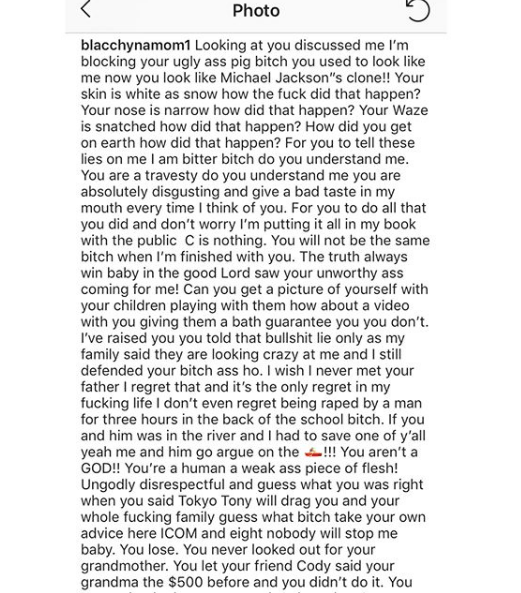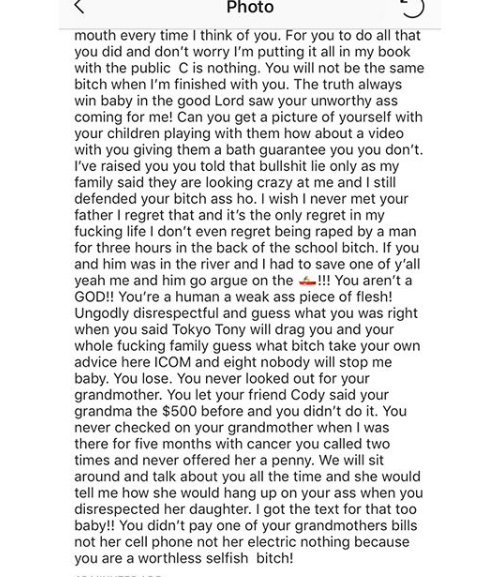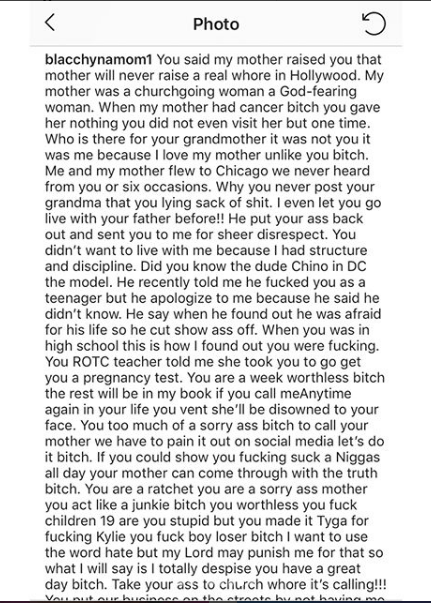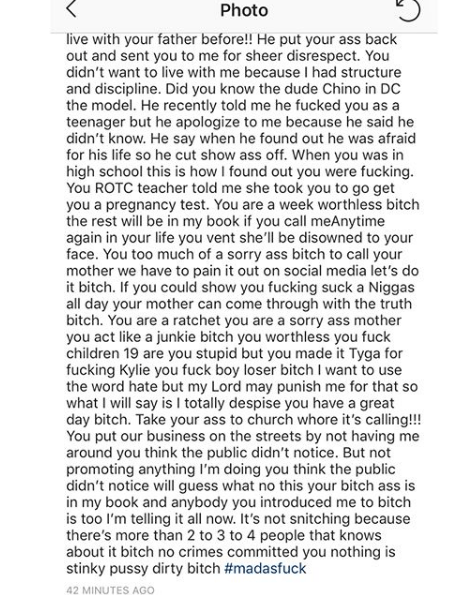 Blac Chyna and her mom are known to have an interesting relationship; it is outrightly tumultuous. She is rumoured to be fed up with her mother and wants nothing to do with her again.
Toni thinks that her daughter is being childish so she's been speaking out a lot lately, saying she wants to see her grandchildren.
Recently, Tokyo Toni reached out to Chyna's best friend, Amber Rose via Instagram to try to get her to speak candidly with her daughter.
"Hey @amberrose you are the only person that I know that knows my daughter who does not fear her. Can you do me a favor if it's anywhere deep in your heart can you please tell her I said let me see those kids! I'm so very sorry to come at you in this way on social media but there's no other way.," said Tokyo Toni.

"All of her employees make up artist and hairstylist all of those people are sorry ass chumps," she wrote. The NANNY IS A BUM B##CH!! That fat Nick square Bob Square pants and his body b####h is a loser. She has nothing but yes people around her and I hate every last one of them. If you could do this OK, if not OK love you kiddo."