Inspiring: This Harper's Bazaar's Feature Of Musical Icons With Their Loved Ones Is Everything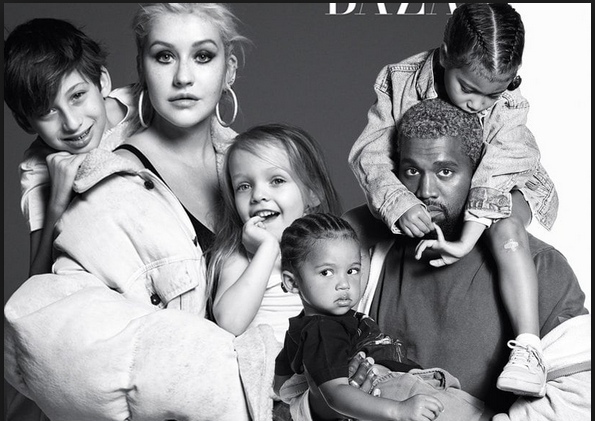 Family is everything! That seem to be the message Harper's Bazaar is passing on to her readers.
Harper's Bazaar is an American women's fashion magazine, that was first published in 1867. In a recent edition, the magazine celebrates some of the musical icons with the people they adore the most- their children, in a photo series.
Music stars like Kanye West, Mariah Carey, Christina Aguilera and more were featured in Harper's Bazaar's fall fashion issue, sharing wisdom thoughts they've acquired over the years as parents.
"I am especially excited about this year's theme for ICONS because it involves family. I'm a very family-oriented person so I wanted to meet the families of some of my biggest music idols," said creative director Carine Roitfeld.

"It was amazing to see that some of the industry's most ground breaking rockstars have a sense of tenderness with their loved ones, even if they are adults!"
In Kanye West's black-and-white family portrait, the 41-year-old rapper poses with his children: 5-year-old daughter, North, and 2-year-old son, Saint.
"I hope my children never lose their confidence to society," West says on his hopes for his children, 6-month-old daughter Chicago and her two older siblings.
A beaming Mariah Carey stands beside her 7-year-old twins, son Moroccan and daughter Monroe, in a colourful snapshot alongside the family's pet puppy.
READ ALSO: Watch! Nick Cannon Opens Up On Co-parenting Kids With Ex, Mariah Carey | Says He's Still Broken Over Divorce
"Family is the most important thing to me. My children have provided me with such joy as they've developed their own unique personalities.

Moroccan has a knack for technology, and Monroe is really musical. They're each other's best friends, and I love watching them grow up."
Christina Aguilera also sits for the shoot alongside her precocious 10-year-old son, Max, and her 3-year-old daughter, Summer Rain. The "Fall in Line" singer stays stoic for the photo, while her adorable kids smile brightly in her embrace.
The 37-year-old singer also opened up in the issue about her role as a mother, sharing:
"I love being mama bear and providing support, strength, and a safe haven to my babies and loved ones, knowing that, above all else, it's the most important job I have."
READ ALSO: Christina Aguilera Shares On The Pressures Of Motherhood
Lionel Richie and daughter, Nicole. Lionel on his wishes for his children:
"I wish for my kids to discover who they are and explore their passions to the fullest."

"My dad and I will do anything for a laugh. If that means we're the butt of the joke, so be it. In a nutshell, we're desperate show ponies," Nicole says on her similarity to her dad.
Photo credit: Harper's Bazaar