These Are Facts You Need To Know About Postpartum Depression As New Mom, Cardi B Clamps Down On It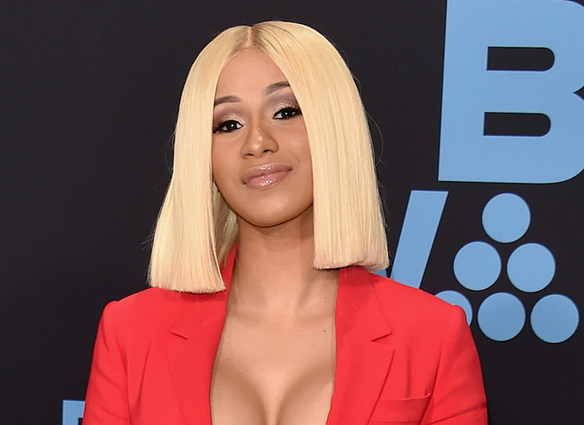 https://www.instagram.com/p/BmMhjeVlMw_/?hl=en&taken-by=iamcardib
Postpartum depression (PPD), also called postnatal depression, is a type of mood disorder associated with childbirth, and it can affect both the new mom and/or the new dad. It has symptoms that includes extreme sadness, low energy, anxiety, irritability, and change in sleeping and/or eating pattern. It can also negatively affect the newborn child.[2]
While the exact cause of PPD is unclear, it is believed to be a combination of physical and emotional factors such as hormonal changes and lack of adequate sleep. And though most women experience a brief period of worry or unhappiness after delivery, postpartum depression should be suspected when symptoms are severe and lasts over two weeks.
Recently, American professional tennis player and mom-of-1, Serena Williams opened up about her battle with PPD (read here).
Just like Serena, Fast-rising female rapper and first time mom, Cardi B took to her Instagram page to reveal her own battle with PPD; saying its getting on her nerves.
READ ALSO: Mom-Of-1, Cardi B Chose Motherhood Over Career For This Reason And It Is Coming at a Huge Prize
The 25-year-old rapper who welcomed her first child some weeks ago (read here), said she was left feeling emotional for no reason.
"This postpartum shit is annoying. Like I been emotional all day for no fucking reason,"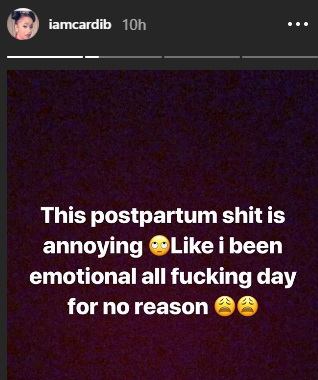 Cardi B previously shared with her fans:
"I wish I could show you my face but a bitch look f***ed up in the game! Like, my hair's f***ed up. My eyes are so dark and puffy.

Like, I'm wild pale like a bitch looking like she got jaundice. But I just really want to say thank you to everybody … I'm just been so busy and so tired and in like a different world, a different dimension – I like it like that.

It's doing so good…""Let me get back to this mommy thing. Let me tell y'all something. No matter how many books y'all read, advice y'all get, y'all will never be ready for mommy mode."
READ ALSO: If It Strikes Again! Find Out Chrissy Teigen's Game Plan Against Postpartum Depression
According to the American Psychological Association (apa.org):
"It's common for women to experience the 'baby blues' — feeling stressed, sad, anxious, lonely, tired or weepy — following their baby's birth. But some women, up to one in seven, experience a much more serious mood disorder — postpartum depression. (Postpartum psychosis, a condition that may involve psychotic symptoms like delusions or hallucinations, is a different disorder and is very rare.) Unlike the baby blues, PPD doesn't go away on its own.

It can appear days or even months after delivering a baby; it can last for many weeks or months if left untreated. PPD can make it hard for you to get through the day, and it can affect your ability to take care of your baby, or yourself.
READ ALSO: New Mum Highlights Post Delivery Struggles That No One Really Talks About
PPD can affect any woman — women with easy pregnancies or problem pregnancies, first-time mothers and mothers with one or more children, women who are married and women who are not, and regardless of income, age, race or ethnicity, culture or education."