Serena Williams Opens Up About Her Struggles With Mothering As She Graces TIME Magazine Cover
Can one ever talk extensively enough about motherhood and all that it entails?! It is a whole lot and no mom can ever get a hold of it swiftly. In a recent interview, American professional tennis player, Serena  Williams talks about struggles as a new mom.
Gracing the cover of the latest TIME Magazine, the 36-year-old mom-of-1 who, not too long ago welcomed a baby girl and has gone back to playing professionally, discussed at length with writer, Sean Gregory about the difficult decision to sacrifice motherhood milestones in order to conquer the court.
On the Time Magazine cover, Serena, who nearly died after complications from an emergency C-section while birthing Alexis Olympia is seen clad in a black crop top that exposed her midriff from where a thin scar can be seen on her abdomen, with the cover line reading: "Nothing about me right now is perfect. But I'm perfectly Serena."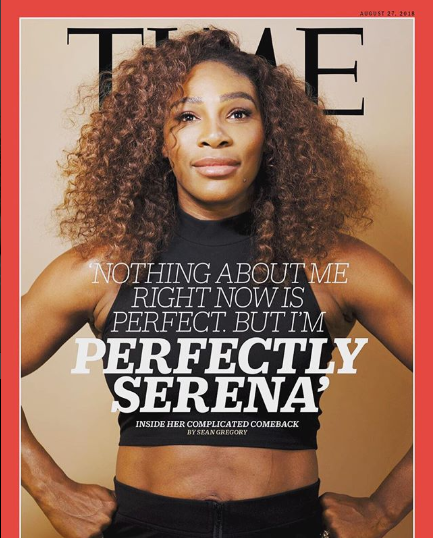 She also opened up about her marriage to Reddit co-founder, Alexis Ohanian. She admitted that she was surprised that she fell in love with a white man.
READ ALSO: Serena Williams & Daughter Cover Vogue Magazine | Reveals Her Harrowing Medical Ordeal After Delivery
Speaking about her marriage, Serena said she had always assumed she would marry a black guy…
"I always assumed I'd marry a black guy. I always felt that I could relate more with a black guy, that we'd have more struggles in common, you know?"
Serena's need to return to tennis and her need to be a 'super-mom' to her daughter colluded when her coach, Patrick Mouratoglou told her that unless she stopped breastfeeding her Olympia, she would not return to the top of the tennis ranks.
In the end, Serena made the difficult decision to heed her coach's advice and nursed Olympia for the first 8 months of her life.
"I looked at Olympia, and I was like, 'Listen, Mummy needs to get her body back, so Mummy's going to stop now,'" she reveals. "We had a really good conversation. We talked it out."
READ ALSO: New Mom, Serena Williams Gets Emotional About Breastfeeding Her Daughter
Speaking about Mouratoglou telling her to stop nursing, she said:
"It's absolutely hard to take from a guy. He's not a woman, he doesn't understand that connection, that the best time of the day for me was when I tried to feed her."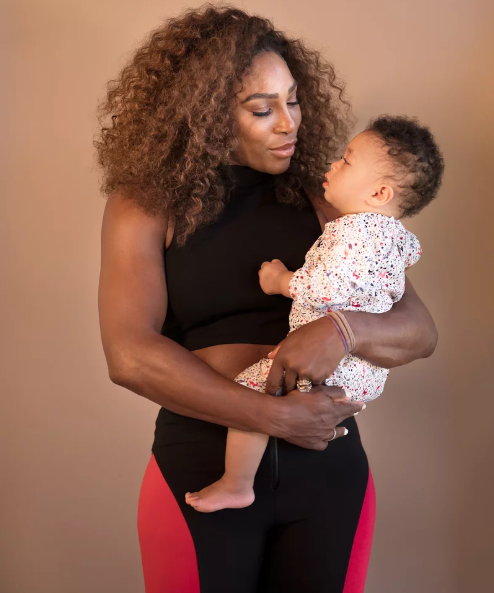 Patrick Mouratoglou says she made choices that put her family above her career, including staying home with Olympia and Ohanian rather than going early to Europe for clay-court prep.
He said:
"I felt the decisions were taken through the angle of the family, where before, every decision was taken through the angle of tennis. This is a big difference. Even if you are Serena, if you want to be successful in tennis, tennis has to be priority No. 1."
READ ALSO: Serena Williams Speaks On Motherhood & it's Many Complications She's Been Served With
According to Serena, breastfeeding her 11-month-old daughter, made it harder for her to get back into playing shape but said that was her utmost priority. Serena added:
"You have the power to sustain the life that God gave her. You have the power to make her happy, to calm her. At any other time in your life, you don't have this magical superpower."
Olympia is almost always on her mother's mind and Serena keeps looking for ways to balance her life as an athlete and as a mother.
"Sometimes she just wants Mommy, she doesn't want anyone else," Serena says, nearly choking up. "I still have to learn a balance of being there for her, and being there for me. I'm working on it. I never understood women before, when they put themselves in second or third place. And it's so easy to do. It's so easy to do."
She also revealed that she fell prey to peer pressure on social media by posting a photo of her post-pregnancy body on Instagram. She said that she used a waist trainer to push in her stomach so she could impress.
"I hated that I fell victim to that," she says. "It puts a lot of pressure on women, young and old."
Serena spoke further about how motherhood affects women in the workplace. Since returning to the tour, for example, Serena has spoken out about gender discrimination in the workplace, questioning why women coming back from maternity leave should lose their seeds in a tournament draw.
READ ALSO: Serena Williams Ohanian Reveals Why She Opted For a White Guy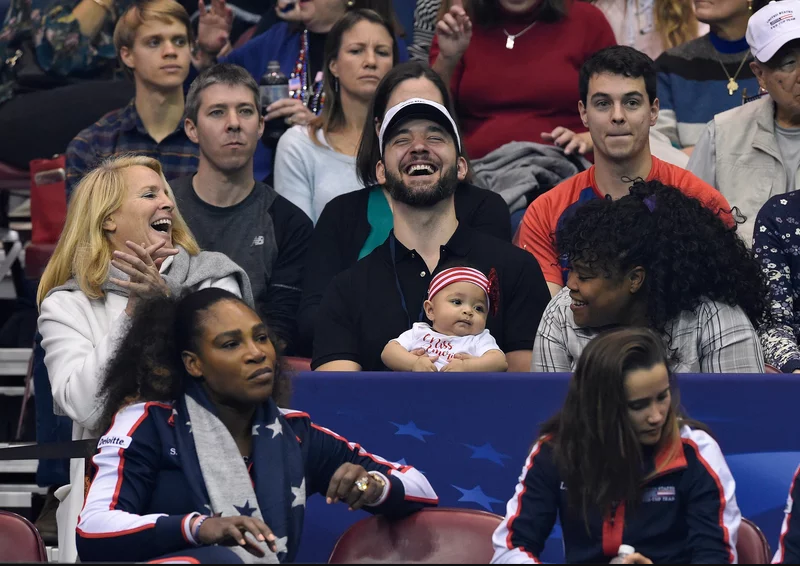 Serena was the top-ranked player in the world before she had Olympia. At the French Open, she did not receive a seed–a penalty that could dissuade other players from having children.
"It would be nice to recognize that women shouldn't be treated differently because they take time to bring life into this world," Serena says.
She's not the first player to come back after giving birth, but it wasn't until she did that the U.S. Open pledged to incorporate maternity decisions into its seeding process.
READ ALSO: Serena Williams Details Near-death Experience After Birthing Her Daughter, Olympia
Serena also addressed discrepancies in drug testing. The United States Anti-Doping Agency has tested Serena five times in 2018, according to its records. Meanwhile, Sloane Stephens, who won the U.S. Open a year ago, has been tested once. Serena called such differences "discrimination" on Twitter and thinks it's because some people won't accept that she's clean.
"Look at me," she says, glancing at her herself in a mirror at home. "I was born this way. They're like, 'Oh, she can't be that great, she must be doing something.' I don't even lift weights. It's all God, you know. But whatever."
Serena says she wants Olympia to have a sibling. She's learning on the job, like all parents. She still gets down, and has moments when she doesn't want to hang out with Olympia and then feels terrible for it.
And then there's all the time she can't bear to pry herself away, despite knowing that her game will suffer for it. Serena, however is learning to recognize the swings by telling herself they're normal and fighting the urge to beat herself up.
"Nothing about me right now is perfect," she says. "But I'm perfectly Serena."
Serena revealed some weeks back that she's been struggling with postpartum emotions and wants other new moms to know that if they are going through the same emotions, they are "totally normal."
She revealed this just a week after she suffered the greatest defeat of her career, a "6-1, 6-0" loss to Johanna Konta in San Jose, California.
Some days later, the 1st time mom pulled out of Rogers Cup in Montreal, citing personal reasons.
Picture credit: Time Mag