WOW! Jubilations As Prem Who Had Only 2% Chance To Live 'Graduates' From Intensive Care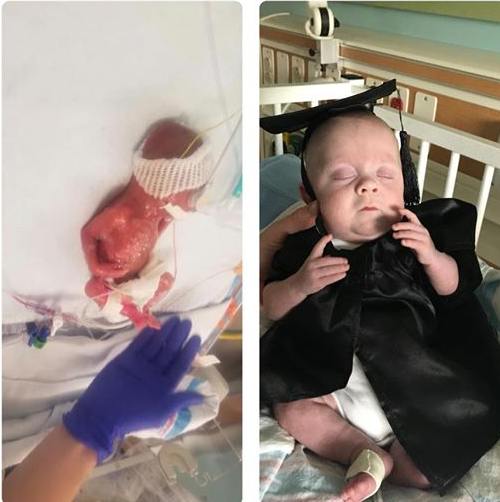 "While there's life, there's hope."- Marcus Tullius Cicero
A baby boy has proven this to be true in the most remarkable way possible.
Baby Cullen Potter who recently left intensive care had experienced serious complications even before he was born. These complications led to his mom spending three weeks in the hospital, where the parents were told that he had a 2% chance of survival and that even if he was born, he would have some forms of disabilities.
His parents, Robert and Molli Potter who had experienced 2 miscarriages were not taking any chances with this one which fueled their determination to keep their baby alive.
Robert called 16 hospitals across 3 states to find one which could accommodate such a severely premature child and that resulted into Molli getting transferred to USA Children's and Women's Hospital, where Cullen was delivered through an emergency C-section.
Baby Cullen weighed 13.9 ounces when he was delivered. Fast forward to the present, the brave baby boy proved himself a fighter and beat the odds despite everything.
ALSO READ: 'She's a Miracle': Allie McKinney Shares Her Premature Baby's Recovery Journey
He now weighs 5 pounds, 11 ounces and thankfully, he is said to be free from any major difficulties; even overcoming the devastating prognosis given to his parents.
To celebrate this great feat, the adorable little fighter was given his very own graduation ceremony, with the full package; complete with solemn music and a cute cap and gown. He was also paraded round the hospital by Jewel Barbour, the nurse who took care of him while he was under intensive care.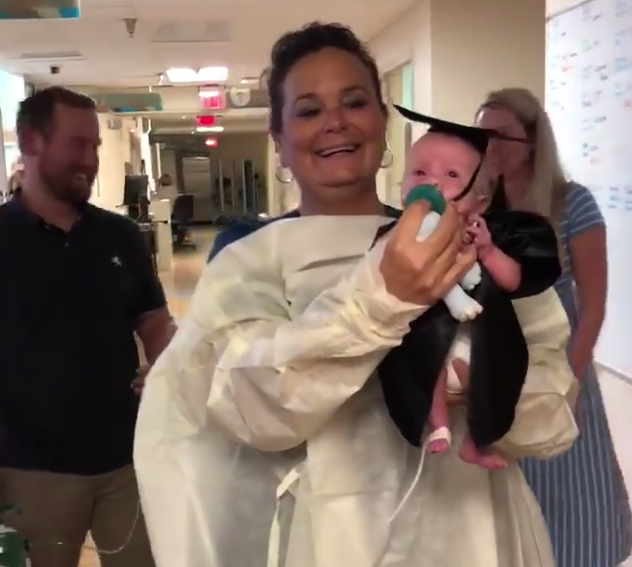 In a Facebook post, his mom thanked the hospital for believing in little Cullen despite his critical condition and also urged other hospitals to reconsider their policies.
She wrote:
READ ALSO: Good News for Pregnant Women As Scientists Develop Ground Breaking Blood Test Which Can Predict Premature Birth, Reduce Complications and More
"We were told he had a 2% chance to live. Well, here's our 2%. Perfect in every way. God is good big boy
* since this has been shared so much I'll elaborate. He was born at 22.2 weeks weighing 13.9 oz. after 160 days he finally got to come home. 5 months old and 5 lbs 11 oz. No major issues.

Our local hospital flat out said they would not save him before 24 weeks and he had a 2% chance to live. I opted to transfer (after my husband called 16 hospitals in 3 states to find one that would save him).

They acted like transferring was pointless, that trying to save him was pointless. Well, here he is. Alive and thriving. Never give up.
READ ALSO: Baby Born 3 Months Prematurely Survives Against All Odds: "He was not supposed to make it"

This post is getting around a lot so I'll say this. The hospital that would not save him (and does not save babies before 24 weeks) was Sacred Heart Hospital in Pensacola Florida. The hospital I transferred to that did save him with no hesitation was USA women's and children's in Mobile AL.

They are AMAZING at what they do. They believe in these small babies and give them the fighting chance they deserve. I pray the more doctors and hospitals see stories like my sons and many more, that they will reconsider their policy and give all the babies the chance they deserve."
Watch his graduation parade
https://www.facebook.com/mgahlenbeck/videos/10160593485635237/
https://www.facebook.com/photo.php?fbid=10160592824410237&set=a.10150496499225237&type=3&theater
Baby Cullen is definitely a miracle!
Picture credit: Facebook/Molli Potter