Proud Son, Stan Celebrates Mom Who Achieved Her Dreams Against All Odds With These Words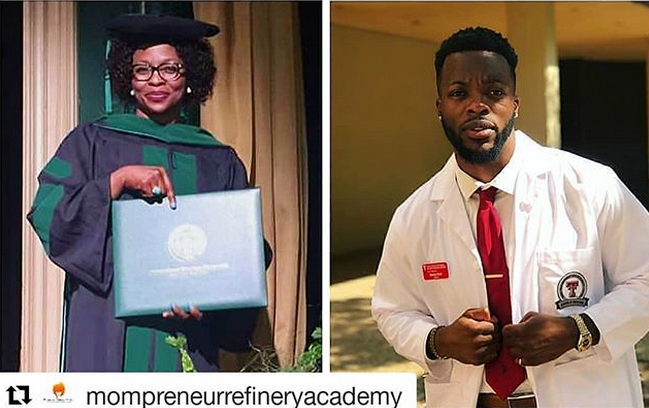 https://www.instagram.com/p/BUXmWwGgzRA/?hl=en&taken-by=stan.eb
In the pursuit of dreams, the only limitations that can stop you are the limitations you choose to see.
A proud son, Stan is currently melting hearts online after he shared a beautiful story of how his mom struggled as a wife and mom, and still went ahead to achieve her dreams despite the challenges she encountered.
After 4 grown children, the super-mom went back to school to take pre-med classes. Now, her journey didn't end there for she went further to graduate from med school and secured a residency.
Amazingly, her son, Stan, who took to his Instagram page to celebrate his mom's incredible milestone, just got admitted into medical school as well.
READ ALSO: "Return to school like I did after marriage," – First Lady Aisha Buhari Urges Northern Women
Stan wrote:
"Congrats to my strong mom for graduating from medical school and securing a residency. It's been such a long journey for you and I've watched you face so much adversity as a mother of 4, a wife, and a student.

I remember when you went back to start taking premed classes when I was in middle school, and I've watched how much you've had to persevere to get to this point now.

Going to med school in the Caribbeans, and even though they told you the odds were against you for getting residency you still managed to secure one (1 hour away from home) on your first cycle.

Man I'm so proud of you, and the example you've set for all of us. I love you mom????"
This woman's story is a reminder that it's never too late to achieve your dreams in life. Marriage or motherhood shouldn't deter you from pursuing your dreams.
READ ALSO: Remarkable Story Of A 24-Year-Old Single Mom, Briana Williams Who Beat All Odds To Graduate From Harvard Law School Is Inspiring
Congratulations to the super woman!
Picture credit: Instagram