Tia Mowry Talks About Breastfeeding Challenges That Awaits New Moms And It Is Eye-Opening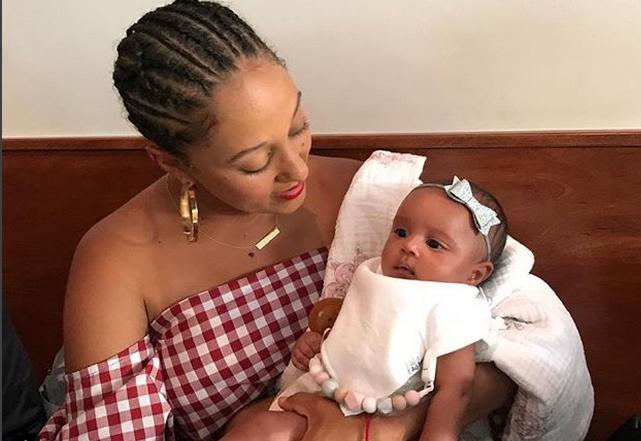 https://www.instagram.com/p/BkNtgx7lmna/?taken-by=tiamowry
American actress, Tia Dashon Mowry-Hardict who is originally known for her teen role as Tia Landry in the sitcom "Sister, Sister", had on a phone chat with Romper talked about being back in the baby zone 7-years after giving birth to her 1st child son, Cree.
In keeping with her trademark honesty, the mom-of-2 spoke about the breastfeeding challenges that await new moms…
"We moms we rock; we are rock stars. The biggest struggle for me was wondering and stressing if my baby was getting enough milk. I've had to learn that if she's happy and content then we are doing just fine. I had to learn to relax and listen to my baby."
"They know what they are doing more than we do. It's amazing how it's such a natural process and how they will take these small movements toward your breast just right after birth. It's a mind-blowing experience," she continued.
Having welcomed a baby girl, Cairo in May, 2018; Tia seems to be super in tune with her 2nd child, and also wants other moms to be with their kids.
READ ALSO: Tia Mowry's Brutal Honesty About Her 7 Weeks Post-partum Body Is One Reason to Love Her
Being open about her breastfeeding journey puts Tia in a unique position as she uses her experience on breastfeeding to bring change and educate other moms.
The society in which Tia resides is currently in the midst of "Black Breastfeeding Week," an effort to boost rates of breastfeeding in black communities, where black infants consistently have the lowest rates of breastfeeding initiation and duration, per CDC data. In part, those rates stem from a lack of support and education provided by hospitals to mothers.
"I think awareness and being an example are key," says Mowry. "If myself and others are open about breastfeeding, it will make other moms feel comfortable about the whole experience."
Tia is clear that asking for help, if needed, is key to an ongoing breastfeeding relationship.
"I have an amazing lactation nurse Jennifer Davidson who's been with me every step of the way. She's been a huge help."
If you are a parent of more than 1 child or you are expecting your 2nd child, you have probably heard from others that going from 1 to 2 children will rock your world and that is true for Tia.
READ ALSO: It's a Different Experience: Tia Mowry on How Her Second Pregnancy is Different From Her First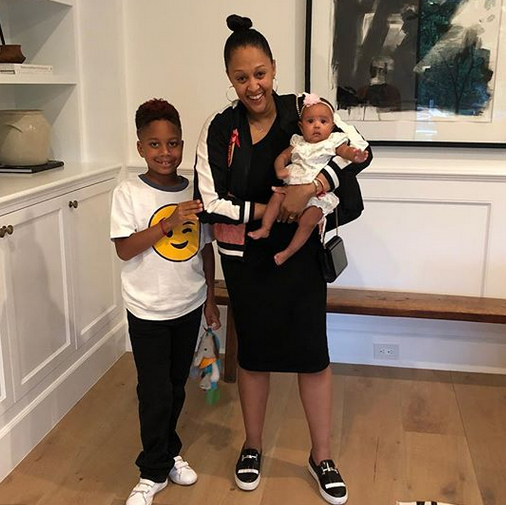 "My goodness. A lot of people told me that going from one to two would be harder than going from two to three, and I believed them."
Tia says she felt part of the reason she struggled with going from being a parent to just Cree, to having a newborn was the 7-year age gap between the 2.
"I waited so long," she says. "Cree is 7 and now I have a newborn, and you completely forget everything!"

"You know what I'm doing? Usually, I would say with just one kid, I'm taking one day at a time. But with two kids, I'm taking two steps at a time. I'm only looking as far as my two feet can go," she confessed.

"I can't get so far ahead of myself or I'll get really, really overwhelmed. But you know what they say? It's harder to go from one to two as opposed to two to three but now I get it."
READ ALSO: Tia Mowry Shares Powerful Message On Being A Woman, Wife and Mum
Tia also advised parents that are getting ready to welcome a 2nd, 3rd or even just their 1st baby that:
"It's just forgiving yourself, going with the flow, going with the punches knowing that there are gonna be great days, there are gonna be OK days, and there are gonna be some challenging days but guess what? You can do this and you can get through."
Instead of running to the gym after welcoming her daughter, Tia has learned to simply go at her own pace.
"I'm just taking my time and I'm also allowing women out there that you don't necessarily have to go back to yourself right away. It took you almost 10 months or a year to grow a baby. And it's going to take time for you to get back to yourself," she shared.

"Do I think it's important to get back to yourself? Yes, I think it's very important to get back to feeling great, get back to feeling like you were before having a baby but I'm not so fixated on having my abs back and all that kind of stuff. I'm just taking my time."
READ ALSO: Tamera Mowry-Housley Takes Honest Look at the Not-so-glamourous Side of Motherhood
In addition to being a proud mom-of-2 kids with husband, Cory Hardrict, the Hollywood actress celebrated a milestone in July; she turned 40.
"I'm just going to be really honest with you. Now that I'm 40, I don't have time for mess anymore," she shared with E! News' Justin Sylvester exclusively.

"I know what I want. I know what I'm going after. I have a small group of friends because when you're younger, it's all about popularity but that doesn't matter for me now. It's about quality vs. quantity."

"I feel happy in my skin. I feel confident and I feel like as you get older, you learn more about who you are and you embrace who you are and just go with the flow of life and go with the punches," Tia said.