Folake Achudume Reveals How Friends Counselled Her To Handle Her Mother-In-Law In Recent Interview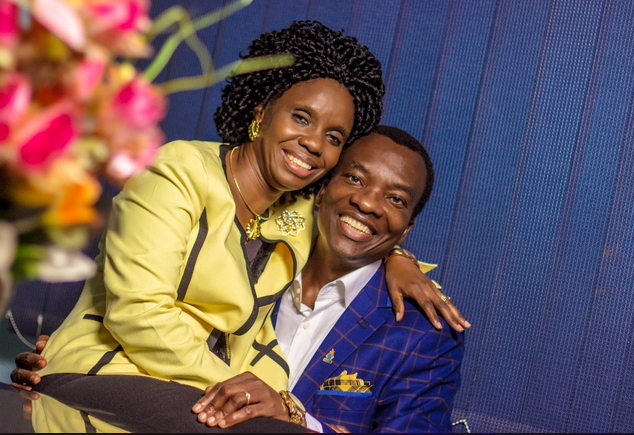 Despite the disparity in tribe, Apostle Lawrence & Pastor (Mrs) Folake Achudume of Victory Life Bible Church have lived as husband and wife for more than 25 years.
While Lawrence hails from Ukwani Local Government Area of Delta State, Folake hails from Ibadan, Oyo State capital. The couple, who leads Victory Life  Bible Church, Abeokuta, Ogun State; met in Kaduna, in 1991; during their National Youth Service Corp (NYSC) programme, and they got married in November, 1992. They are blessed with four children- two males and two females.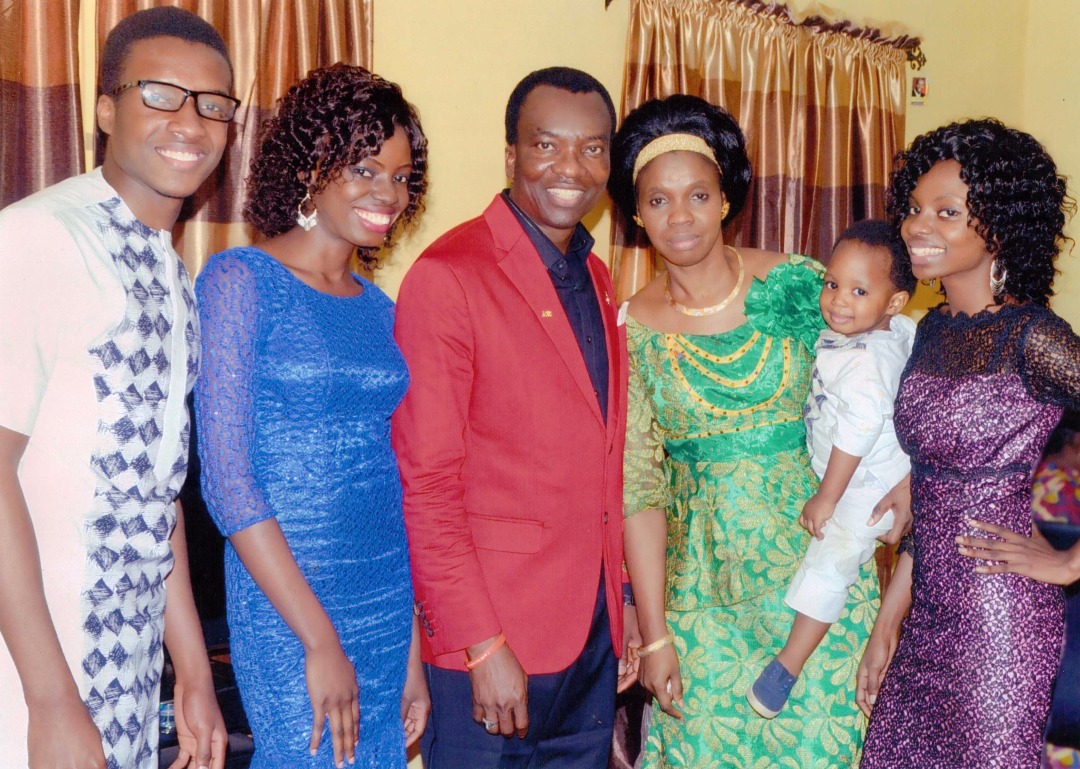 Speaking in a recent interview with Vanguard, the mom-of-4 shared some interesting facts about her experience before she got married.
According to the woman of God, 75% of her married friends at the time, were having issues with their mothers-in-law. As a result of this, she grew very scared so much that a senior friend of hers even advised her to pray that her mom-in-law would die before she wedded.
She went on to reveal that another lady advised her to pray for her mom-in-law's death so as to have peace in her home. Applying the wisdom of God, she however rejected the advise and rather, prayed for her acceptance.
READ ALSO: "Why My First Marriage Of 26-Years Failed" -Archbishop Nicholas Duncan Williams
"So, I asked her, don't you have a mother? My mother has a son and if his wife prays that her mother-in-law should die, do you know that she'll be praying that my mother should die?

Don't you think that if we too have a son, our son too will be married one day and if the lady he wants to marry starts saying the same prayers about us what would happen?

I didn't heed her advice. I'd rather pray that our mothers-in-law would accept us. That was the mentality I brought into my marriage.

I prayed to God that "what I cannot do to my mother help me not to do it to my mother-in-law, what I can give my mother help me to be able to give my mother-in-law", because I knew if I can handle that aspect of marriage I've handle the major challenges."
Speaking on how she managed her relationship with her husband's mom, she said:
"My mother-in-law speaks English and we relate very well. Initially, it was awkward, but with time, she was lively and lovely. In fact, we are the best of friends and we confide in each other."
Finally, Rev. Folake Achudume advised ladies to see their moms-in-law as their mother and best friend in order to have peace.
"I always advise spinsters to know their expectations in marriage and be ready to pay the price and they should be averse to the "they want to take my husband away from me" mindset.

Once you know that your husband and his mother are close, the best thing is to see her as your mother and best friend so that all of you are close."
On why divorce is so rife in Nigeria, the woman of God has this to say:
It's so unfortunate and even so in the church. I always advise spinsters and bachelors that before they embark on anything marriage they need to reconcile their expectations because marriage is serious business. It requires much effort and compromise to work.

November, 2018 will make it 26 years that I have been married and in the beginning of our journey, my husband and I agreed that our marriage would work.

We resolved that no matter what, we'll make it work and nothing like "I will pack my load and go to my parents or friends' house because of misunderstanding. Every couple has its trying period because of gender and temperament.

In my own case, we're from different cultures, but we reached a compromise. A forgiving spirit is crucial in a lasting marriage because offence will come, but couples shouldn't let it thrive.
READ ALSO: 15 Divorcees Reveal Subtle Red Flags They Ignored Before Getting Married | We Agree with No.3
On why she married from another tribe, she narrated:
Motives matter in every relationship. Most couples marry out of pressure from parents or because of aging, so they just want to marry anybody. By the time their differences show up, they're ill-equipped to address them because the foundation is faulty.

After a long walk with God and commitment in His vineyard, I resolved that I wouldn't marry a man that's not passionate about God regardless of whether or not he's a pastor.

I see my husband as somebody that can support me to make heaven, because he loves God passionately. Aside that, he has vision which is paramount in life.
On how she copes in terms of cultural differences:
That was one of the major reasons my father initially resisted our courtship as he wondered "if they wanted to sell you in their language how would you know?" and I convinced him that God loves me and I don't doubt His love.

I don't speak my husband's language and he doesn't speak mine. During our courtship, some family members didn't speak English to him, but he spoke English to them.

Our language barrier made me uncomfortable initially, but once they start speaking their language, I focused on other things but thereafter he told me everything, so I don't feel lost because we believe we represent each other's interest.

I learned how to cook their delicacies just to surprise my husband once in a while and when I have issues with how to prepare any, my mother in-law comes to my rescue.
What's your disposition to supremacy in the home?
I recognise the fact that my husband is head of the house, I have nothing to fight over. As a Christian, the bible says he is the head of the home while I am his helpmate, then we have to perform our roles.

People normally say a woman should submit herself, yes, it is in the bible, but I always say submission is not subjugation. The bible that says submit also says husbands love your wives.

If you can't love me I will not submit to you. If a man loves his wife, he won't need to beg for submission because the woman will submit with joy. She will allow you to lead and the fact that you are leading doesn't mean she is inferior to you.

You both need to talk and decide together and when she brings ideas you don't rubbish them, you consider them and reach a compromise. The key is to value each other, there should be flexibility and no boundary to roles.
READ ALSO: Jada Pinkett Smith Shares These Thoughts On Marriage And It Is Absolutely Downright
Should a lady marry a jobless man?
There's nothing bad about it, what's important is that the man must have vision. He must have a dream and be committed and live it through his mannerism, speech, association and also love God, because money will definitely come.
In an interview with PUNCH last year, the couple gave some words of advice to young couples.
Husband: Aside from what they read in books, they should understand themselves. Marriage is not something that you read in text books.; it is about experience. You must understand yourselves. Unfortunately  most of those who counseled me on marriage have divorced.
Nothing a man hates than ignore him when it comes to sex. When a man made a pass at you sexually and you ignore him, you are killing the home. Some for a woman when a man is talking to and you ignore him, you are causing problem. Give yourself due attention. You must blend and learn from each other.
Couples must understand themselves; give attention to each other. When there is attention, communication is a done deal. Make up your mind from day one that as you enter the marriage, there is no going back.
Wife: From my experience in the past 25 years, I have come to appreciate that one thing a man looks forward to in marriage is respect. Respect him for what he is, respect his opinion, respect his counsel; give him honor before people, friends. relations. Don't talk down on him.
For the husband, love your wife, show affection, take good care of her even if it seems you don't have. Give her attention, don't speak ill of her. Let your private issues and discussions be among yourselves and not an outsider.
Make her realize that she is the best thing ever to happen to you in life. Assure her everyday of your commitment to her. These are the things that build the homes and give it everlasting peace.
What were the initial reaction of your friends when you shared your intention of marrying your wife?
I recollect very well that when I shared my intention with one of my friends with whom I stayed in a room, he laughed and started mocking at me; wondering why I should marry Folake whom he described as an ugly girl. As stupid as I was, I believed my friend and I withdrew.
Later, I discovered that he was  always with her; buying her meat pie which I could not afford because I was so poor. I later began to think that if she was that ugly as portrayed by my friend, he would not be going out with her. I later suspected that something was going fishy and that my friend wanted to outsmart me in the relationship.
So I went ahead to propose to her one day by saying "I want to marry you" She said she would not give me an immediate answer until God knows when, but I insisted that it had to be that day.
Wife: Knowing him, he is just like that; a funny character fellow, who is always humorous, but what he wants, he goes after it doggedly. So when he made the proposition, I told him I would not give him an answer immediately,  but he refused to let me be and at the end of the day, I had to give in.
On their parents' initial reactions to their different tribal background
Wife: For me it was a battle, a big one for that matter. We had expected that from our parents because of our different tribes and we were not that perturbed when it eventually came.
My father was wondering why I chose to marry someone whose dialect I don't' understand. He expressed the fears that even when they are planning any sinister move, I would not know. I believe it is natural for every parents to feel like that.
We had to pray, fast until one day when I told them that if there is going to be fire in the house, I am going, God would not make it to be, but If God made it to be, that means He had something in stock for me and the fire will be extinguished. So when he saw the way I was resolute, one day, my father g0ave in, but it really took a while.
Husband: The first thing my father said was "so in the whole of (Bendel), Edo and Delta State  you can't get any girl to marry. It is only in Yorubaland that you want to go and marry. My siblings were also of the opinion that Yoruba ladies do not know how to cook; that their soup is always watery but I stood my ground; at a point my father said he would not come for the wedding, but after a while, they all accepted and they allowed us to be.
On their take on joint account by a couple,
Husband: I support it; it helps to bring trust in marriage. In our own case, she alone can sign our joint account cheque to make withdrawals. I made her to be in charge, If I need money from our joint account, she must sign or else the bank will not honor the cheque. I did that to let her know that my love for her is total.
Wife: It helps build love and trust. For the younger generations of today, what I usually counsel is for them to have a common purse and at the same time maintain individual account that will give them sense of independence that they may want to have as many of them usually complain about the joint account.
For us it is working and it will continue to work. A couple with individual accounts can have the understanding that certain percentage will go into the common purse (joint account) because such promote trust and openness at home, just as it reduces fractions and also helps to overcome what challenge may can cause.