Why Cristiano Ronaldo Thinks It Will Be Difficult For His Son, An Aspiring Football Player, To Surpass Him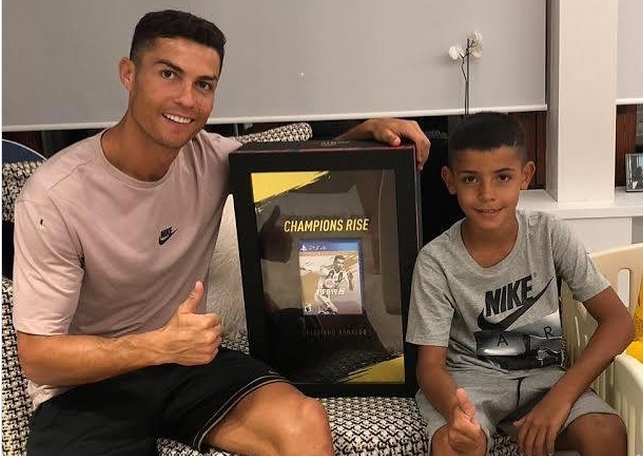 Portuguese professional footballer, Cristiano Ronaldo has reached the pinnacle of the Beautiful Game – and he feels it will be 'difficult' for his son to reach those heights.
The 33-year-old footballer has revealed that his eldest son, Cristiano Ronaldo Jnr, is not only dreaming of emulating him as his father, but also surpassing him.
The Portuguese star claimed his 8-year old son will struggle to be as good as him at football. Both father and son are currently on the books of Juventus – Ronaldo Snr joining for £99m from Real Madrid in the summer, and 8-year-old Ronaldo Jnr linking up with the academy.
ALSO READ: Daddy Duties! Footballer Cristiano Ronaldo Pictured Helping His Son With His Home Work
Speaking to Bein Sports, the superstar and dad-of-4 said:
"I hope that Cris, my son, can be like his dad. He says he is going to be better (than me), but I think it's difficult. I am very happy to have scored, for him too.

He is playing for Juventus and adapting really well, it has been easier for him than for me."
Ronaldo is, of course, already considered one of – if not, the – greatest player of all time so it will take more than mere talent if his son is to reach a similar height. After all, it is Ronaldo's incredible determination and work ethic that has enabled him make the most of his God-given gifts.
READ ALSO: Top Surgeon Blasts Cristiano Ronaldo For Birthing Twin Via Surrogate Mum
But Ronaldo Jnr is certainly in a very good position to do it. He not only shares 50 per cent of his genes with a five-time winner of Ballon d'Or, but also has access to the kind of guidance that would be considered priceless by any young hopeful.
The fact that Juventus, one of Europe's best clubs, has taken him under their wing is an indication of how talented the youngster is. Either that or a place in the youth team was a make-or-break condition in Ronaldo's £100m move from Real Madrid.
ALSO READ: "My Parents Told Me Football Was A Waste Of Time & I'd Never Succeed At It."- Sadio Mane Reveals How He Defied His Naysayers
Even if that was the case, it certainly is not now. Unlike his father, Ronaldo Jnr not only scored on his debut for the Juventus under-nine team but netted four times.
He followed up that stunning performance with a goal in his next game, suggesting he could well be on the way to a professional contract.
Well, time will tell!
Photo credit: Cristiano Ronaldo/Instagram/ Juvenile Court Hancock County