Kim Kardashian Cheers On As 5-Year Old Daughter, North Debuts On The Runway| Photos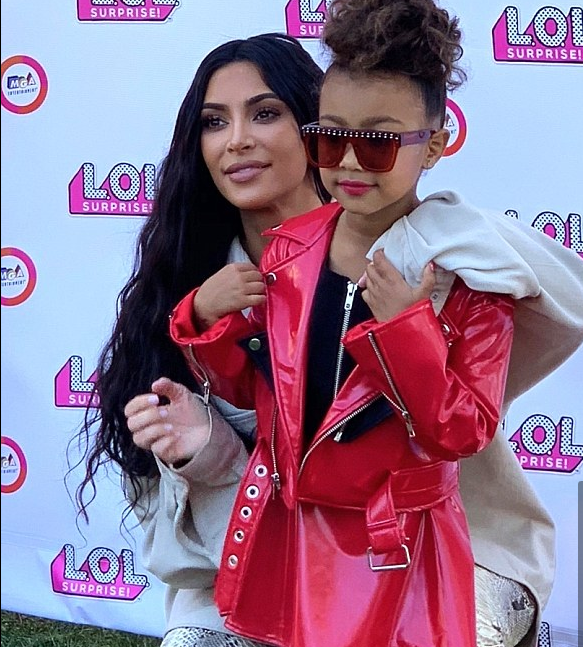 Earlier in the month, Kim Kardashian-West was mommy-shamed for allowing her 5-year-old daughter, North West wear red lipstick.
And after assuring fans it's not a regular occurrence, Kim Kardashian made another exception on Saturday for the LOL Dolls Kids Fashion Show.
Looking on like a proud mom, the 37-year-old mom-of-3 posed on the photo op wall with her eldest daughter before cheering her on as she followed in Aunty Kendal Jenner's footsteps and walked her first runway.
READ ALSO: Cute Cousins Alert! Kim Kardashian Shares Photos of North West and Penelope Disick
North's ensemble featured a PVC skirt and matching jacket on top of a black zipped up singlet.
The 5-year-old had her naturally curly locks tied up into a ponytail on top of her head and accessorized her look with large rectangular tinted shades.
READ ALSO: Kim Kardashian Defends Her Parenting Style | Responds to Mommy-Shamers
Kim joined North on the photo wall and kept her look to a neutral color palette. She dressed in a long oversized trench coat and snakeskin trousers with matching boots. The reality star had her long brunette extensions styled into loose beach waves for the kids event.
Gorgeous: The reality star had her long brunette extensions styled into loose beach waves for the kids event
Looks exact! Channeling the LOL Surprise doll Thrilla, her look was complete with some red lipstick, no doubt from her mom's latest KKW Beauty range
The next generation of supermodels! The kids fun day saw North join other tots like Busy Phillips' daughter Cricket, five, and child star Mykal-Michelle Harris, six on the runway
Social media users were quick to film the daughter of Kanye West as she made her fashion show debut.
READ ALSO: Kim Kardashian Addresses Speculations About Her Laziness & Lack of Talent
Go North! North kept a poker face as she walked the show, with even actress "Busy" seen loudly enthusiastically cheering her on.
Cricket was dressed as the LOL Doll Super BB.
Supporting Cricket! "The Dawson's Creek" alumni opted for a floral maxi dress and pair of white sneakers for the event
She sported a pink and purple leotard with a burnt orange colored cape. The look was complete with gold knee-high boots and glitter hairspray in her two plaits.
Dotting parents: Taking to Instagram, "Busy", who was joined by husband, Marc Silverstein hilariously shared a moment from the show captioning: 'At a fashion show for dolls'