Matthew Wright Breaks Down In Tears As He Recounts How One Last Embryo Kept In Freezer For 6-Years Did It For Them| Photos & Video
They announced their miracle pregnancy with a baby girl last week, following 8 years of 'challenging' IVF treatments.
And Matthew Wright shed tears as he discussed he and wife, Amelia's road to parenthood during an emotional interview on Wednesday's episode of Lorraine. The former 'Wright Stuff' host, 53, and his 42-year-old wife, who is about 5 months pregnant, spoke of their previous IVF heartache, which saw them endure a heartbreaking 6 miscarriages.
A blooming Amelia said she was still in shock that they are expecting their longed-for first baby.
READ ALSO:Miracle! After 3 Failed IVFs, Woman with Shut Tubes Welcomes 1st Child Through Natural Conception
She said: "I feel sick, I have nausea all day but I'm really really happy, I cant believe it's happening. We spent eight years trying, had 6 miscarriages, but it really is 7th time lucky."
Matthew added: "Last time Amelia met you, Lorraine, I was in the jungle, she was just talking then about struggling to have kids. After that, we had 2 very big miscarriages which was so hard for us."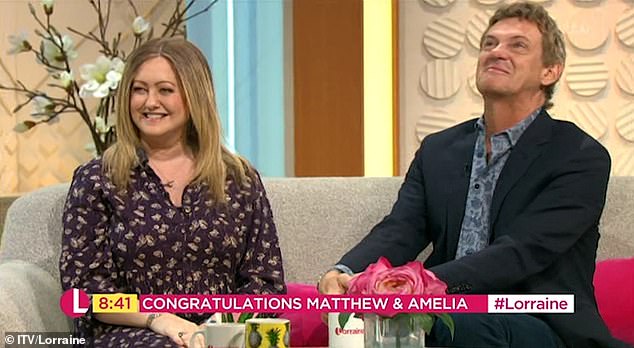 Amelia continued: "After that happened, I thought I need to have a break, maybe it's not meant to be, had to take a break and think about what we wanted to do. It really was the last chance."
READ ALSO: "People who get married and have children don't know how lucky they are." Ibidunni Ighodalo Opens Up On Her Struggles With Conception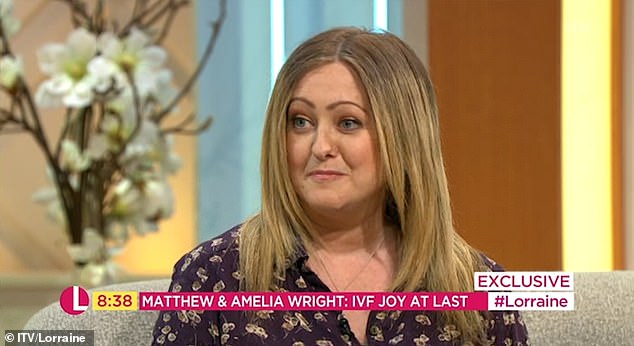 The couple said they had one remaining embryo which had been in the freezer for 6 years. They considered donating it to medical science, but in the end, Amelia said: "I couldn't give it up."
Although the couple are happily looking forward to the arrival of their baby on Valentines Day, they admitted the pregnancy has been 'difficult.'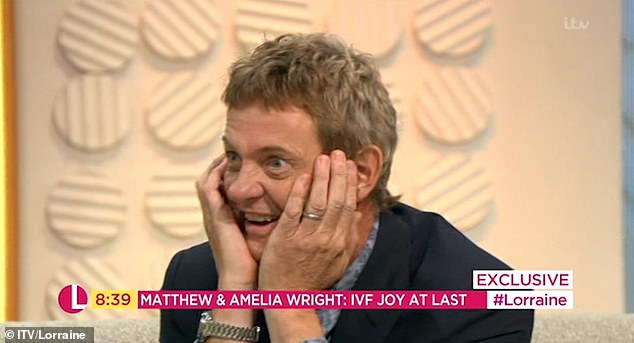 READ ALSO:Woman's Story Changes After Losing a Pregnancy at 22 Weeks, 2 Blocked Fallopian Tubes, Incompetent Cervix & Failed IVFs
Matthew said: "It is considered a high risk pregnancy. She is scanned twice a week, there have been little bleeds, which can be very normal but also can be frightening, we've been in casualty half a dozen times."
The star also admitted that previously, he had not seen fatherhood in his future.
"I never truly even had a flicker of interest in being a parent, I looked at them and thought, look at them polluting the world. And now, I'm going to be a father!"
Amelia added: "He is going to be the most doting dad."
Matthew, who recently quit his talk show after 18 years said: "The baby news came three days after I quit. I can be a pensioner parent."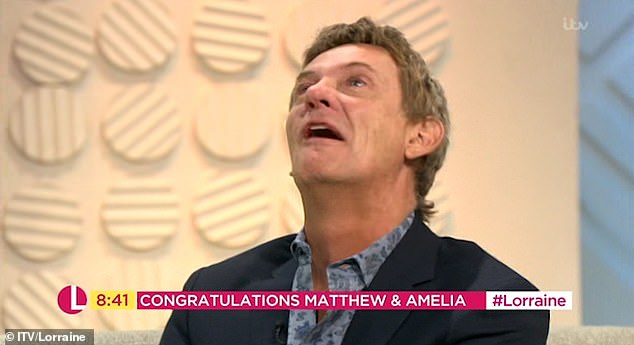 READ ALSO:OMG! Couple Discovers they Are Actually Siblings After Routine Tests at IVF Clinic
Lorraine arranged for a montage of well-wishes from Matthew's celebrity pals, including Anne Diamond and Christoper Biggins to be played, and this left Matthew in tears.
Matthew said: 'There is so much goodwill in the world to us, our families, we couldn't have more goodwill from the world"
"I can't quite get my head around it to tell the truth. Everyday, I look at Amelia and think,'what have you done?'. It's amazing."
Matthew has been with his second wife, Amelia, a Sony music executive, since 2007; and they have been married since 2010.