Why Tonto Dikeh's Sister, Tatiana Dikeh Tried To Kill Herself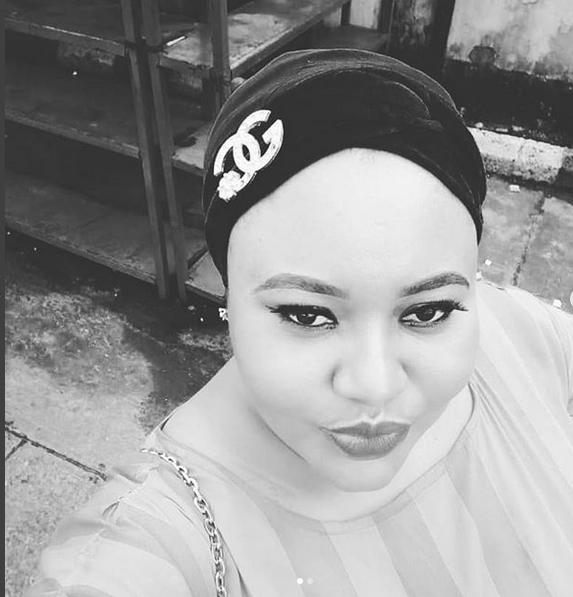 Recently, Nigerian actress,
Tonto Dikeh
's sister,
Tatiana Dikeh
took to her Instagram page to share details of her battle with clinical depression and how she almost took her own life during the ordeal.
Depression
is real, and unfortunately, it has no boundary- it's no respecter of age, gender, status etc., and if not promptly exposed, it could lead to the worst that can ever happen- suicide!
The beautiful single mom-of-1 identified as @tushtati01 on Instagram confessed that she drank hypo bleach before going to bed one night, expecting to die in her sleep but woke up the next morning to the sound of her alarm.
Rather than attempt suicide a 2nd time, she spoke out about her struggles and she got helped.
While sharing her testimony via Instagram, she likewise seized the opportunity to mention and thank those who stood by her during the crisis.
See her post below:
"So, I've bin wanting to do this but I was worried about what d world wld say about me… It's my own testimony!!! 3weeks ago, I thought of my life and den devil spoke to my spirit and said, "Tatiana, u r a failed parent….Ur daughter is ashamed of u and ur efforts r all wrong and boom, I gave in…. That night, I realized God had a purpose for my life because I drank hypo and to me, I said to myself I was gonna die and have peace…. The next day, I woke up to f sound of my alarm and I pinched myself and realized I didnt die as expected, no tummy aches, nothing and dat morning, I sought to find help????????????I talked to my angel in human form @gorsky2211 and he said, I needed to seek help and my journey for help began… I put up a post on @womeninportharcourt page and then, another angel asked I sent her a DM @noise1405 which I did and she made sure I started going to a rehab…. I didnt only find help, I found a big sister in her…. Before my help, I was a monster to my child, always sad,very aggressive and that was when I was told I had clinical depression….. On this journey of healing, it hasn't bin easy but God has bin faithful and even though d mood swings come often, I'm alot better than I was now all because I got people who showed me love and God who kept me alive… Thank u to all those who knew my journey and have bin patient with me.. @gorsky2211 thank u for taking absolute care of me and my daughter, @noise1405 thank u for letting me be ur baby sis and for helping me thru dis journey despite ur own challenges, @lianna95 thank u for understanding and to my bestie @fab_.prince u made sure u told me how much u loved me every morning and that helped me heal faster too….. When u feel depressed, speak up, seek help, don't stop till u find it!!!!! Suicide isn't d best way out of ur challenges #Survivor #ibeatclinicaldepression #Godkeptme #mydaughtersmother"
READ ALSO:Touching Story of Destiny's Child's Michelle Williams' Battle With Depression Casts a Spotlight on Mental Health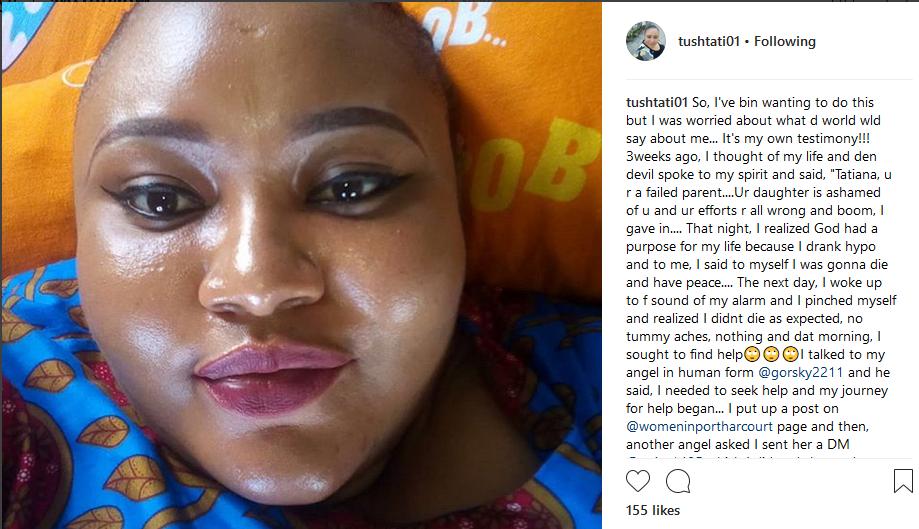 No matter what you may be going through, you must know that suicide is never a way out, please speak to someone today.