Mom Appreciates Another Mom For Raising Thoughtful Teenage Son Right In Heartwarming Post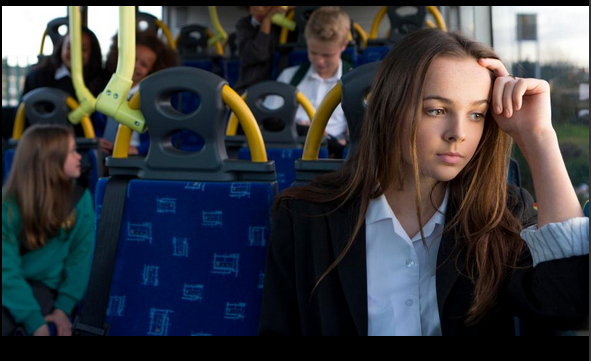 The story of a boy who stepped in to help a girl whose menstruation started while they were on a bus is going viral since the girl's mom reached out to the boy's mom and thanked her online, telling her she's "raising him right".
The mom, who shared the story on the Facebook page of 'Gurgaon Moms' recounted how her daughter had unknowingly started her period while riding the bus home from school, but what could have been a potentially awkward situation was quickly resolved when a boy came to her rescue.
READ ALSO: Ayodele Olofintuade's Narrative On Raising Boys Outside the Norm Is a Breath of Fresh Air
The woman went on to thank the other parent for her son's kindness:
"If you are this boy's Mom… I want to say thank you and that you are raising him right!! We hear so many bad things about today's youth, and I wanted to share something positive!"
See the screen shot of her post below:
READ ALSO:Unbelievable! Girl Grows Breasts at 2, Menstruates at 4 and Now Faces Menopause at 5 | See Details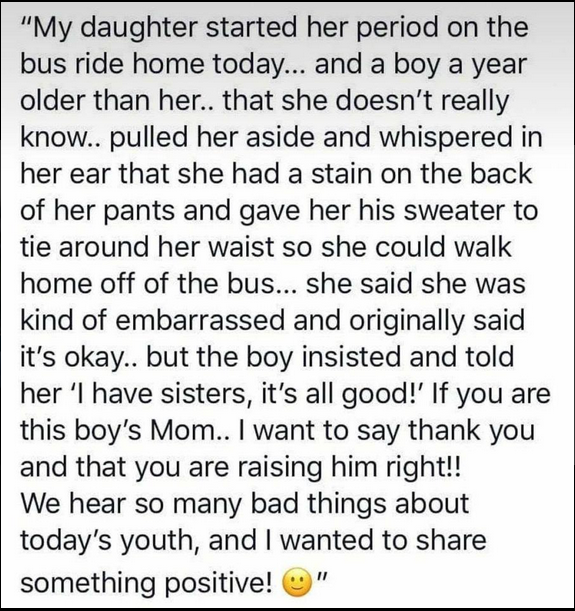 READ ALSO:What to Tell Your Daughter Before & After She Starts Menstruating
Her post has generated a lot of comments with most praising the boy.
See a few of the comments below:
"This highlights the importance of teaching boys and girls bodies and vice versa. Understanding engenders compassion."
"We need more people like this in the world!"
"It would have been so tempting to make fun of her. And even if not that, very awkward to have this conversation with a stranger. He must have been awfully hard for your daughter to react how she did."
It gladdens the heart to find children- boys and girls- raised with the right values showing forth.
CREDIT: TheSun