Hairstylist, Olorogun Marbel Recounts How She Was Unjustly Arrested, Detained, Extorted And Sexually Harassed By SARS Operatives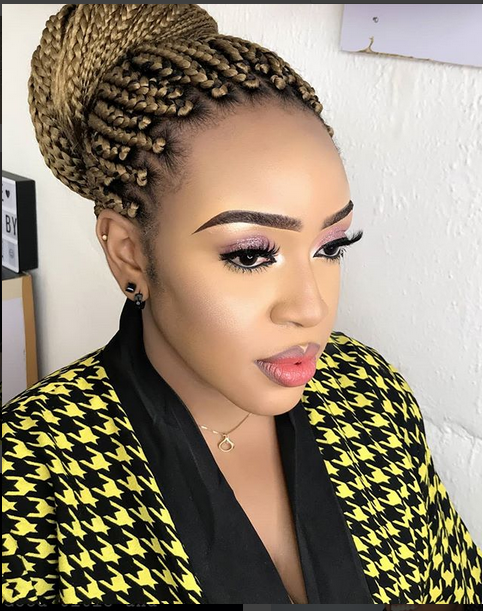 A Nigerian hairstylist and fashion designer identified as Olorogun Marbel Peters took to her Instagram page to share an unpalatable encounter she had with some SARS operatives.
Recall that just a day ago, popular TV personality, IK Osakioduwa had recounted an appalling encounter he also had with some police officers and just few hours later, this Nigerian woman, Marbel is relaying a more horrific encounter in the hands of these people who are tasked with protecting the lives of Nigerian citizens but who have rather chosen to do otherwise; and they are fast becoming a pain in the neck.
Marbel wrote about how SARS operatives crossed her with their vehicle, demanded for her driver's license, and vehicle documents which she showed to them. Not satisfied yet, they demanded for her work ID card which she claimed she did not have on her at that moment. They arrested her and got her detained for 7-hours, checked through her phone- her call logs, her mails, claimed she was a wanted criminal…
READ ALSO: Video: How SARS Officials Beat Up Pregnant Woman Who Ended Up Losing Her Quadruplets
Read Marbel's full story below:
"@opetodolapo Today is definitely one of my worst days.. I woke up a bit feverish with slight headache so I cancelled my activities for the day, at about 6:30pm I decided to go get drugs,because my condition seemed to be getting serious and also get pizza for my mum just 7mins drive away from my estate.. On getting back to my estate, a blue Prado jeep stopped right in front of me and some armed men on uniform came out asking me to park for a search, I obliged, they went through all the vehicle papers and drivers license etc very much complete.. The next question I was asked was they needed to see my company Id ,I tried to explain to them I didn't have it on me because I just drove out to get pizza from the next bus stop and they said I was under arrest for stealing a vehicle and I couldn't give them an ID of where I work, I obliged and we drove to their station and the whole story changed.. One of the officers made a phone call and he said I was among the criminals they received a call about.. I tried to beg, I even showed proof of the medications I got, they gave me a paper to make a statement,in the process they took my phones from me and started going through my phone, from my chats call logs down to my bank mails etc…. After spending 2hrs with them they demanded for a sum of 2million naira as my bail,for a crime I do not know.. This is pure wickedness and evil… I never stole, robbed, violated any rules etc… We finally came to an agreement after keeping me hostage from 6pm till 12am that I should pay them 100,000naira.. One of the officers even approached me trying to sexually harass me!! This same men didn't even mind the time they comfortably drove me to an ATM machine so I could make a withdrawal for them… These men are criminals!! I was granted bail by 1:30am after spending 7good hours… Someone's hard earn money This Is totally unacceptable, Are you guys not meant to be protecting lives ? Why will you extort someone of their hard earn sweat!! I thought SARS had ended… (officers names are : officer Matt, Emma, security, Friday) @opetodolapo @tundeednut @ruggedybaba @instablog9ja @mr.jollof_ @governorscousin"

https://www.instagram.com/p/BqLpm4EA7-k/
READ ALSO: If I die, look for me at Ajiwe Police Station' – Actress April Joju Cries Out After Suspected Police Brutality
Now, if you thought Marbel's ordeal in the hands of SARS was shocking, the comment of one of her IG followers would shock you the more.
The account with handle @kenobbor told how a man was arrested after he had used the ATM and after much talk with him, he was handcuffed. SARS operatives requested for all manners of evidences from the man but the most shocking was his marriage certificate to prove that the woman on his phone screen was his wife…
Read the comment below:
"@kenobbor: "I pray you quickest recovery from the traumatic experience.. Thank God we're not weeping over you. The truth not all live to tell the story.. I believe in the strength of social media engagement in nailing some of this issues.. A neighbour was picked just after using the ATM machine and after much talk he was even handcuffed and I had to speak with the officers why such move was warranted in the first place.. To my amazement we heard all manner of talk even requesting his marriage certificate to prove his wife's pix on his phone was actually his wife "they had PERSONAL STUFFS" later the wife arrived from her shop to see the officers and one was even trying to chik her sef.. Las las they spoke in codes. Saying efun ni OCtober 10.. Meaning 100k we later learnt. Finally an amount was agreed and boom they moved to thier next target.. I still have hope in the Police Cus I have met wonderful officers.. Indeed there was a country.. Abeg make I come down..Driver Odoeran wa oh"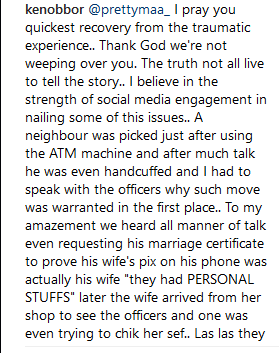 Which way, Nigeria?!