Corpse Of Mother Of Three Refused Burial After Allegedly Murdering Her Husband, Children And Self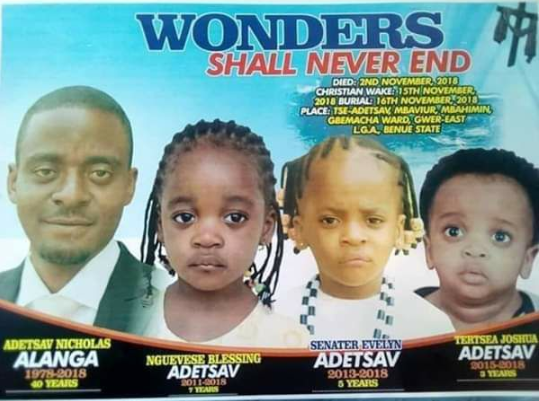 Mr. Nicholas Adetsav and his three children have been finally laid to rest. They were buried amid tears on Monday, November 19th at their hometown in Gwer-East local government of Benue state.
Mr. Nicholas Adetsav Alanga was found dead with his wife and children at their home in Vandeikya street, Makurdi, Benue state.
READ ALSO: 'I Will Look After Your Children' -Kimora Lee Simmons Pays Tribute To Her Darling Friend, Kim Porter
The attack began following a disagreement and the wife, who neighbours say has been known to be violent, went on a rampage. She damaged her husband's car then killed her entire family before taking her own life.
It was gathered that the villagers refused the wife, Rachel to be buried along with the rest of the family after it was alleged that she killed her husband, and three children before finally killing herself.
According to reports, late Nicholas Adetsav and his children were taken to Tse-Adetsav, Mbavur, Mbahimin, Gbemacha Ward Gwer-East Local Government for final burial where the husband's family and other villagers rejected Rachel's corpse which they labelled an abomination.
Four corpses were buried in the family compound instead of five.
The wife was initially omitted from the previous obituary as the rest of the family members were scheduled to be buried on Friday, November 16th before she was included in the updated poster.