Kemi Lala Akindoju, Adesua Etomi, & Banky W React To The Viral Video Of Nigerian Men Sexualizing The 5-Year Old Girl-Child
Nigerian TV personalities, Adesua Etomi-Wellington, Kemi Lala Akindoju-Fregene and Banky W have reacted to a talk show viral video sexualizing a random 5-year-old girl due to her choice of clothing, by male guests on the show.
Recall that recently, TVC show host, Morayo Afolabi-Brown made a controversial statement that trended and which got many people call her unprintable names for days, well, it seemed she was referring to the thought-pattern of an average Nigerian man judging by what those two grown men said on a live show.
READ ALSO: Cleric, Rev Jesse Agbon Insists Husband of TVC Show Co-Host, Morayo Is A Paedophile | Husband, Femi Brown Replies With A Bang
The men, while speaking on Nigerian Social activist, Lolo Cynthia's show, 'Lolo Talks' where the topic of discussion was centred on rape, opined that a 5-year-old girl on bum short is a sexual being.
One of the two male guests had argued that female children no matter how young, should be dressed properly in order not to attract pedophiles. He stressed that female kids even as young as 5 years are sexual beings and shouldn't be dressed in bum shorts especially to malls.
"Sometimes you go to the mall and you see a child of 5 or 7 wearing bum short walking around and you see their parents walking behind them… Sometimes what the 5 year old or the 7 year old is wearing is revealing."
When Lolo Cynthia attempted to put him straight that a child is a child and not a sexual being, the second guest added that excessive freedom starts from a young age, to which Lolo Cynthia fired back:
"A child is a child, a child is not a sexual being, you are the one who is sexualizing that child"
He quizzed rhetorically:
  "How is a child, not a sexual being?"
Lolo Cynthia persisted in telling them that rape is more a problem with the rapist than with the victim, but the men stuck to their guns that female dressing, at any age is also a problem.
Reacting to the opinion of the men, Banky W took to his Instagram page and opined that for the sake of our children and our families, everyone should speak out against this.
Sharing the video, he wrote:
READ ALSO: How Sick Paedophile Travelled 400 miles with 48 condoms to Rape 8-Year-Old Girl | See Details
"This is one of the most disgusting videos you will see this year. THIS MINDSET is the problem. And the guy said "how is a child not a sexual being?" ARE YOU INSANE?!?!? A 5 or 7 year old child and you have the guts to talk about bum-shorts?!?!?!?! This is the real mindset of way too many men in Nigeria. This is why 1 in 4 of our girl-children have been sexually abused. And some of our boys too. We have a lot of behaviours to un-learn. The idea that it's not the fault of a sick, twisted, perverted individual who commits the sexual abuse/offense.. but that it's somehow the fault of the victim because of an outfit. We just engaged with the Mirabelle Center about their treatment of sexual abuse victims. They've treated over 4,000 patients (all free) – but get this, their youngest patient was a 3 month old baby girl.. and their oldest was a Grandma in her 70's!!!!! We have a mindset that must be wiped out entirely. This is not okay. Not sure what tv program this is, but that these 2 men could actually CONFIDENTLY make these statements shows just how terrible some of us think. For the sake of our children and our families… Everyone should speak out against this. Everyone.
#HerStoryOurStory#ChildAbuse#endGenderBasedViolence"
https://www.instagram.com/p/BrkDvHnng3l/
READ ALSO: How To Protect Your Child From Paedophiles
On her own, Kemi Lala took to twitter and wrote:
"They should start showing themselves! These men think a child in shorts is revealing her body sexually. This is just a sneak peek into the minds of the average Nigerian man. Yet we want Yaba male traders to stop harassing women. We have so much work to do! Sad!!!"
She went further:
"I know some of us struggle with the term feminism but this is why we all need to be feminists. We are not fighting for equal rights yet. The girl child/woman is not on the same level as her male counterparts. Nobody's fusses on boys 'dressing properly' or 'sitting properly."
READ ALSO: Girl, 7, Appears on British TV Show Scantily Dressed | Mother Comes Under Fire
Also lending a voice against the opinion of the men in the video, Adesua tweeted: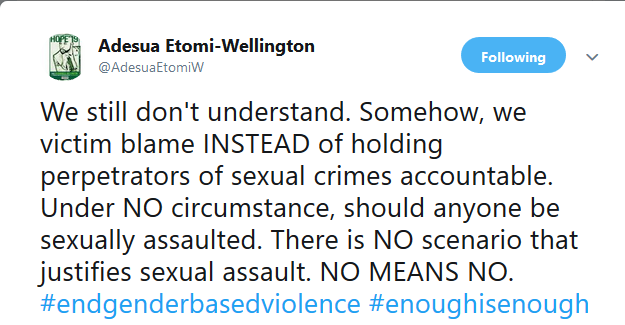 Many Nigerians have also spoken against the stance of the men in the video, re-echoing: "A child is not a sexual being"!