President Museveni Of Uganda Asks Newly Crowned Miss World Africa To Do This..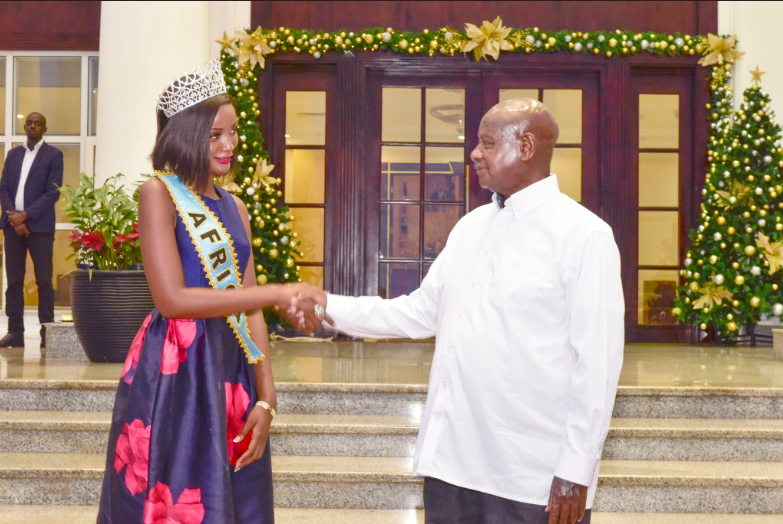 During a courtesy call to the Ugandan President, Yoweri K Museveni, at State House in Entebbe, the president gave the visiting current Miss Uganda, Muzukulu Quiin Abenakyo an advice.
The Ugandan president advised the beauty queen to ditch weaves and embrace her African roots by flaunting her natural hair.
READ ALSO: Ex Beauty Queen Millen Magese Spills on Battle With Endometriosis & Birth of Her Miracle Son: "I had lost several other pregnancies, I didn't think I could survive another loss"
Muzukulu, the current Miss Uganda, who was recently crowned Miss World Africa received the advice from the elder statesman who praised her beauty and education, but encouraged the beauty queen to quit wearing 'Indian hair' and proudly showcase her natural African hair instead.
Quiin had just returned to Uganda following her success at the Miss World pageant and she met with her president.
READ ALSO: Nigerian Rapper, Speed Darlington Shares Powerful Insight On Beauty Standards For Women
Museveni tweeted after their meeting:
"Abenakyo is indeed a tall, beautiful Musoga girl. My only concern is that she was wearing Indian hair.

I have encouraged her to keep her natural, African hair. We must show African beauty in its natural form."
What are your thoughts?