How Woman, Natachi Peace Dealt With Man Who Sexually Harassed Her At The Park
A Nigerian woman, Natachi Peace with Twitter handle, Natachi Peace @Natachyy took to same to narrate how she dealt with an unscrupulous man who sexually harassed her at a motor park.
Her story goes thus:
"So I was at Peace Mass Transit to send stuff today and this dude behind me was touching my bum. I asked him to stop and moved, dude left and came back behind me and continued. Let's say he won't be enjoying his Christmas meat because I stabbed his hands with pen."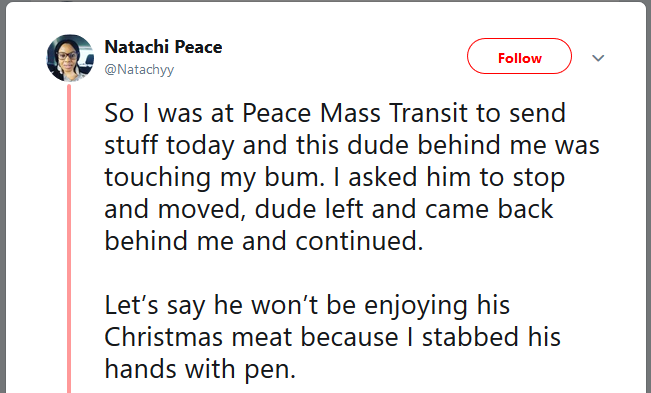 READ ALSO: Mary Njoku Raises Awareness About Sexual Harassment in Nigeria Citing a Recent Incidence
Reacting to her story, some people applauded her and encouraged her to do worse if it ever happened again but a few cautioned her saying, it could have been a defense gone wrong.
See some of the different reactions below:

READ ALSO: 'A producer put a knife to my neck & told me to strip' – Steph Nora Okere Narrates Sexual Harassment Experience 


READ ALSO: For Speaking Up In The Face Of Sexual Harassment, See The Injustice Done To Princess Alora