Widow Of Lt. Col. Ibrahim Sakaba Has This To Say To Former Vice President, Atiku Abubakar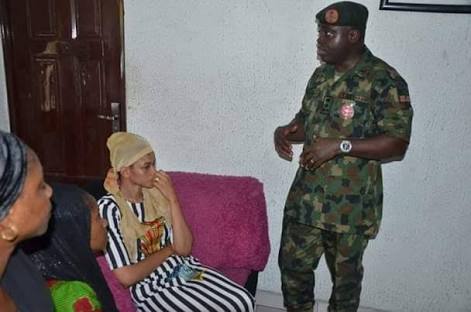 Seun Sakaba, the widow of one of Nigeria's fallen heros, Lt. Col. Ibrahim Sakaba, has refuted claims made by PDP Presidential candidate, Atiku Abubakar, that he reached out to her via phone this yuletide.
READ ALSO: Widow Of Late Deputy Governor Of Borno State, Hansatu Mustapha Opens Up On Finding Strength Again
Sakaba was of one of the 44 soldiers of 157 Task Force Battalion killed by Boko Haram insurgents in Metele, Borno state in November. The loss of the army officers was colossal and many urged the government and prominent members of the society to do the needful and reward families of the slain officers.
READ ALSO: Nigerian Soldier, Ugwoke Oloto Flaunts Wife For Returning To Secondary School After Childbearing
The former vice president, Atiku Abubakar tweeted that he spoke with Seun, and at the same time praised her devotion.
Atiku shared the picture below on his twitter handle yesterday December 23rd with claims that he spoke with the widow:
" This Christmas, I urge all Nigerians to spare a thought for our military on the frontlines on the war on terror.

I had cause to telephone Lt. Col. Ibrahim Sakaba's widow this Yuletide.

I am touched by her devotion & love for her husband who paid the supreme sacrifice for Nigeria."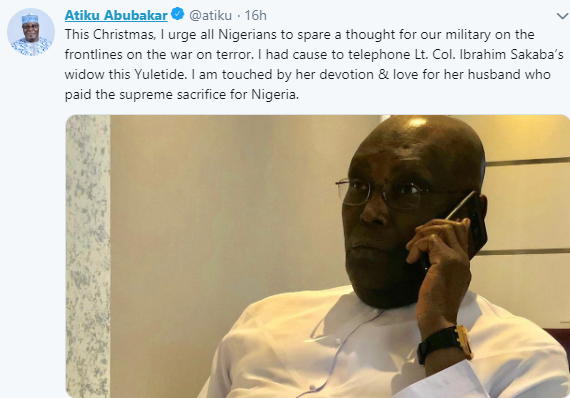 READ ALSO: Olusegun Obasanjo on Why Women Should Fight For Their Economic and Political Relevance Instead of Being Pushed to the Other Room
However, late Sakaba's widow, Seun, has denied the claim. See screenshot from her Instagram page below: