Sweet Love! Empire Star, Terrence Howard About To Rekindle Marriage Flames With His Ex-Wife | See All The Details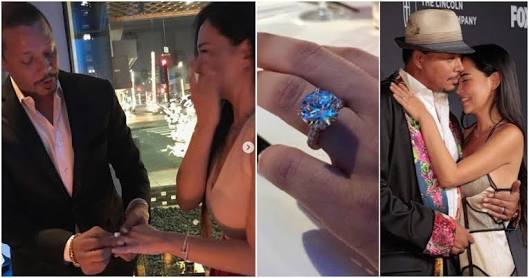 https://www.instagram.com/p/Br0aGXZgJ-e/
Empire star,  Terrence Howard, 49, is asking his ex-wife, Mira Pak to marry him again after their 2013 marriage ended in a divorce. Mira had filed for the divorce in 2015 while she was pregnant.
READ ALSO: Charles 'Charly Boy' Oputa Remarries Wife, Diane 'Lady Di' Oputa 40-Years After, Arrives Venue In Style| Photos
The American actor proposed to Mira Pak,  his ex-wife for the second time at Crustacean Beverly Hills in front of friends and family. His first marriage ever was with Lori McCommas in 1989, but the couple divorced in 2003, they later remarried in 2015, only to divorce two years after.
READ ALSO: Barrack & Michelle Obama Celebrate 25th Wedding Anniversary with Throwback Photo
In what is obviously a familiar encounter, Terence will now marry Pak again after they have been divorced since 2015.  The dad of five revealed on Instagram, Tuesday, that he proposed to  Pak, his ex-wife, sharing a picture of her stunning engagement ring and his touching speech about finding true love.
READ ALSO: Charly Boy's Very Sweet Message to his Wife will Make you Believe in True Love Again
"We have an idea of how long we think life is, but we do know how short it can be," 
he said in a video of his toast at Crustacean Beverly Hills.
"It took me 45 years to find you, but now that I have you in my 50th year, I will spend the rest of eternity at your side,

And I pray that everybody finds that one that will complete them for all eternity because it means everything.

I love you." 
In a slideshow of pictures, Howard slides a sparkling engagement ring  onto Pak's finger as she wiped tears from her eyes.
READ ALSO: This Love Story Of Andrew And Doreen Augustus: Interracial Couple Married For Almost 60 Years Is Everything
The couple share two sons  – Qirin Love, 3, and Hero, 2.
See the actor's caption and original post below:
"Thank you @benballer@ifandco The Most Gifted Jeweler in The World!!! Valentines coming soon, let's show them how to truly Love your Woman!

 @jeanneyangstyle get ready this a family affair! @crustaceanbh thank you for making the night extra special. #bloodisthickerthanwaterbutloveisthegluethatbindsus"