Why Nigerian Mum, Shalom Sam-Ogbaji, Who Was Reported Missing Is Actually Hiding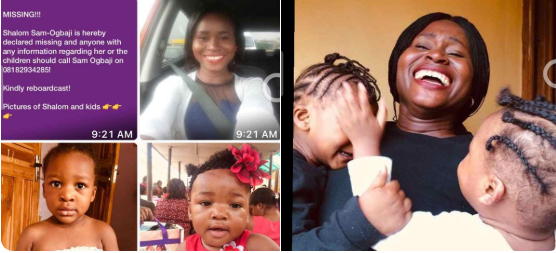 Much ado about the incessant turbulence rocking a lot of marriages these days! It seems as though marriages, more than anything else, have become a hotbed for eroded values. Earlier today, a Nigerian mum, Shalom Sam-Ogbaji and her three kids were declared missing in Lagos, but the emerging reports since that news is mind-boggling.
READ ALSO: Actress, Mimi Orjiekwe, Says Ex-Husband, Charles Billion Is Not Her Child's Dad
According to Twitter user, Lawrence Olanrewaju, who first shared the story online, Shalom who happens to be his brother's wife was missing with their two kids.
Lawrence, in the tweet called for help to find Shalom and the children, all three of whom were said to last be seen on Friday January 25th at Ajao estate area of Lagos state.
He wrote;
"My big brother's wife – Shalom and their kids were last seen on Friday 25th January, 2019 at Ajao Estate, Lagos.

Any information about their whereabouts is highly appreciated!

Call Sam on 08182934285. The case has been reported to the Police. Please kindly retweet.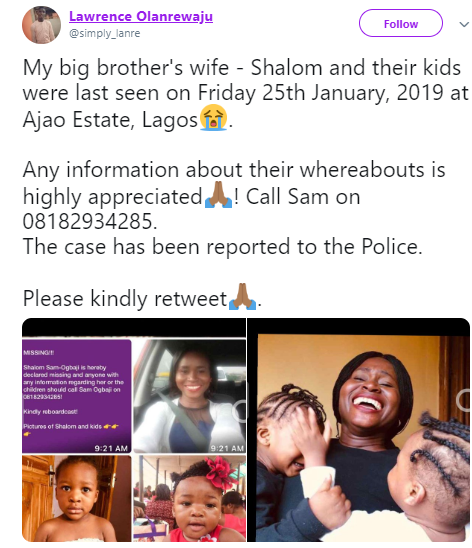 Popular Nigerian blog, LIB, shared Lawrence's tweet in a bid to spread the word about the missing mum and her children, in hopes that some good news may filter in.
READ ALSO: "I Got Married To A Grown Up Baby" – Oluwayemisi Cole, Former Wife Of Nigerian Professional Footballer, Nurudeen Orelesi Laments
In a twist of events, damning allegations of domestic violence and abuse against Shalom's husband, Sam, became a new focal point in the story. Different persons who claimed to know Shalom personally, took to different platforms to dismiss the report that she is missing.
They claimed to know Shalom's whereabouts and that she fled her matrimonial home because she continuously suffered abuse at the hands of her husband.
Only this month did another Nigerian mum of four, Jane Iyke, flee her matrimonial home, leaving her children behind and posting a disturbing note on Instagram, that sent her loved ones into a panic.
Jane was later tracked down, but her story is not very different from Shalom's, she also was reported to be emotionally drained and abused in her marriage. Read here.
READ ALSO: Domestic Violence Victim Wants Husband Released To Her| Video
 Read some comments posted on the LIB and twitter below…