Social Activist, Gwamnishu Harrison & Others Step In As More Facts Emerge About The Child Bride In Anambra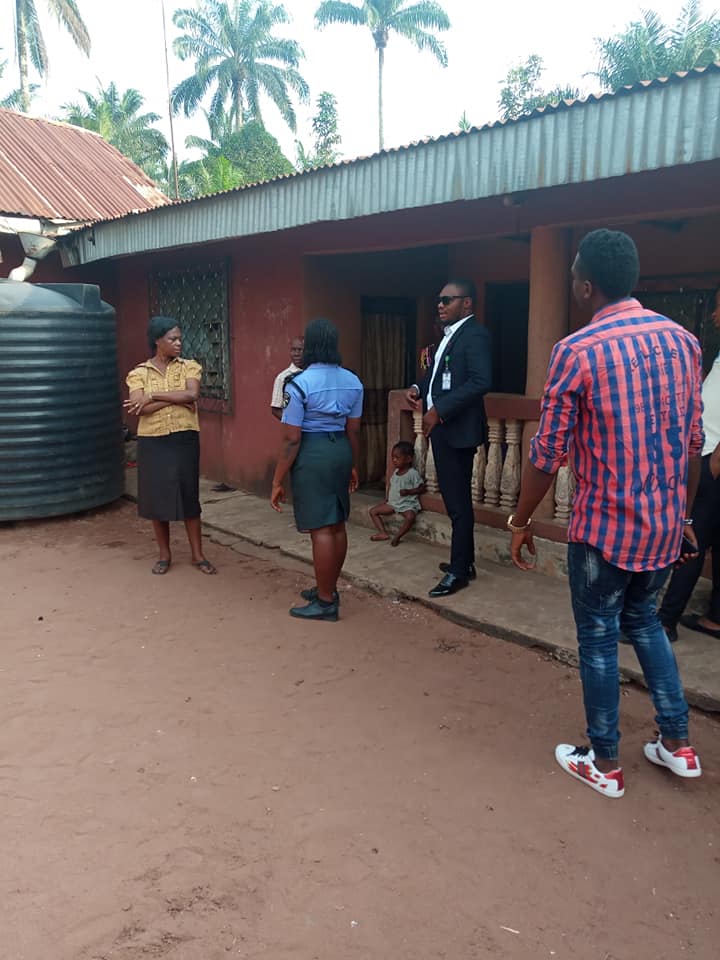 More facts have emerged about the story of the teenage girl that was traditionally married off to a supposedly demented man in Anambra. (Read Here)
According to facts published on Facebook by activist, Prince Gwamnishu Emefiele Harrison, who visited Ihiala Community, Anambra state where the child bride, Chinwe  lives, contrary to what went viral, she is 15 going on 16 years old.
READ ALSO: Tragedy As Child Bride Forced To Marry At Age 14 Dies After Childbirth
Harrison, who has launched a move he tagged, #RetrieveChinwe revealed that Chinwe is from a very poor family. Chinwe, who had a child at 14 had to quit school when she got pregnant.
Her family, unable to continue to sponsor her education and cater for her child at the same time opted to give her off in marriage to Izuchukwu Igwilo who had come knocking with his family members.
Via his Facebook page, Harrison wrote:
READ ALSO: WATCH: New Video Highlights the Disturbing Plight of Child Brides
"UPDATE: RE: CHILD MARRIAGE…15yrs old Chinwe married to 56yrs old Ozubulu man. #RetrieveChinwe
Step 1: Petition approved by Anambra State Police Command. Parents invited for interview by Area Command Ihiala.
Interviewing the mother, she said her daughter is of age to marry because she too married at the age of 13years.
We have informed them the consequences of their actions and advise them the chances they have.
Next: Retrieving Miss Chinwe from Ozubulu
Thanks to Efficient Grace Ume who is on ground to see that Justice is served and Barr. Ajuebor Favour for his continued free service to us and Anwulika E. Udanoh for all the phone calls and prayers
More update soon.
#EndChildMarriage"


READ ALSO: #ChildNotBride: "I want to go to school. I want a divorce" 17 Year Old Child Bride Cries Out
Harrison further stated the following facts:
Chinwe's son is 1/2 year old, while Izuchukwu Igwilo is 56-years old and he intends to marry both 15-years old Chinwe and her son come 2019 Easter.

The Igwilos are wealthy and some of them are against the marriage.
The Igwilos are marrying Chinwe in the name of their deranged brother and his rich younger brothers intend to raise children in his name.
READ ALSO: UNICEF Report Claims Nigeria Has Largest Number of Child Brides in Africa
Lending her voice in encouragement to Harrison's efforts, another Facebook user, Anwulika Udanoh took to her page to share an heartfelt letter with Ozubulu people asking them to ensure both Harrison's and Chinwe's safety.
Yet in another post, Anwulika reported that the Commissioner for Women Affairs, Anambra State has promised to take care of 15yr old Chinwe and her son. She wrote that coincidentally, the Commissioner hails from Ozubulu and she is passionate about Chinwe's case because she also suffered same as a child.
The commissioner reportedly said, "The marriage will not hold, not even over my dead body!"

Read Anwulika's posts below:
"Dear Ozubulu people, we understand that you are not Ndi ugwu therefore, this should not be happening in your midst!
Be kind to Prince Gwamnishu Emefiele Harrison as he goes about this case because we already know that he's on ground to retrieve this 15yr old girl from her molesters.
That she had a baby at 14yrs is not enough reason to marry her off to any man, talk more of this man.
Chinwe deserves a good life like kids her age. Good Nigerians are out to pick her and give her good education and a better future.
Nothing must happen to Harrison and Chinwe, because the world is watching!
If the Igwilo's needs a wife for their son, they can go for a full grown woman and not a minor.
Chinwe is too young to sleep with different men in the Igwilo family just to birth children for their Brother.
I don't care how happy Chinwe looks to anyone. All we know is that she's not getting married to any man as a minor.
At least not in our own Anambra state!
For your information, the Governor's wife is already aware of this case and this is now a state case.
Let Chinwe be and let this handsome man go for his mate.
Anambra state will not tolerate this child prostitution called Marriage!"

"Proudly Anambrarian!
Commissioner for Women Affairs Anambra State has promised to take in 15yr old Chinwe and her son and be a mother to them!
Coincidentally, the Commissioner is also from Ozubulu. She is passionate about this case because she also suffered what Chinwe is going through now at the tender age of 13 but her Chi saw her through.
In her words, the Marriage will not hold, not even over her dead body!
Thanks Prince Gwamnishu Emefiele Harrison for being on ground to follow up with my own moves.
Thanks kid Sister Chief Ogochukwu Obiorah for answering when I called and making sure that this got to the right people since I am not on ground.
We have a Government that cares for her citizens so don't hide evil when you see it.
Speak up and leave the rest to us, by the grace of God!"
READ ALSO: How Abducted Child Bride, 13, Regains Freedom From Emir's Palace
This definitely is the power of social media and it is heartwarming!