Nigerian Mum-Of-Three And Part-Time Taxify Driver, Jordan Smith, Calls Out Estranged Father Of Her Kids Over Sly Valentine's Giveaway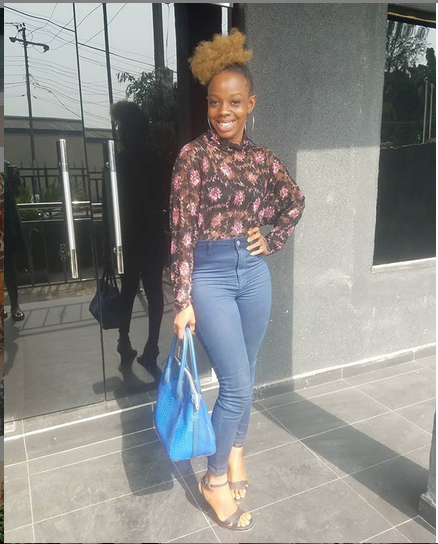 Nigerian mum-of-three, Jordan Smith, has made it clear she will not lie low and watch her three kids deprived while her estranged husband and father of her three kids goes on a giveaway spree in Valentine's name.
The whole drama unfolded on Instagram when the estranged husband, @massivelord, posted a N50K giveaway challenge and people who knew of his struggling ex-wife and three kids found his gesture offensive and tagged Jordan severally. Jordan who mentioned that she works about four different jobs, including being a part-time Taxify driver to cater for her children tagged the Peak milk brand who appear to be the sponsors of the alleged deadbeat father's giveaway.
READ ALSO: 'Enough Is Enough!' Media Personality, Toke Makinwa Has A Stern Message For Deadbeat Dads
It is not exactly uncommon to hear of men who are saintly to neighbours and extended family but have a totally different personality with their wife and children, Jordan's situation appears to be one of such.
Going by Jordan's claims, her ex-husbands's alleged giveaway is a brazen flout of the basic code of  kindness that says "charity begins at home". The young mum went on to say her three kids eat four times a day and she spends between N80K-N100K for their monthly upkeep with the help of friends and family who assist her financially despite her unrelenting efforts.
Jordan had in a previous post on her Instagram page, listed all the reasons her marriage with her estranged husband did not work; including allegations of  multiple sexual partners and persistent neglect of her and the kids.
READ ALSO: Oluwanishola Ogudu Finally Tells It All On Wizkid Being a Deadbeat Dad
The aggrieved mum further said in her post that she will be participating in the N50k giveaway challenge because their kids need new schoolbags, new shoes, and a feeding allowance among other things, and asked Instagram users to tag @massivelord because he had since blocked her from accessing his social media.
Read what she wrote below:
"Dear,@peak_milk, Good day to u.
..This the father of my 3 children
He should not be doing a giveaway on social media when he wont take FULL responsibility for his own children.
I just got back from a long trip driving to make ends meet because I am not a lazy woman!
I was notified by mutual friends about this giveaway…if we do not win this, I'll drag u guys mercilessly.
You better meet your gentleman@massivelord to kindly send the giveaway #50k for the upkeep of his kids… Btw Sept 2018 and today. All we've gotten for upkeep is a half bag of rice and a carton of small noodles…plus the 40k added for the kids fees,
Everyday the kids eat 4 times.

1. From home
2. Lunch pack(with goodies)
3. Afternoon meal
4. Evening meal.
I spend about #2500 daily for the 3 of them. …on feeding alone
Dear @peak_milk @massivelord plus other home essentials, I spend btw 80-100k monthly.
I get support from my mom,@afriquechique siblings, my colleagues from biochemistry class in Unilag and friends.
I demand to have the giveaway for his kids…….
I work hard for my money.
I work @qtabyevents as a talent manager
I drive pertime on @taxify.ng when it gets really rough…"
See her original post below:
https://www.instagram.com/p/Bty2RjrASad/