Brave Woman, Takieyah Reaves, Shares Her Survival Story And Cringeworthy Scar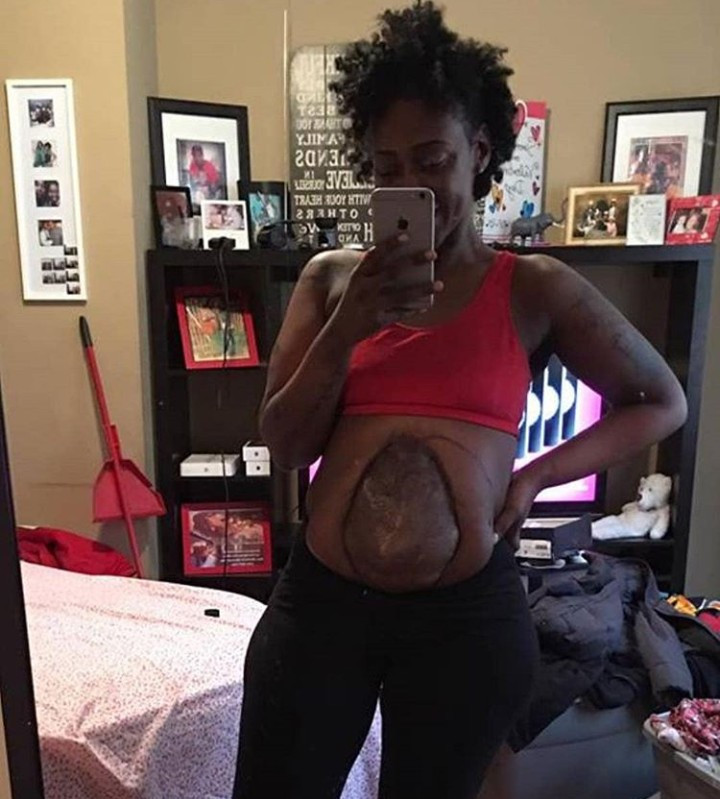 https://www.instagram.com/p/BtyVXOHFDF4/
Pregnant looking woman, Takieyah Reaves has taken to the gram to explain why she looks pregnant. Her story is one of survival and a miracle. Where she draws strength from and how she does is not very obvious but she does it anyway. Takieyah has embraced her scar and the many attendant questions that come with the protruding mass of flesh in her tummy as a result of the skin graft.
The young woman was within earshot of the angel of death but miraculously survived. Even though the bullet shattered her stomach it missed every delicate organ in its way. Taking to her Instagram, the survivor gave all gratitude to God and says if she survived her torturous walk through the valley of death's shadow, you too can live and survive your worst days if you believe.
READ ALSO: PHOTOS: Woman Disfigured by Fire Accident Finds Love
According to Takeiyah, surviving the gunshot was however the beginning of another fraught journey. She said her stomach wall was completely damaged by the bullet that almost claimed her life, necessitating a skin graft as part of spirited efforts of doctors to save her life.
Takeiyah further disclosed that doctors took skin off her thighs and put it on her stomach to create a new wall which definitely gave her a new chance at life but it left a cringeworthy scar that Takieyah is not complaining about.
According to her, it is a small price to pay compared to death.
READ ALSO: Mum Of One, Sacha Pugsley, Told She'll Never Grow Breasts After Suffering Burns Shares Her Story And Picture
She revealed that people have passed the most insensitive comments about her growling stomach and body shamed her for having a fat tummy, not realising that she has been through the throes of death and was hiding a big scar from the experience.
READ ALSO: An Acid Attack Survivor, Naomi Oni Recounts How Her Best Friend Attacked Her And Her Ordeal Afterwards Is Touching
In another part of her post, Takieyah said a lot of people mistake the bulge in her stomach for pregnancy and she gets overwhelmed with questions as; "How many months?", "Boy or girl?".
A cat with nine lives is exactly what Takieyah seems like, as she narrates that she has embraced her savage looking scar. She calls it her baby, says she named it 'Siya' and deems it a girl.
Read her brave account below:
"This Is The Reason Everyone Says "Congratulations" The Reason Everyone Asks "How Many Months?" "Boy Or Girl?" This Is The Reason I Often Hear "Your Stomach Growling That Baby Hungry" This Is The Reasons Most Sentences End With "Because You're Pregnant" This Is The Reason A Ignorant Person Said "That's Why You Look Pregnant"…

I Got Shot In The Stomach The Bullet Shattered But It Missed EVERY MAJOR ORGAN In My Stomach (MY GOD IS SO GOOD????????????????????????) But Damaging My Stomach Wall Beyond Repair So They Took The Skin Off My Thighs (Skin Graft) And Put It On My Stomach To Create A New Wall The Only Thing Between My Intestines And The Outside Of My Stomach Is That Skin.

When People Say Congrats I Say Thank You Bcuz This Is My Baby My Bullet Baby I Named Her Siya Yes It's A Girl And I Embrace Her I Talk To Her I Thank Her I Love Her & When I Get My Last Surgery I Will Cry Over Losing Her???? Some People Will Be Disgusted Others Will See The Blessing I've Died 7 Times Over

This Belly This Belly Is My Strength I Am Not Ashamed & Everyone Who Truly Love Me Made This Our Baby Our Miracle We Are Not Ashamed We Are Honored To Walk Around With This God Given Badge Of Honor This Is My Testimony This Is My Story.

If Ever You Feel Discouraged Please Remember Me & Remember I Didn't Ask For This???? There Is A God I Am Living Proof & What He's Done For Me He Will Surely Do For You????????

Please Don't Ever EVER Give Up Don't Hate, Always Forgive, Smile, Laugh Be Optimistic Be Happy Pray & Stay Blessed God Is Real‼️Don't Have To Go Through What I Had To Grow Through ????????

Start Listening To Him Quiet Down & You'll Hear Him Believe Me He Hears You & He Responds You Just Have To Listen???????? It Works For Me..Love Peace And Blessings????