A No-Nonsense Nigerian Mum, @Iyemelon Says She's Raising Her Son To Hit Men And Women For This Reason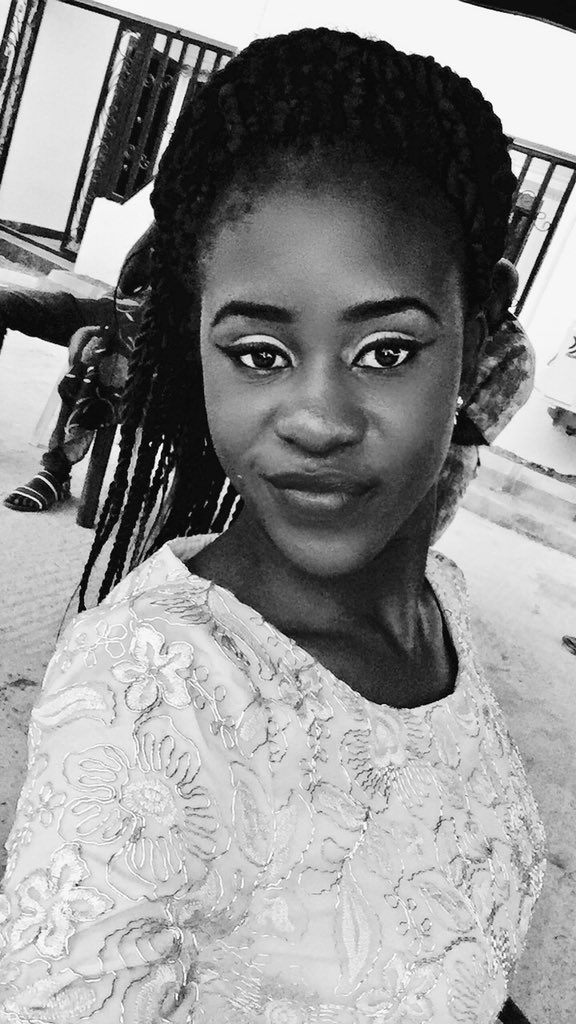 While everyone is preaching self-restraint and advocating against violence, a Nigerian mum, @Iyemelon on Twitter says she is not teaching her son to not hit women or even men for that matter.
The young mum is not new to controversy on the app as she had once explained in a couple of tweets that prostitutes have more dignity than African wives.
READ ALSO: How Dorathy Ole Ogoloma Was Allegedly Beaten To Death By Her Husband 2 Weeks After Childbirth
A debate ensued on Twitter earlier today on the subject of hitting women, while many people publicly dissociate themselves from the behaviour, they are guilty of same behind closed doors. As everyone advocated for keeping your hands to yourself , and finding more civil approaches to resolving conflicts irrespective of your gender, @Iyemelon did not quite agree and she made herself clear.
The mum-of-one said she's not restraining her son from hitting women alone, she is raising him to not hit anyone first. But if anyone lays their hand on him first, she's teaching him to not spare them whether they are male or female.
READ ALSO: Domestic Violence Is Not A Result Of Provocation"- Survivor, Mercy Makinde Opens Up
She further warned anyone out there raising their daughters to believe they can hit a man and a real man won't hit back, that their daughter would be in harm's way surely if they ever got involved with her son with that mindset.
Read what she wrote below:
"I'm not teaching my son not to "hit women".

I'm teaching him not to hit anybody period.

But if anybody hits him first… I'm teaching my son to knock them out. Either male or female. They're losing a tooth I swear. So if you're out here raising your daughter to think she can

. . Hit a man and that real me won't hit back… OYO is her case if she dates my son. To be fore warned …. . . . ."
See screenshot below: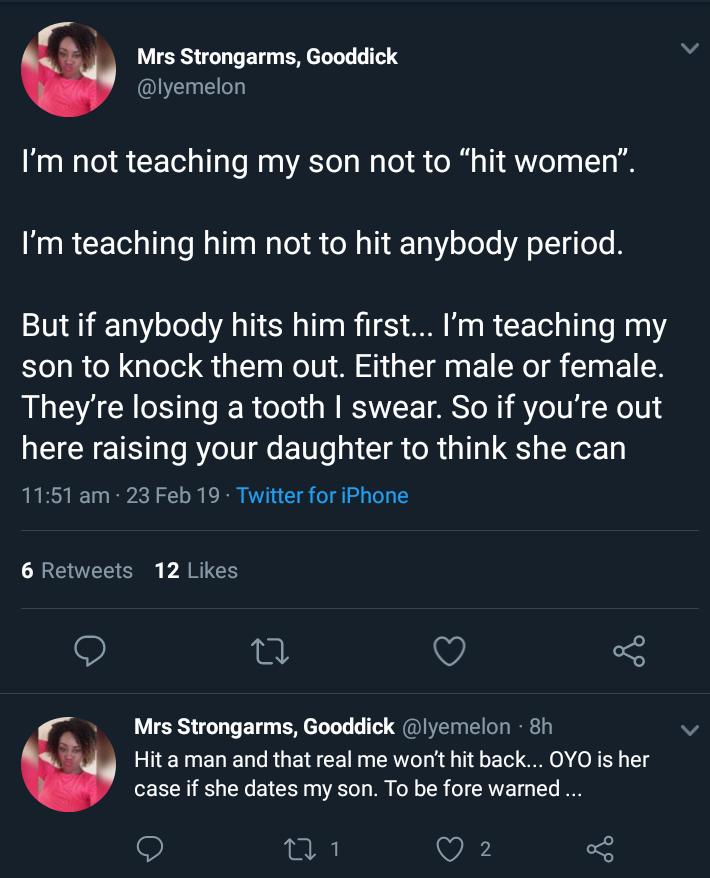 The no-nonsense mum may have her reasons for her argument but issues of domestic violence readily lead to disastrous endings, it could easily go beyond just beating.
The danger of that mindset is a reality for everybody who threatens her child, her child and herself as his mother. What if someone laid their hands on him and he fought back without self control and something worse happens?
Most people who have killed someone during a domestic scuffle never planned to, never thought they could but the law does not care when it puts their backs against a prison cell wall.
Hopefully @Iyemelon will revise her parenting choice before it is too late.