UPDATE: Police Step In, Identify School And Make Arrests Over Two-Year-Old Joyce Badly Injured At Daycare
There is an interesting update on the two-year-old child who returned from school on Wednesday brutally attacked with a swollen upper lip, a deep cut in the face, and other body injuries.
The little girl who has now been identified as Joyce caught the interest of well-meaning Nigerians after her uncle, Sule, took to Twitter to lament the extent of his niece's injuries upon returning from school after she left home that morning hale and hearty.
READ ALSO: See The Terrible Injuries A Baby Sustained At The Daycare
It is a relief to know that Sule did just as he had threatened, to involve the police in the matter after the school failed to provide the family with any explanations on the exact circumstances that led to the two-year-old being so badly injured.
Human rights activist, Prince Harrison Gwamnishu has also taken up the case and has identified the school where that type of negligence took place as God's Delight School in Auchi area of Edo state.
Harrison who traveled down to Edo state where he made a formal report at the Edo state police command said the management of the school were all picked up.
He shared pictures and video evidence on his Facebook page with baby Joyce still visibly sore from the attack. The activist further alleged that even though the police have been involved, the school had yet to give any explanations relevant to the questions raised.
READ ALSO: Story of 9-Month Old Baby, Decorian Griffin Supposedly Attacked by A 2-Year Old at a Daycare Centre Is Alarming
See what Harrison wrote on his Facebook page below:
"RE: #UPDATE: ATTACKED ON 2YEARS OLD IN AUCHI, EDO STATE

GOD'S DELIGHT SCHOOL'S PROPRIETOR, STAFFS, CLEANERS AND SOCURITY MEN ARRESTED.

At about 11:45am, we arrived Auchi, Edo State. As at this moment, the school management are yet to give clear account of what happened to the little girl.

From our investigations, she was attacked.

Please Pray for the little girl.

Thanks to Eddy Ubulu and Mathew E who sent in money for Fuel ?.

The Nigeria Police Force will continue with the investigation and we are always available with follow up.

Behind Bars Human Rights Defenders will continue to collaborate with individuals and organization to help protect and promote Human Rights in Nigeria."
See photos below: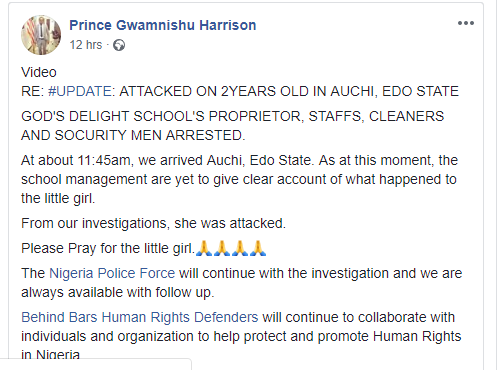 See video below:
https://www.facebook.com/harrison4rights/videos/655535254862556/