How Infidelity On Both Sides Destroyed Marriage of Nigerian Pastor, Joshua Iginla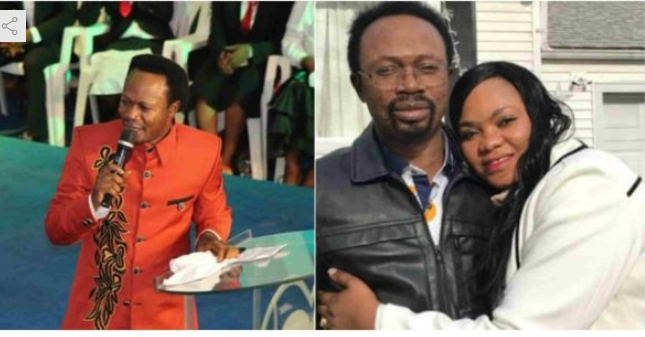 https://www.instagram.com/p/BulfDQnHGU3/
Infidelity can destroy any relationship, no matter how solid it is. The founder of Champions Royal Assembly, Pastor Joshua Iginla, has announced the end of his marriage of many years to his wife, Yemisi over infidelity on both sides.
The clergy shocked everyone after he confessed before the congregation on Sunday that he committed adultery while announcing the end of his marriage to Yemisi.
According to the Popular Abuja-based pastor, he and his wife are guilty of infidelity in the marriage, which was allegedly started by his wife, before he decided to pay her back. He added that after he also had another child outside of their marriage, his wife began to make life unbearable for him and started blackmailing him.
In his words;
"When my wife cheated and had an 'unholy' child, I covered her up but when mine happened, she started blackmailing me.

This is why I urge us to pray for our leaders. Its not easy for me to come out in public to say this, but I warned my wife, she didn't listen rather she preferred to turn me to a laughing stock'.
READ ALSO: "Infidelity can never take me away from my home because I know how to handle it" – Actress Foluke Daramola-Salako
When I met my wife we did genotype test and found out that I was my wife was AA and I was AS, but when my daughter arrived I found out she was SS.

It was a battle but we flowed, we later found out my wife was AS. Then one thing led to another and something happens. I don't want to go into details, but it is something that will make a man divorce his wife, I had scriptural backing for that, I had to cover it up to make sure that my marriage moved with Wife and that led to some many things.

Since I couldn't divorce my wife because of what people will say I chewed it a pill, I embraced my child and everything was okay.

And somehow she brought an unholy child into the matrimony, I don't want you to judge my wife or anything, but it led to so many battles, family intervention but we covered it. We would not have gotten to this point if my wife had listened to me when we had the battle.

I also went out and got a child outside of wedlock and then it became a battle in the family and so this battle has become a big one that some men of God are taking advantage of the battle and even some bad people under me are feeding on this battle.

I have tried for seven years to stable the vehicle but it has not been, I want you to take the blame to be On me. As it is now it has become a pain because when your wife begins to fight you everywhere you go and she refuses to settle in secret. I told her to settle in secret or I will go to the world Confess my sin, receive the insult and end the Marriage. And that is what I am doing now.

She has pushed to this point to the extent that I'm confessing my sin to the whole world, I want the world to know. I covered her up during her time and when mine came she threw me to the wall.I feel I want to end the struggle. I pleaded with her but she chose to make me a laughing stock.

I told her the day I open up to the world it marks the end to the union, because if you cannot cover me I just had to end it here, please pray for us if you love us."
Watch the video below…