Uche Ogbodo Talks About How She Ended Being A Single Mom
One of Nollywood's leading ladies, Uche Ogbodo whose engagement to a footballer crashed just as soon as it started in 2014 has revealed in a new interview that she never thought she would end up being a single mother.
According to Ogbodo who has always been opened on how challenging being a single mom is for her, her baby daddy, Arthur Apo is a dead beat one as he has not played any role in their daughter's life in all her four years.
The screen goddess disclosed told Punchng,
"That is a part of my life I don't want to go back to. I believe that whatever happened was for the best. God has a reason for things happening. I don't feel like I made any mistake; it just didn't work.

We were never married though the media made it seem like we were; we were only engaged. I have never been married. The relationship actually started collapsing shortly after we got engaged.

I realised that I was pregnant after we had broken up and I initially couldn't tell anybody about it. At that point, I was thinking of going back to him and it took about nine months for me to realise that I didn't want that kind of man in my life.

He would only drag me back. He hasn't been involved in the life of our child over the years. Mildred is four years old now.

He initially didn't accept that I was pregnant; he thought I was trying to trap him. I had been trying to get pregnant during the relationship; so, he wondered how I 'suddenly' fell pregnant after we broke up. I have been able to take care of my child alone. I never thought I would be a single mother but I am a Catholic girl and we preach against abortion."
READ ALSO: 'I'm happy I didn't abort you." Proud Single Mum, Uche Ogbodo's Note to Daughter Will Leave You Emotional
The fast-rising actress and mother of one also advised anybody who isn't happy in a relationship to leave.
"I would not advise anyone to stay in a relationship where they are not happy. It is not a do-or-die affair. If you are not happy, leave the relationship and move on with your life. Don't care about what anybody says. However, I still desire to be in a relationship and be happy," she stated.
Excited about her weight loss journey, Ogbodo said,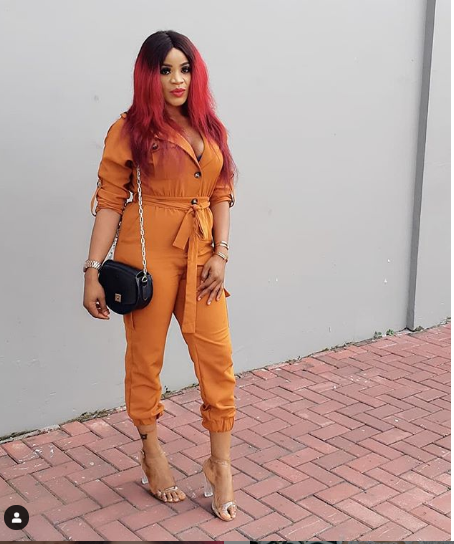 "What happened in my life a few years ago propelled me to become a different person from who I used to be. After the baby, I had to sit back and ask myself what I wanted to do with my life. And I realised that to live my best life, I would need to lose a lot of weight.

I had to change my personality and I am happy about the result. Any time I look into the mirror, I see a more beautiful version of myself and that is enough motivation for me to continue."
READ ALSO: Single Mum and Actress Uche Ogbodo Gives Marital Advice Based on Her Failed Marriage Experience
She continued,
"I started a movement, Body Positive with Uche Ogbodo, which makes women to work on themselves. After I lost weight, I realised that a lot of women were going through the same situation which made them depressed and some went to the extent of committing suicide.

"It takes a lot of effort to lose weight and I decided to offer that push for a lot of women. It is my way of giving back to society. There is nobody who is ugly because there is something special about everybody. I help people see the beauty in themselves."
Photo credit: Instagram