Megachurch Pastor, John Gray Addresses Rumors He Cheated On His Wife
John Gray, pastor of Relentless Church in Greenville, South Carolina, who was accused of cheating on his wife and fathering a child outside of his marriage has finally spoken about the allegations.
The American pastor and his wife Aventer Gray, appeared on popular daytime talk show, The Real, where they addressed the cheating allegations.
During the show, the servant of the Lord denied the allegations saying he didn't sleep with another woman but admitted that he had an "emotional affair" when he began to confide in a woman outside of his wife about their marriage… he believes it was emotional cheating.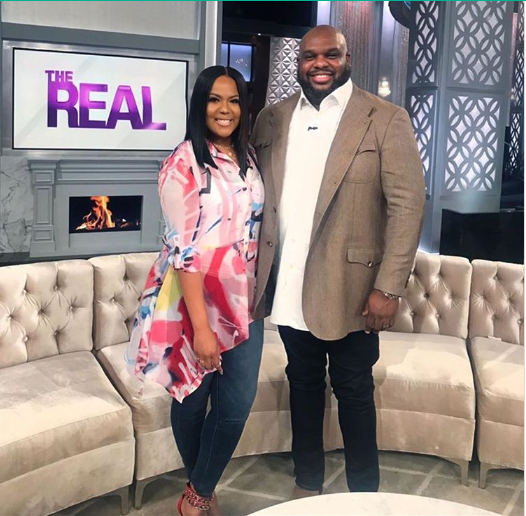 READ ALSO: How Infidelity On Both Sides Destroyed Marriage of Nigerian Pastor, Joshua Iginla
When Co-host Adrienne Bailon asked Pastor Gray if he was ever unfaithful to his wife, he said;
"No, I didn't but over a year ago, my wife and I were in a very difficult place in our marriage. And in that time, I began to converse with someone other than a counselor, other than a pastoral leader, which is where I should have taken my issues and challenges.

[I] began to converse and was even in the presence of that person one time. But being in the presence of someone is not the same as sleeping with them."
He also addressed rumors that he has a secret love child with the woman he allegedly cheated with.
"There's no baby, there's none of that. So it's important for me to take responsibility for the areas where I did come short…sharing things about my marriage outside of my wife and outside of my counselors is an emotional affair.

It was wrong. I take responsibility for that. But I will not take responsibility for that which I did not do. As a pastor, it's important for people to know that when I get up in that pulpit that I come not as a perfect man, but as a broken man. Which is why we talked about these very things in the first sermon of our church.

People act like this is something brand new. But we've walked through this, we have peace, but people don't. The genesis of this was over a year ago, but we talked about this in May at our church. We're moving forward, we're believing God that this will be an opportunity for other people to heal."
READ ALSO: Opa Williams' Secrets To a Long-Lasting Marriage: "The lights out, the colour of the bedsheet and …."
Watch the video below…