Nigerian Woman, Cynthia Raphaels Left In Shock After The Wife Of A Male Friend Sends Her A Message Warning
When it comes to marking territories and keeping one's partner in check, it appears there are no limits to what people will do to protect their relationships, even if it means sliding into DMs to warn people from wishing your spouse a happy birthday. This was the case of a Facebook user identified as Cynthia Raphaels, who shared a message she got from the wife of one of her male friends on Facebook she wished a happy birthday on the 15th of March.
Apparently the wife wasn't comfortable with her referring to her husband as 'Dear' and so she requested the message be deleted.
According to dictionary meaning, Dear is a term of endearment used to refer to a beloved person or to show affection to someone.
Sharing the message from the angry wife and her own response to it, Cynthia wrote:
"Haaaa, Facebook, I will soon leave this space to YouTube and have my sanity. I now know that "Dear" is a romantic name. I don't know how I can get to my birthday settings, so i will know the man with the name Stephen that I sent birthday messages yesterday on his timeline bikonu!"
READ ALSO: Wife Of Nollywood Actor, Deyemi Okanlawon, Steps In After A Fan Said She Was Pregnant For Him
See their conversation below:
The angry wife sent;
"Please delete that birthday message you sent to my husband's timeline. I don't like you calling my husband dear. Can't you write happy birthday to you Stephen? What business do you have with him to call him dear? Please delete it, I don't find that funny at all."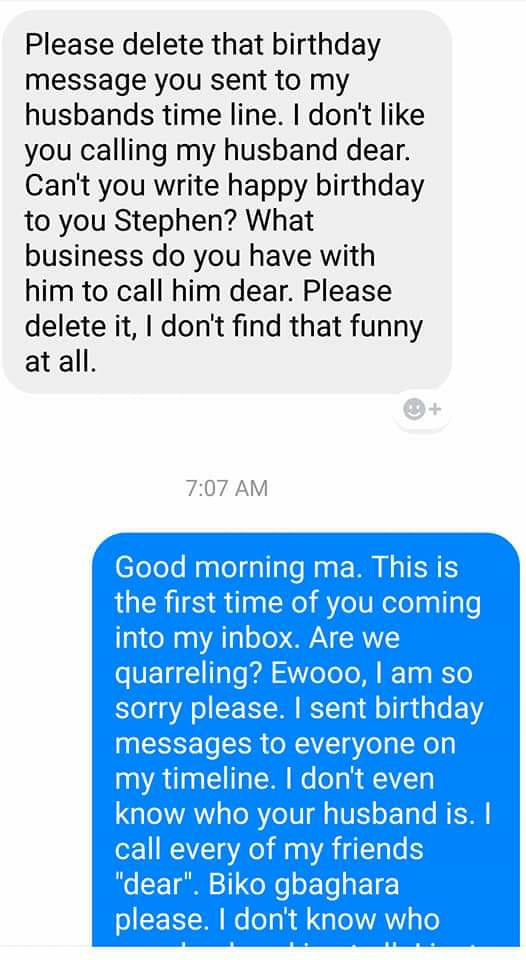 READ ALSO: AY's Wife, Mabel Makun has a Stern Warning for Heavily Pregnant Freda Francis
Cynthia's response;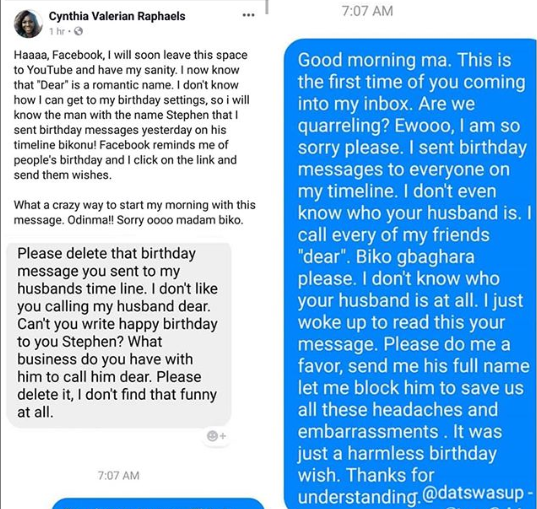 Photo credit: Cynthia Facebook