Is This Reno Omokri's List Of All The Things Wives Must Do To Keep Their Men From Straying Enough?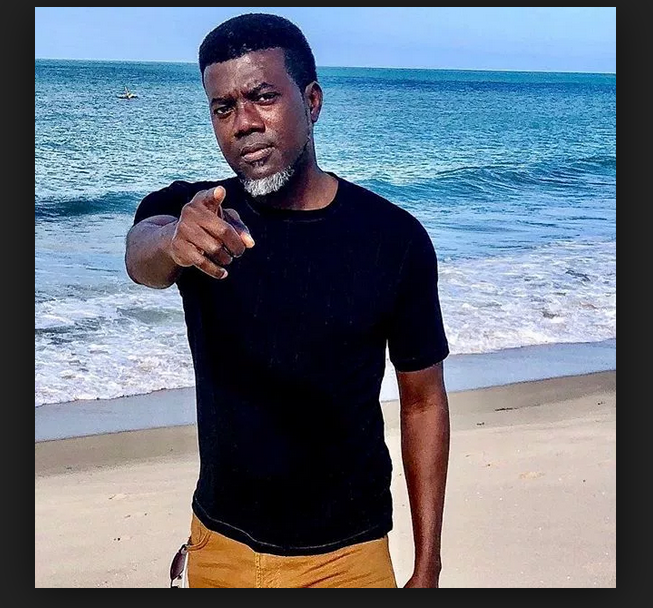 Social critic and ex- presidential aide Reno Omokri is obviously a passionate man when it comes to teaching and giving relationship tips. The dad-of-three who takes to Twitter to routinely share nuggets on marriage beamed the light of his #RenosNuggets series on wives this time.
READ ALSO: Are Physical & Emotional Abuse Grounds For Divorce? – Read Reno Omokri's Opinion On The Matter
This time the dad called on wives to cut down greatly on carbs, look trim, and exercise their bodies. He also admonished them to court their husband by being his mistress as opposed to being just his wife.
Not done, he advised wives to wear out their husbands in the bedroom, so that they are too tired to have wandering eyes.
It will be hard to call Reno's advice to wives one-sided, because he often addresses wives and husbands independently, then addresses them collectively at times.
His ideas are fine for the better part, but marriages are unique experiences, where sweeping generalisations of what works is only a myth.
The most beautiful and seductive wives have had to deal with issues of infidelity in their marriages, but his advice may prove useful still.
READ ALSO: "What You Must Do When Family & Friends Do Not Like Your Wife" – Bemigho Reno Omokri Speaks To Men
In his words;
"Dear wives, 

Don't just be your husband's wife. Be his side-chick and slay queen. Gym. Look trim. Slow down on carbs. Eat deliciously but healthily. Be proactive in pleasing each other in the bedroom. Tire him out there, so he won't have strength to look outside".
See screenshot below: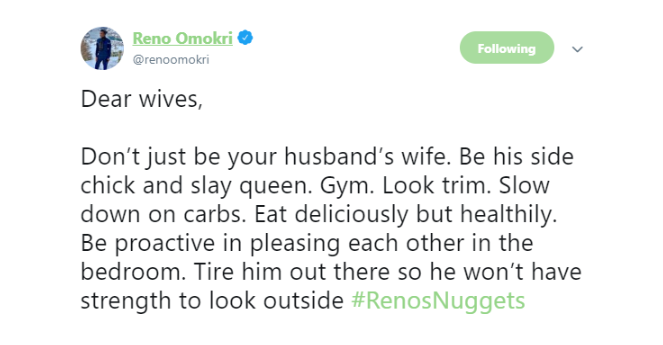 What do you think?