Mum-Of-1, Khloe Kardashian Breaks Down Over Cheating Scandal: "Tristan has no respect for me"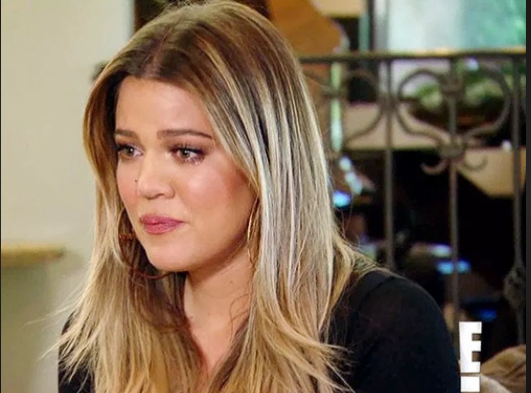 American media personality, Khloe Kardashian gets very candid about her shocking breakup with ex-boyfriend and father of her daughter, Tristan Thompson in a new Keeping Up With the Kardashians promo released on Wednesday.
The 34-year-old socialite and mother didn't hide her heartbreak in the explosive trailer as she became teary at a point saying;
"It just sucks it has to be so public. I'm not just a TV show. Like, this is my life."
Later in the teaser, the model and successful businesswoman shares her thoughts on her then-imploding relationship with Tristan, who was allegedly caught cheating on her with long time family friend Jordyn Woods, stating,
"Tristan might love me, whatever that means. He has no respect for me whatsoever."
READ ALSO: Mum-Of-One Khloe Kardashian Throws In The Towel, Says She Has To Move On With Her Life
However, arguably the most dramatic moment of the clip is when Khloe is in the car and on the phone. During a particularly painful moment, she screams, "My family was ruined!"
The teaser also touches on Khloe admitting that, despite the painful cheating allegations, her daughter with the pro baller is the "best thing that's happened to me, ever."
"Sometimes the world forgets just to be kind and that we're all going through something. Maybe just be a little more understanding because it f**king sucks."
In the clip, viewers also see one of Khloe's sisters, Kylie Jenner seemingly struggling with her breakup, which caused a falling out between her and Jordyn, her best friend.
At one point, she shares, "I just hope that there's a light at the end of this tunnel, but I don't see it right now."
READ ALSO: "I'm Not A Homewrecker"-Jordyn Woods Tells Her Side On "Affair" With Khloe Kardashian's Baby-Daddy
Following the cheating scandal, a source disclosed to ET about how Kylie is attempting to manage the situation, finding herself caught between her close friend and her sister.
"Kylie is still figuring out where Jordyn fits into her life, and the biggest reason is because Kylie wants to respect her sister, Khloe.

Khloe was initially irate at Jordyn and wanted nothing to do with her ever again. However, Khloe is a forgiving person and she's just trying to see if she can get over being hurt by someone she considered a sister."
The source added that;
"It gets better for [Khloe] every day, but nothing more than accepting what happened at this point. Kylie loves Jordyn, but she loves her sister, Khloe, more and the future of the friendship is directly associated to Khloe's happiness."
READ ALSO: Is this KARMA for Khloe? Pregnant Khloe Kardashian's Boyfriend Tristan, Allegedly Cheating on Her Serially
Watch…
Photo credit: Getty/ E! Online