Mom-Of-3, Mercy Johnson Okojie Reveals Her Greatest Fear In Life
https://www.instagram.com/p/BvlitEvgEs0/
A couple of days ago, Nollywood actress Mercy Johnson Okojie announced that she was launching a new project around weight loss.
Taking to her Instagram page, the beautiful mother-of-three, shared some new photos of herself and her three kids, Purity, Henry and Angel in matching outfits showing us that it's never too early to get started with your fitfam journey.
The movie star, 34, who couldn't wait for mother's day, went on to caption the photos with a quote where she revealed her biggest fear in life.
According to her, her greatest fear is death, that is, not being alive to take care of her children. Mercy also said some prayers to all mothers that they will live to enjoy their children in good health and prosperity with God as the center of it all.
READ ALSO: Funke Akindele-Bello Reveals Her Greatest Fears In Life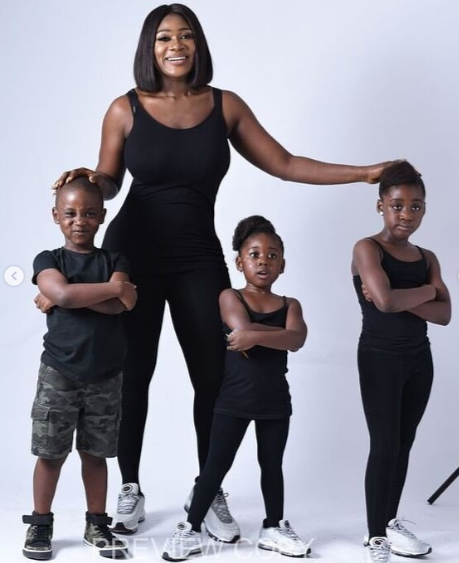 "My biggest fear in life? It would be "Not being alive to take care of and watch over my kids".

Happy Mothers day Friends and may we be alive to watch them grow into Great personalities, may we enjoy our children in good health and prosperity with God as the Center of it all… Because it's almost Mothers day and I can't wait???????????? plus Henry keeps saying Happy mothers day mummy since last week????????????
TGIF????????????@mercymagiconline is almost ready to take your orders. 1 week to go!"
READ ALSO: Nollywood Producer Lilian Afegbai Shares her Fears on Marriage: "It's so annoying to know you'll never be enough for most men"
Well since Mothers Day is almost here, it won't be too early to say a happy Mother's day to Mercy Johnson and other mothers out there doing great for their families.
Photo credit: Instagram