"Mentor, father, teacher" -Comedienne/Mom-Of-3 Helen Paul Praises Her Husband As She Bags Doctorate Degree In Style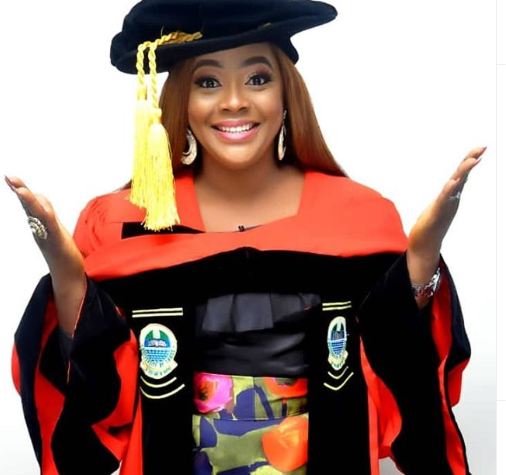 https://www.instagram.com/p/Bv2jDnshddz/
https://www.instagram.com/p/Bv2inqyBC6d/
Marriage is truly a beautiful thing when you are with the right partner, they say. Comedienne Helen Paul –Bamisile, seems to have cupped herself one of the good ones and it is evident in her latest feat.
Last month, we reported that the stand-up comedienne and filmmaker bagged a PhD from the University of Lagos (read here). The achievement has been praised by many Nigerians who have commended the humour merchant, 41, for chasing her dreams and ambitions despite being successful in her career.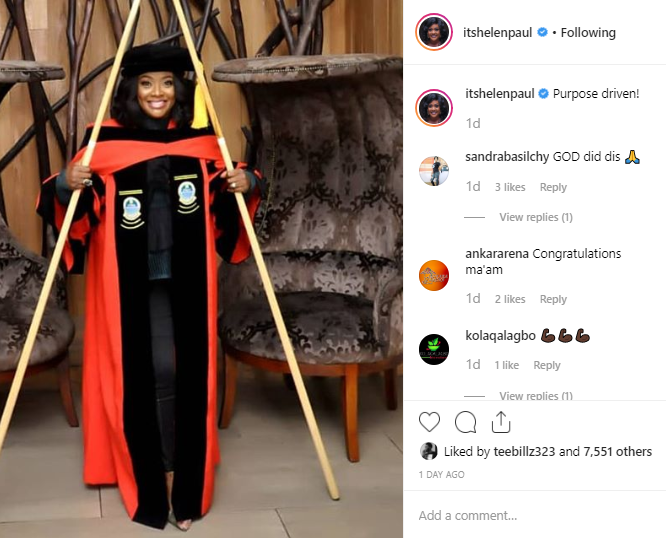 Just recently, Tatafo as she is fondly called by her friends and fans, who has now added the Dr title to her name, celebrated her convocation in style and made sure to invite all her celebrity friends. Many familiar faces including Uti, Eku Edewor and others all showed up to support the TV host.
The mother-of-three was also super glad to have her husband by her side. In a post shared on her Instagram page, she thanked him for letting her chase her ambitions and watch her dreams become a reality.
READ ALSO: "My husband is the best critic ever" Helen Paul Praises Husband & Dishes On Lifestyle Change Due To Fame
The stand-up comedienne who tied the knot with her hubby, Femi Bamisile in 2010, added that he allowed her stay in the hostel and made sure to make frequent visits like she was his girlfriend. The happy wife showered her hubby with praises.
Read below:
"My husband
My father
My best friend.
Thank you so much for everything and congratulations to you too,its your convocation ceremony too and you are celebrating like i am the only one…
Ah…
Baba, you are too unique
I celebrate you oko mi
Alashiri mi ,
oko ti kin dupo
okunrin kan shosho tin mo n pe ni ashiwaju
May your days be long.
You allowed me stay in the hostel and you visited me like a girlfriend.
Ah… words cant express how grateful I am to you my husband.
My crown.
I respect you deeply boss mei.
Help celebrate the best husband, teacher, boss, father and mentor. ????????????????."
READ ALSO: Helen Paul Reveals She Saw Her Husband As Too Stingy In Recent Interview
Comedienne Helen sure has written her name in the history books for being the first Nigerian female comedienne to bag a doctorate degree.
Congratulations Helen!