After Being Allegedly Mocked By An Admin of A TTC Facebook Group For Being Barren, Friends Celebrate The Birth of Ugo Treasure's Baby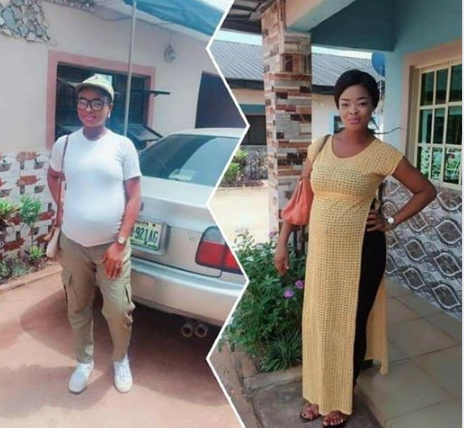 Friends of a woman, Ugo Treasure Mathson Onyemaobi, who was allegedly mocked by the admin of a TTC Facebook group she belonged to for being barren have taken to same to celebrate and welcome the birth of her newly born baby.
What is ironic in this story is that the group's aim is to pray for women waiting to conceive. The agony of women trying to conceive, TTC, and fellow women's insensitivity to their plight is worrisome. Empathy is so rare these days, obvious from the insensitivity that women who are trying for a baby have to deal with from members of the society.
The new mom's story was shared on Facebook by one of her friends identified as Ijeoma. Ijeoma shared screenshots of the conversation between two women on a Facebook group called TTC, a women's group on Facebook, a group that prays for waiting women.
According to Ijeoma, one Onweremadu Jane, the Leader/ CEO of the group mocked Ugo, also a member who at the time was newly married and with no child.
Though Ijeoma didn't share what led to the argument, she took to Facebook to call out Jane for mocking her fellow woman because she didn't have a child. Ijeoma who couldn't contain her joy also congratulated the new mother.
READ ALSO: After Over 19 Miscarriages, the Story of Sandra Harrison Is Guaranteed To Leave You Teary
Read the post below…
"Congratulations to Ugo Treasure Mathson Onyemaobi, on your safe delivery to a bouncing baby girl. I am extremely happy for her. Now let me tell you the story of Ugo Treasure (Evidence are those screenshot attached to this post)

Ugo treasure was insulted by her fellow woman on this Facebook by name #Onweremadu_Jane who now changed her name to #Okoroafor_jane, onweremadu called her a woman man, barren, witch, a cursed wife etc, even told her that soon, her husband will marry another wife, she insulted her all because she hasn't given birth yet.

Onweremadu Jane is a CEO in a women's group on Facebook, she prays for TTC mother's ( women looking for a child), she pretend to be praying for this women yet use their childlesness to insult them at any given opportunity.

How can a woman who pray for others use their childlessness to insult them? (Seriously my people, keep your secret to yourself, people are not always the way they appear here)

Ugo treasure left heart broken, she never expected such from a fellow who claims to be praying for them.

Today God visited her with her own child. My joy know no bound.

Women, the last thing you will do on this earth is to insult your fellow woman over child bearing, those children you are bragging with might all die in a day and you will be left with nothing. (God forbid sha)

Start loving yourselves instead of using something like this to abuse others. This world is too small to brag over things that you cant do  with your power.

I hope the lady that insulted her will learn her lesson and know that only God giveth a child and no one else. Ina ako nwanyi Ibe GI onu Nwa, ooogi na enye Nwa?

Congratulations once again to the latest mummy."
READ ALSO: This Awesome Testimony Of A Waiting Couple Is Inspiring
Other members of the group also took to the platform to congratulate the new mom…
One Angel Ola Wrote:
"A LETTER TO ONWEREMADU JANE !

JANE, THE SPIRITUAL CEO
JANE, THE IF YOU TALK I BLOCK YOU,
JANE, THE IF YOU ALLOW ME KNEEL DOWN AND PRAY ON YOUR BEHALF EEH ,
JANE, THAT SAID I TRAVELED DOWN TO 9JA BECAUSE OF HER , TO FIGHT HER.
JANE JANE JANE, HOW MANY TIMES DID I CALL YOU?
JANE DO YOU SEE THAT KARMA IS REAL ?
HAVE YOU SEEN IT THAT, MADU ABURO CHUKWU OKIKE ABIAMA?
HE HOLDS THE KEY TO EVERYONE'S LIFE ,FUTURE ,CAREER ,BLESSINGS ,BREAKTHROUGH ,SUCCESS, BABIES AND MANY MORE..

JANE ,YOU ARE NOT GOD OKAY! I BELIEVE THIS WILL TEACH YOU A LESSON N MAKE YOU TO KEEP YOUR MOUTH SHUT BECAUSE YOU ARE AN ORDINARY HUMAN BEING.
FRIENDS PLS LET'S 4GET ABOUT JANE AND FOCUS ON THE BLESSINGS HE HAS BLESSED US WITH TODAY….WELCOME TO THE WORLD BLESSED BABY.
CONGRATS DEAR FRIEND ..NEXT WILL BE TRIPLET. AMEN."
Another member, Ebele Elofuna added:
"Wow????????????????????????
Chi umu nwanyi ( God of women ) has done it again ooooo????????????????
The Lord has proven dem ( mokers ) wrong ooooo….. oji obara akpu nwa na afo, the ocean divider???????????? God we return all the glory to you because no man can ever share your glory with you???????????????? chaiiiiiii this our God is too much ooooooo????????????????
Thank you Lord for the journey of nine months has ended in praise????????????
Thank you for the safe delivery????????????
Congratulations my darling friend on the arrival of your princess…. may God's name be praised forever ????????????????????
This our baby shall be a source of joy to your family ijn Amen she will be like tomorrow because tomorrow has no end????????
Welcome to the world my baby????????????????
Onu akoro onye uwa bukwa chi ya ka akoro ya ooooo???????????? I tap this blessing ijn Amen????????????????."

"Congratulations pretty woman on the arrival of your princess, finally God has giving you a baby to be busy with…I can still remember vividly about that mockery of "Others have children that keeps them busy where is yours" "you are a man and not a woman'"….but God has proven himself by turning things around to shame the devil….happy for you sweetie, it can only be delayed but can never be denied," one Ugochi Ndubuisi wrote.
See screenshots of the conversation between both women and other group members on Facebook.