TV Host, Bolanle Olukanni To Women With Stretchmarks: "You are beautiful no matter what"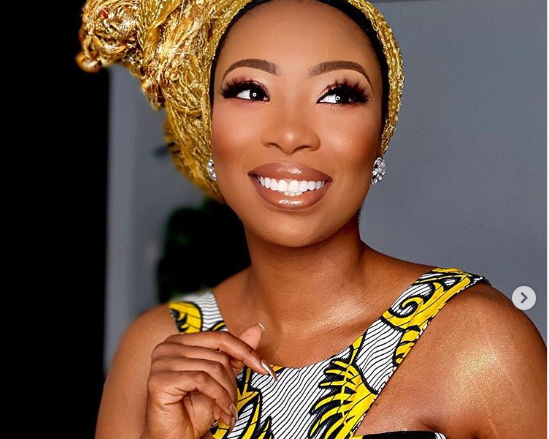 https://www.instagram.com/p/BwCv7gag-F-/
Nigerian media personality, Bolanle Olukanni is out here preaching self-love and we are here for it.
Self-love is a major topic in this age of social media. Many have had to struggle to love who they see in the mirror because of the constant mental comparison they do with others who seem perfect on the gram.
It takes a lot of courage and many pep talks for a woman in 2019 to love herself completely without fear. In a recent post she shared on Instagram, Bolanle showed the world how much she has risen from a low place to completely loving her perceived flaws.
According to the TV host, she got stretch marks on her arms when she was a teenager and while other kids will wear tank-tops, she would cover up her arms because she was ashamed to show her stretch marks.
However, all that is in the past as she is more confident and has learned to love herself with her 'flaws.'
READ ALSO: Monica Bencomo Teaches Daughter the Importance of Self Love in Endearing Letter
Below is her post…
"I first got stretch marks on my shoulders when I had my first Growth spurt. I was probably 12. All my friends would wear tank tops and spaghetti tops and I felt like I had to cover my shoulders.

It affected my confidence during my teenage years and I spent my early early adulthood hiding my shoulders. Well, I finally got over it and I realized it's not a big deal.

So to women and men who have stretch marks and feel self-conscious about it …please don't – you are beautiful no matter what ! ❤️❤️❤️ #beautylook #growingpains#stretchmarks #flawsandall
Mua @tmtbylayinka."
READ ALSO: Peter Okoye's Wife Lola Omotayo Shares Throwback Photo as she Advocates for Self Love
Bolanle Olukanni's story is more like a motivation for the day. We hope it gives someone battling any self-confidence issues with their body a boost today.
Photo credit: Instagram