Singer, Pink, Tells Why She Will No Longer Post Her Children's Photos On Social Media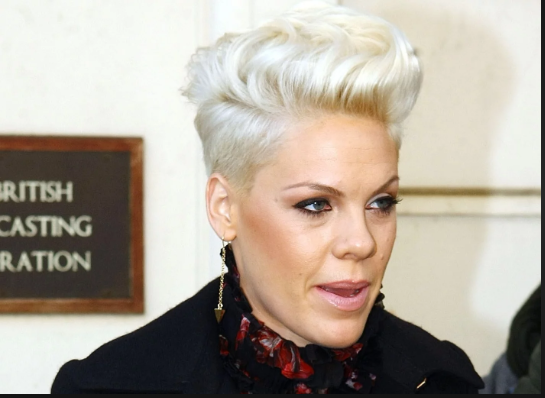 https://www.instagram.com/p/Bt2HRVKhPkB/
https://www.instagram.com/p/BvrhONxhEni/
After being mommy-shamed one too many times, American singer and songwriter, Alecia Beth Moore known professionally as Pink, has had enough.
The dancer and actress, 39, has always been quick to come back at people who try to comment negatively about her family online.
Last week, the Grammy winner sat down on The Ellen DeGeneres Show and said she will no longer be sharing pictures of her children Willow, 7, and Jameson, 2, on social media due to the number of trolls who make her life miserable when she gives fans a glimpse of her family life. She said:
"I won't share them anymore, I won't do it. I'm not posting pictures of them anymore. I understand people saying you need to be more careful because you are in the public eye and you should have thought of that. And they're right, but there's a nice way to say that. There's a kind way to be online."
The pop star recalled a time when she received an enormous amount of backlash after posting a video of her 2-year-old son saying the word "dammit" while playing with his toy cars.
ALSO READ: Pink Causes Outrage After Posting a Photo Considered 'Dangerous' By Her Fans
To Pink it was a hilarious video of her son, but commenters saw it differently. Pink recalled:
"So many people on social media go in on me all the time and this one, some people were like, 'Nice language. I'm sure that came from you.' And 'What kind of a mother do you think you are?'" .

… Then somebody wrote, 'I'm a speech pathologist at the university of blah blah blah and I thought his… timing was just perfect. You have a very smart kid.' And I'm just reading like, 'I don't understand positivity.'"
She said she actually responds to some of her critics individually.
"Sometimes I feel like I can change their minds," she explained. "I don't like injustice. And I don't like how brave people are anonymously rude. Just mean, mean, mean spirited. And so I do, I go in if I have time. I go in (and respond)."
Pink said the tipping point was last month when she posted a photo of her children with a pelican on vacation. In the photo her son was not wearing a diaper something that some people took offense to. She says: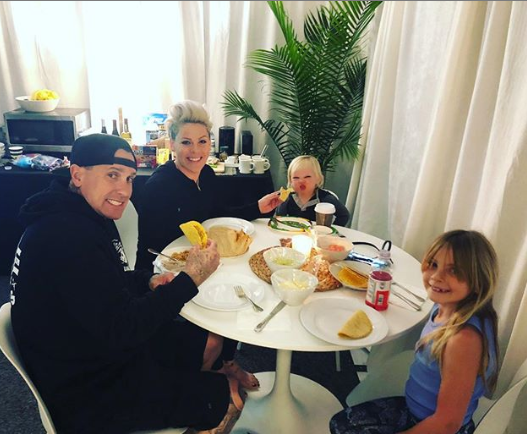 ALSO READ: Singer Pink Dedicates Powerful VMAs Speech on Body Image to Her Daughter
"There's two sides to this, I see. And one is… I didn't look at the picture that way. I looked at it from, there was a pelican that flew into our room.

It spent two hours with us, which was incredible. And then I got worried it was sick and I tried to call the animal rescue. No one wanted a pelican and it just became a whole thing. We tried to give it some smoked salmon. It was the only thing we had that was, like, fish!

It was this incredible experience for my family and I have a two year old. Two year olds don't like to wear wet swim diapers and apparently at some point he took it off. And I don't think like that. "We live on a farm. My kids are naked. It's what happens. I'm naked sometimes!"
Pink went on to reveal that people went as far as suggesting that child services be called, simply because Jameson didn't have a diaper on.
"People went as far as saying someone should call child services because he didn't have a diaper on and how dare I … some of the nastiest things," she said tearfully.

"I cried. I cried so hard after that because I like to share my family. It's my proudest moment in my whole life. I'm prouder of my kids than anything I've ever done."
ALSO READ: "Everything I do as a parent is what I swore I would never do" – Pink Talks Parenting Her Two Kids
At the time, Pink deleted the post and reshared it with her son's private area covered up, writing that there's "something seriously wrong with a lot of you out there."
"Going off about my baby's penis? About circumcision??? Are you for real? As any normal mother at the beach, I didn't even notice he took off his swim diaper.

I deleted it because you're all f**king disgusting. And now I'm turning off my comments and shaking my head at the state of social media and keyboard warriors, and the negativity that you bring to other people's lives… Here's a picture of the pelican we obviously caught and abused for hours before dangling baby penis in its face."
ALSO READ: American Actress, Jana Kramer Claps Back At Social Media Mommy Shamers Who Judged Her Parenting Skills
DeGeneres complimented Pink on calling out the haters online and the singer/songwriter admitted she does it because she wants to try to change their way of thinking.
"I feel like I can change their minds. I'm all about injustice. I don't like injustice," she said. "I don't like how brave people are anonymously and rude, just mean. Mean, mean-spirited! But if I have time, I go after them."
It's awful that the super mom has to make a decision based on the hateful comments of a few, but it's hard to blame her for walking away from the negativity that gets targeted towards her family.
She regularly gets trolls commenting on her husband's parenting ability or on her appearance, but when it comes to anything to do with her kids, she's had enough.
"I understand people saying, 'You need to be more careful, you are in the public eye, you should have thought of that,' and they're right, but there's a nice way to say that. There's a kind way to be online," she said, referencing a recent exchange where she used the word "gypsy" not knowing it was derogatory.
When a fan pointed it out to her in a nice way, she thanked them for educating her, took the word out of her post, and said she'd never use it again.
Photo credit: Pink Instagram