US Olympian Swimmer, Michael Phelps, On Fatherhood And Leading His Kids By Example Is Refreshing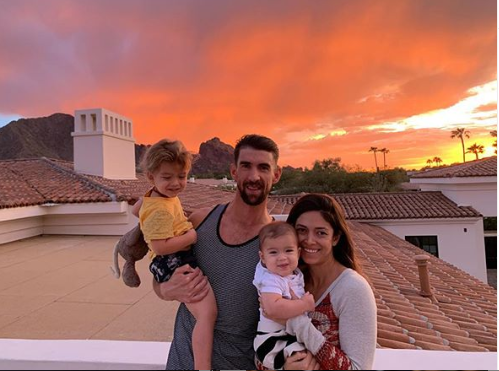 https://www.instagram.com/p/BvUif0oghCN/
US most decorated Olympian swimmer of all time, Michael Phelps wants to set a good example for his two sons, Boomer and Beckett. The 33-year-old expectant dad who has another on the way with wife, Nicole Johnson, recently opened up exclusively to AOL's Gibson Johns about teaching his sons important life lessons and values.
The record-setting Olympic swimmer explained:
"One hundred percent [it's important to me]. There are things that we want him to learn and values we want him to carry through life.

It's cool that, as parents, we get to mold our kids and help them experience all of these things in life. We want to do the best that we can and give them the ability to do whatever they want."
One of the ways in which the accomplished swimmer leads by example is by doing small things throughout the day to promote water conservation, like turning off the faucet when he brushes his teeth.
The athlete said that his oldest son, who isn't yet three years old and has over 700k Instagram followers, has been a natural at copying him in that regard. Phelps, who partnered with Colgate for its Save Water campaign for the third year in a row, stated:
READ ALSO: Super Cute! US Olympic Swimmer, Michael Phelps' Son, Boomer, Poses In Pool
"Obviously, he won't understand all the stats, but Colgate has these little stoppers that you can put in your sink and, when the water is running for too long, they change color, telling you it's time to turn off the faucet.

For Boomer to be able to visualize that has been so helpful to both him and us. He's getting older and older and asking more and more questions, so we're coming to the point where he can understand some of the stuff we're telling him. He's very into brushing his teeth multiple times a day, which is good, and that is something that's fun for a dad to see."
Not only is Boomer learning from his father, but he's also already passing things down- albeit subconsciously -to his younger brother. Phelps told AOL:
"We're teaching Boomer and he's learned so much already. It's cool to see how much Beckett tries to take after and model whatever his brother is doing, too. It's incredible seeing such a young person being such a good role model for his brother."
READ ALSO: "Not Every Man with Children Deserves to be Called a Father" – Gbenga Adeyinka on Fatherhood
Phelps also added that going from one son to two forced him and his wife to go "straight to man-to-man defense," as their youngest has proven himself to want to be just like his older brother.
"Beckett skipped the walking phase and is right onto the running phase. It happens so fast, especially when you have two. They mimic each other and learn so much from each other. Beckett is learning so much faster than Boomer did just because he has an older brother. Their interactions are great.

Obviously Booms will give Beckett a hip-check from time to time, but they love each other to death and it's so fun to see how much they hug each other and how much of a help Boomer wants to be."
Seeing how much their sons enjoy spending time with one another has made the cool dad slightly less nervous about welcoming another kid later this year. He further said:
READ ALSO: "Fatherhood is the best thing." Ryan Reynolds Talks About Life With Two Daughters
"Going from two to three can be scary, but seeing that really helps us be more at ease and prepare ourselves for number three".
Photo credit: Instagram