Peter Okoye Of Former P-Square Opens Up On The State Of His Relationship With Brother, Jude Okoye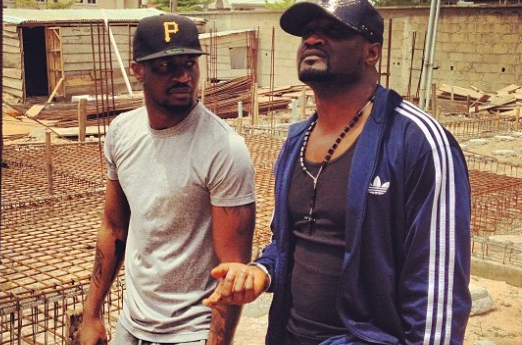 https://www.instagram.com/p/BwpQeFiDDlp/
The conflict within the Okoye siblings looks far from being over after Peter Okoye of the former music group, P-square recently revealed the state of his relationship with his elder brother, Jude Okoye.
During an interview with Cool FM's Dotun the music star and father-of-two revealed that since their group broke up in 2017, there has been no relationship between himself and Jude.
He further disclosed that it is as bad as they not being on speaking terms. The disclosure came yesterday, April 24, 2019, which was Jude Okoye's birthday.
"I'm always going to wish him the best of his life…like me I don't have any problem with anybody but if they really have any problem with me, its fine, I'm living my life," he said.
When asked if they are in talking terms, Mr P. responded by saying they don't. The now solo singer told Dotun:
"No we don't. I am not beating around the bush. I am being honest, no we don't."
The Okoye brothers have been at war with one another since 2013 (read here) and it is safe to say it has been one of the biggest celebrity siblings' fights recorded in the Nigerian music industry.
From sharing cryptic post to actually insulting one another on social media, it has been one messy scandal that has rocked the entertainment industry.
READ ALSO: Psquare Is No More! – See Termination Letter Peter Okoye Sent Their Lawyer
While there were rumours speculating that the Okoye family dislikes Peter's wife, Lola Omotayo Okoye, others say Jude, the elder brother and then manager of the twins is responsible for the split.
However, Peter finally revealed shocking reasons for their viral split. While speaking on Citizen TV in Kenya, Peter disclosed that his twin, Paul was in the habit of disrespecting his wife, who is a Yoruba woman.
Peter further revealed that this is the only reason for the split, as he must put his wife and children first because of the vow he made on his wedding day.
In his words;
"In life what we call family value is important. The fans want Psquare but how many times do you want PSquare to come back and break up?

We've broken up three times and the same issue is still there. So if Psquare is going to come back we need to settle that issue. Psquare might come back, they might not come back.

I pulled out the plug because I felt the disrespect coming from my family (was) getting too much. There's something we call marginalisation. Don't ever be a slave because you want to be family.
READ ALSO: 'Misguiding the Media is Not the Right Thing to Do' – Peter Okoye Reacts to Brother's Post
Psquare can only come back if the respect comes 100%. I don't disrespect my brother's wife neither, his family but he does that to me all the time. He'll insult me and my family in public, on Instagram, and the next minute he'll wait for me backstage for us to perform together.

I can't do that. One thing is for sure, I took a vow to protect my wife and kids the day I got married and I stick to that."