Read The Inspiring Grass To Grace Story Of 'Almajiri', Dan Yakubu, Turned University Graduate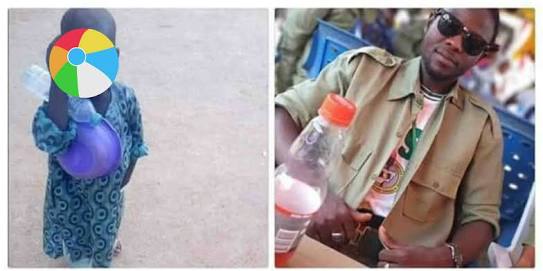 A young man is being celebrated online after beating the odds as an Almajiri to become a graduate of Economics and now a serving youth Corp member in Bayelsa State.
Dan Yakubu, graduated with a Second Class Honours from the University of Maiduguri, Borno State and has just concluded his compulsory 3 weeks NYSC orientation at the Kaiama NYSC Orientation Camp, Kolokuma LGA, Bayelsa State State, but Yakubu would have been headed a completely different and inglorious path as an Almajiri if not for the benevolence of Fatima Madibbo who rescued him from the streets.
READ ALSO: Two Children, Abdul and Ismaee, Growing up On the Streets Take the Spotlight As They Tell Stories of Their Hard Knock Life
The little Dan Yakubu was separated from the safety of  his home and family who were based in Potiskum, Yobe State and taken to Kano to fend for himself as an Almajiri. In the course of his begging (Almajiranci), Dan Yakubu ran into a kind-hearted generous Fatima A. Modibbo who took a special interest and liking to little Yakubu who had come to her house to beg as is natural to Almajiris.
Prompted by his brightness and smartness, Fatima fostered him and singlehandedly sponsored his education right from primary school up to the attainment of his university degree.
READ ALSO: How "… parents make it easier for their kids to be defiled" -DSVRT Coordinator, Titilola Vivour-Adeniyi Reveals
Fatima excitedly shared the grass to grace story of Yakubu on social media and how God used her to uplift the young man. She wrote:
Allahamdullah! My almajiri has finished his university degree, with second class lower in Economics.

He's serving in Bayelsa right now. He came to my house when he was about six years old, he had such an engaging smile and melodious voice when begging, that I took to him right away. The rest I can now say is history.

His name is Dan Yakubu. "the Dan" in his name means there's an older Yakubu in his school. He's from Mamudoo in Potiskum in Yobe State.

I put him in school, while he continued with his informal education. He was like a sponge soaking in everything, from formal to informal, and now he's a graduate. Allahamdullah Allahamdullah,"

Through his mallam he was able to find his family. His father now late was a truck driver, his mother died in Saudi Arabia doing menial job, but he has found his siblings.
See another photo of Yakubu below as shared by Fatima: