Government Alerts Residents Of The 'Poisonous Ponmo' Now Selling In Lagos Market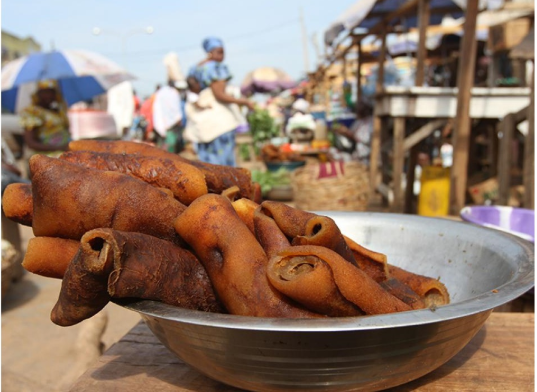 The Lagos State Government has alerted residents of the state on the circulation of poisonous cow hide popularly known as "ponmo" in some markets in the state.
The commissioner for health in Lagos state, Jide Idris, noted that the government has so far arrested three persons involved in the selling of the "poisonous ponmo".
A statement by Adeola Salako, Director of Public Affairs, Lagos State Ministry of Health, revealed that the suspects were arrested at Ojo and Iba Local Government Areas of the state with large quantities of ponmo and that the seized ponmo have been sent to the National Agency for Food and Drug Administration and Control in order for tests to be carried out to check if they are okay for consumption.
The statement read:
"The Commissioner for Health, Dr Jide Idris, who disclosed this in his office today (Sunday) while reviewing report of preliminary investigation and enforcement carried out on the sale of the toxic ponmo in the areas, stated that the three persons involved had been charged to court, while samples of the confiscated ponmo had been sent to the NAFDAC laboratory for suitability test analysis for human consumption."
READ ALSO: New Report Makes Stunning Revelation On How Drinking Hot Tea May Be Risky To Your Health
The commissioner further said the traders engaged in the sale of these poisonous products do business at odd hours in various locations in the two Local Government Areas.
"Preliminary investigations and suspects tracing revealed that the traders were very active between 4am and 6am at various locations such as Volkswagen bus stop, Iyana Iba, Afolabi Ege Markets, all within the Ojo local government and Iba local council areas of the state.

Furthermore, a company said to be located at the Ijedodo area of Iba LCDA was indicted as the source of supply of this toxic ponmo and has subsequently been put under surveillance."
READ ALSO: "Ponmo Consumption Is Dangerous To Health," says NILEST Boss
Salako went on to urge the public to be careful and not hesitate to report to environmental health officers in their nearest local government or to the ministry of health any sale of foods and foods products that are not up to required standard.