President Buhari Moves To Save The Neck Of Young Woman, Zainab Aliyu, Facing Execution In Saudi Arabia After Her Luggage Was Compromised By Airport Staff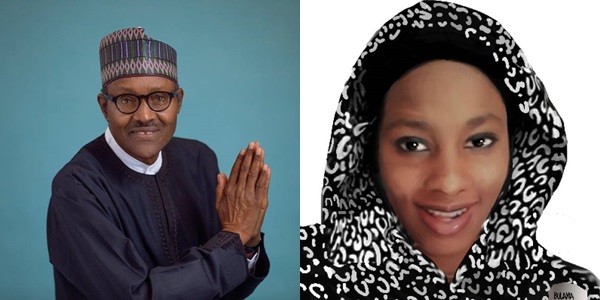 A young Nigerian lady, Zainab Aliyu, is in a slippery situation and has been in the news for over a week now, with death hanging over her like an axe. Zainab's plight began with her arrest at Saudi Arabia where she went to observe the holy Islamic pilgrimage; unknown to her however, her luggage had been compromised at the airport in Nigeria where she took off from.
Saudi Arabia like many other countries in the world  has a strict and unflinching law against drug offenses punishable with death. Zainab, a student of Maitama Sule University, Kano, was arrested by Saudi Arabia Police on December 26, shortly after arriving for Lesser Hajj.
READ ALSO: From A Privileged Home To The Streets: 26-Year-Old Substance Abuser, Lizzy, Recounts Her Heartbreaking Story On How She Got Hooked On Drugs
The young woman who had left for the pilgrimage from  Mallam Aminu Kano International Airport (MAKIA) in the company of her mother, Mrs. Maryam Aliyu, and sister, Hajara Aliyu, was later arrested over allegations that a luggage, bearing her name tag, contained the unlawful substance (Tramadol).
Zainab's distraught father, Habibu Nuhu Kila, upon learning of his child's plight filed a petition to NDLEA, seeking a probe into his daughter's ordeal. His timely action opened a can of worms that shows how decadent our Nigerian systems are, while the positive side to it, may mean that this cup of death may pass over Zainab!
In the course of the investigation, the National Drug Law Enforcement Agency (NDLEA) uncovered a cartel that specialises in planting illicit drugs in travellers' luggage which culminated in the arrest and arraignment before a Federal High Court in Kano of seven staff of the airport.
READ ALSO: Shocking! Meet 11 Year Old Boy Who is a Cult Member in Chilling Video
The accused are Idris Umar Shehu (alias Umar Sanda), Sanni Suleiman, Nuhu Adamu, Rhoda Adetunji, Udosen Itoro Henry and Sanni Hamisu.
In the report, which has since been forwarded to the Consul-General in Jeddah for action, it was further established that Zainab who, like her mother and sister, had only a luggage, was not aware that a second bag had been labelled in her name.
The NDLEA added:
Based on the investigation activities carried out,

it has been revealed that the said Zainab Habibu Aliyu is not the owner of the second luggage tagged in her name.
After all the going back and forth, Nigeria's President Muhammadu Buhari has now stepped in and ordered the Minister of Justice and Attorney General of the Federation, Abubakar Malami, to facilitate the release of Zainab Aliyu, who has remained in detention in Saudi Arabia.
READ ALSO: Leader Of Tomorrow? Video Of Little Boy Who Swore To Become A 'Yahoo Boy' When He Grows Up Goes Viral
Below is what Senior Special Assistant to the President on Foreign Relations & Diaspora, Abike Dabiri-Erewa, tweeted yesterday regarding the directive.
Meanwhile Zainab's story is trending on Twitter and youths in Kano are holding a walk in her honour today to draw awareness to her plight and force the government to expedite actions that will lead to her release.
[PRESIDENTIAL DIRECTIVE] BREAKING!@NGRPresident @MBuhari has directed the Attorney General of the Federation (AGF) to take all the necessary steps to ensure that Ms Zainab Aliyu is released and arrange her safe return to ??Nigeria.

?THANK YOU MR PRESIDENT ???@abikedabiri pic.twitter.com/f6rwhoueEH

— APC United Kingdom (@APCUKingdom) April 29, 2019
While we hope and pray for Zainab's safe return to her family, her story is a lesson and eye-opener for other well-meaning Nigerians to be more security conscious in the face of deep rooted corruption plaguing almost every Nigerian system.