Nigerians Are Consuming Fake Strepsils, Pharmacist Raises Alarm And Highlights The Differences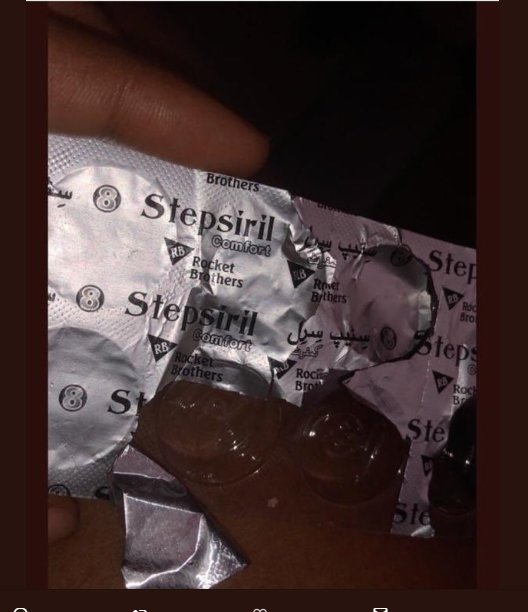 A Nigerian pharmacist with Twitter handle, @anambrachic, has called the attention of citizens to current circulation of an imitation of a popular over-the-counter (OTC) drug, Strepsils-used for the treatment of mouth and throat infections. She claimed many Nigerians are already using the fake drug because they can't tell it apart from the genuine one.
There is a long standing culture of self medication among Nigerians, due partly to ignorance; but also due to the convenience that getting your own drugs to immediately relieve your symptoms affords you.
Access to quality healthcare for many Nigerians is quite strained in terms of cost and even efficient running, and therefore, people have long taken their own fate in their hands, suppressing their symptoms with local herbs, concoctions or seeking help from private medicine vendors, commonly known as chemists.
READ ALSO: Aftermath Of Taking Fake Anti-malaria Drug, Innocent Little Boy Battles For Life
Despite the hurdles faced by many Nigerians in terms of healthcare, it still is a disservice to self-medicate and we have read too many times how a fake drug killed someone.
The pharmacist who raised awareness about the fake Strepsils in circulation highlighted the differences between the genuine one and the fake one; identifying the genuine drug to be Strepsils by Reckitt Benckiser, and the fake one as Strepsiril by Rocket Brothers.
Read what she had to say below and take caution:
"Purchase your drugs from the right sources, you refused because you can get it cheaper from the drug store Issorai,

anyway incase you're not aware Strepsil is by Reckitt Benckiser

and not this Strepsiril by Rocket Brothers that is in circulation now You should share this"
See original post below:
Purchase your drugs from the right sources, you refused because you can get it cheaper from the drug store
Issorai, anyway incase you're not aware Strepsil is by Reckitt Benckiser and not this Strepsiril by Rocket Brothers that is in circulation now
You should share this pic.twitter.com/ESdBG6KWbf

— Ada Amawbia 🍭 🇳🇬 🇨🇦 (@anambrachic) May 4, 2019